Wednesday, October 5, 2016 to Wednesday, October 5, 2016
To commemorate National Archives Month, the Society of American Archivists is sponsoring a social media event #AskAnArchivist Day on Wednesday, Oct. 5. The day is an opportunity for archivists to interact with anyone interested in their profession by answering questions with the hashtag #AskAnArchivist. USC Shoah Foundation will participate in #AskanArchivist Day for the third year. Throughout the day our archivists and indexers who will be answering questions on the Visual History Archive and the archive field.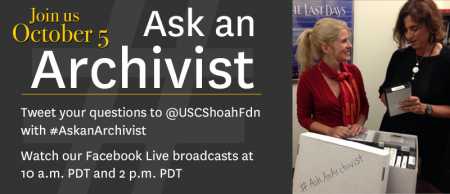 How to join?
Tweet your questions to @USCShoahFdn with #AskanArchivist about the Visual History Archive, indexing and general archive questions.
Watch the Facebook Live broadcast at 10 a.m. PDT on Oct. 5 – USC Shoah Foundation Archivists Sandra Aguilar and Daryn Eller will describe their day-to-day tasks and provide a demonstration of the Visual History Archive. 
Watch our Facebook Live broadcast second 2 p.m. PDT. USC Shoah Foundation indexers Crispin Brooks and Manuk Avedikyan will describe the indexing process of testimonies and answer questions from Facebook and tweets with #AskanArchivist.
Contribute by sharing on social media how you use the testimony from the Visual History Archive.
Follow USC Shoah Foundation on Instagram for behind the scenes look of the Visual History Archive.
Share #AskanArchivist Day on your own social media accounts.
This an excellent opportunity to learn more about the Visual History Archive, how testimonies are preserved, indexed and used throughout the world.