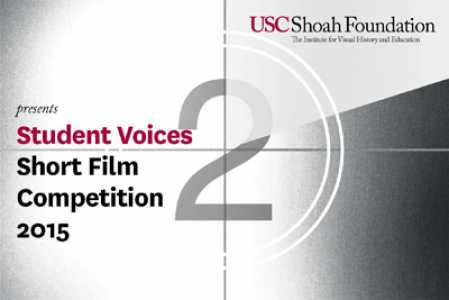 The 4th annual Student Voices Short Film Contest will open for submissions on Jan. 12, 2015, featuring key changes intended to increase awareness for the contest and help participants complete their projects more efficiently.
All USC students are welcome to enter the contest, which challenges them to create 7-10 minute short films using testimony from the Visual History Archive. Each year, different themes are provided to help guide students' projects, including "Preserving Humanity: Assistance and Resistance" and "Renewing Rwanda: The Genocide and After."
This year, the contest will be structured to provide more guidance for students. The entire contest will be hosted in IWitness as an IWitness activity. This means students can use IWitness's free built-in video editor, WeVideo, to edit their projects, and also collect clips from IWitness's collection of 1,443 testimonies from the Visual History Archive.
Students with a higher skill set will still be able to create their videos outside of IWitness using any other video editing software they prefer. But giving students the option of using IWitness will simplify the contest for those without much video editing experience.
In addition, because students often found the Visual History Archive overwhelming when trying to search and edit clips for their films, this year Student Voices will provide five pre-selected testimonies and students must incorporate at least one in their video.
In past years, the winning films have received cash prizes and have been screened at USC Shoah Foundation's Ambassadors for Humanity gala. The winners and runners-up are announced at a special screening and panel discussion with the contest's judges. This year's judges will include documentary filmmaker Carla Garapedian, who works closely with USC Shoah Foundation on its Armenian Film Foundation collection, and Doe Mayer, who holds the Pickford Chair at USC's School of Cinematic Arts and Annenberg School of Communication and Journalism.
This year's screening and discussion will be held as part of USC's Genocide Awareness Month in April 2015, which is led in part by USC Shoah Foundation's student association, DEFY. Genocide Awareness Month features events across campus dedicated to remembering past genocides and commemorating the survivors and victims.
Check here soon for more information about Student Voices 2015 and how to enter.