USC Shoah Foundation showcases its programming in Aspen, Colo.
Wed, 08/15/2018 - 1:05pm
Over the course of three days, the Institute exhibited its recently recorded testimonies of Rohingya refugees; hosted an event in which a renowned artist painted a portrait of a Holocaust survivor before a live audience; and screened "The Girl and The Picture," the Institute's award-winning documentary about the 1937 Nanjing Massacre.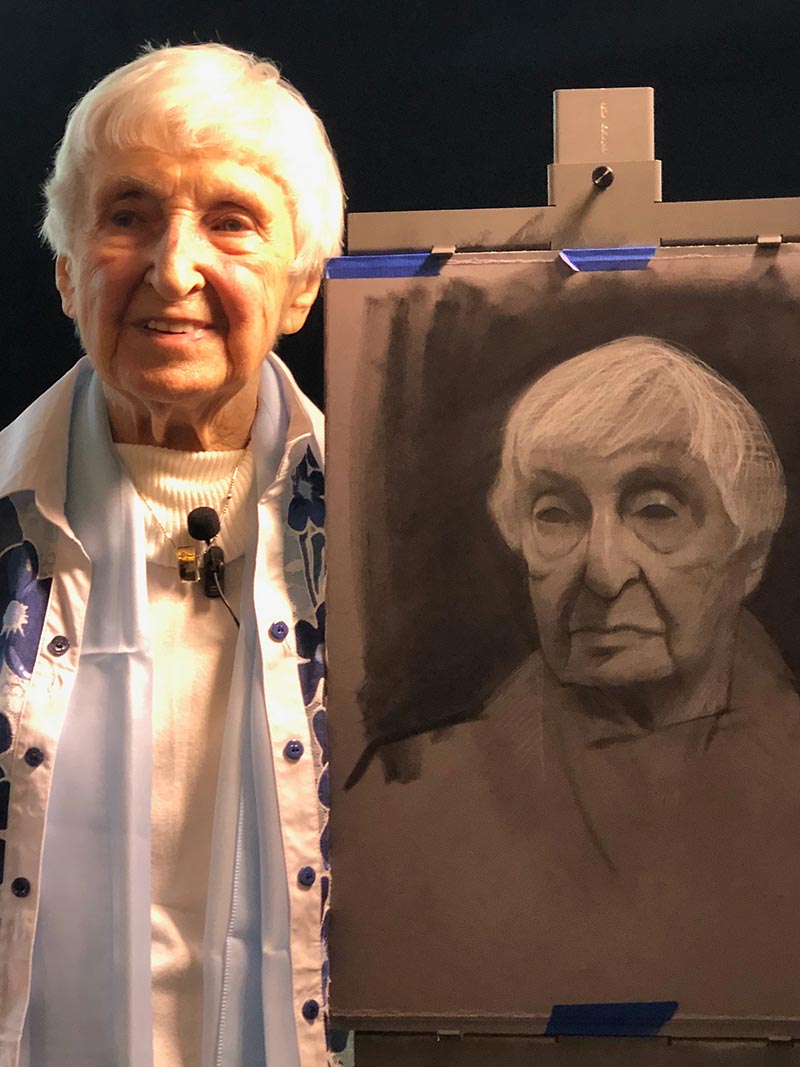 USC Shoah Foundation was pleased to host a tripartite series of evening programming in Aspen, Colo., devoted to preserving testimony and cultivating empathy on Aug. 6th, 7th, and 8th. The first night, Board of Councilors member Susan Crown opened her home for a multimedia presentation and discussion about Dimensions in Testimony and the Institute's work with Rohingya refugees. The conversation was led by Andrew J. And Erna Finci Viterbi Executive Director Chair Stephen D. Smith.
The second night, USC Shoah Foundation hosted a live artistic demonstration at the Chabad Jewish Community Center. The event showcased internationally renowned Artist-in-Residence David Kassan and his subject, Holocaust survivor Hanna Pankowsky. Proudly hosted by Board of Councilors member Melinda Goldrich, the evening culminated with a moderated Q&A featuring USC Fisher Museum Director Selma Holo and Stephen Smith.Pankowsky's portrait and testimony will be part of The Resilience Exhibition that Kassan has created in honor of USC Shoah Foundation's 25th Anniversary and will premiere at the USC Fisher Museum in Los Angeles next fall. Central to the exhibition will be a multi-panel piece featuring life-sized portraits of 11 Holocaust survivors along with testimony clips of the exhibit's subjects from USC Shoah Foundation's Visual History Archive. This one-of-a-kind exhibit will offer audiences multimodal experiences into the personal accounts of life, death and survival and encourage curious, creative and courageous participation in civil society.
The third and final night, USC Shoah Foundation hosted a special screening of The Girl and The Picture at the Metropolitan Isis Theatre. The event was sponsored in partnership with Aspen Film, and co-hosted by Jill Aschkenasy, Minnie Dubilier, and Lesley Slatkin. The film was followed by a Q&A moderated by Emmy-Winning Jon Frankel, who ushered thought-provoking discussion about the universality of genocide as one of the world's most pressing problems and the power of one person's story to generate empathy and compassion in the eyes of the listener. Panelists included Executive Producer Cecilia Chan, Rick McGee, Stephen Smith, and Aspen Film Executive Director Susan Wrubel.