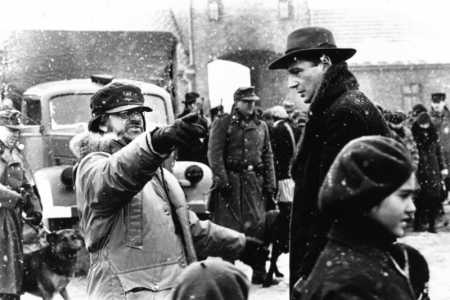 The Stronger Than Hate initiative is publishing stories on a regular basis that will each highlight a separate learning activity or theme in IWitness, tackling some of today's toughest subjects for students in middle school, high school and universities. 
Coinciding with the 25th anniversary and recent rerelease of "Schindler's List," USC Shoah Foundation has produced a suite of learning activities connected to the film about Oskar Schindler, a Nazi industrialist who saved the lives of 1,200 Jews during the Holocaust by hiring them after having a change of heart.
The five classroom-ready activities in IWitness – the Institute's no-cost educational website – are geared toward students in high school; one is also tailored to students at the university level. The lessons take between 30 and 90 minutes to complete.
All of the activities feature clips of testimony from Holocaust survivors who were saved by Schindler. Participating students will not only be encouraged to think critically and delve deep into the themes of the Academy Award-winning film, they will also engage in projects that reflect their understanding.
The student outputs can include building video essays, creating maps and timelines, constructing word clouds and composing short essays.
Here are summaries of the five activities:
Grade Level: 10 - 12
Estimated completion time: 30 minutes
To prepare for the viewing of Schindler's List, this lesson asks students to consider a key theme embodied in a quote from the film: "Whoever saves one life, saves the world entire." This phrase is dedicated to Schindler towards the end of the film by a group of Jewish men, women and children whom he saved.
Schindler's List - Society and Choices
Grade Level: 10 - 12
Estimated completion time: 1.5 hours
In this activity, students will consider how an individual is influenced by the political and social context of the time in which they live. They will take a close look at three individuals in the story of Oskar Schindler as portrayed in the film. Before viewing the film, students begin by reading historical information about the political atmosphere of Nazi-occupied Poland to gain an understanding of the historical context.
Oskar Schindler: A Flawed Hero
Grade Level: 9 - 12
Estimated completion time: 45 minutes
Oskar Schindler's legacy is challenging to unpack. He saved the lives of over 1,000 Jewish people; his story was chronicled in an Oscar-winning film that changed the way we remember the Holocaust; this film inspired the creation of USC Shoah Foundation. But Schindler was not wholly heroic. He was very much human, and very much flawed. In this activity, which includes testimony of Mieczyslaw Pemper, who helped Schindler compile the famous list, students will reflect on the ethical complexity of this man who shaped history.
Schindler's List: Analyzing the Historical Context
Grade Level:  9 - 10
Estimated completion time:  1.5 hours
This activity will have students explore the historical context of Schindler's List by having them identify cultural, political, economic, social, and geographical factors that play a role to influence the historical events featured in the film. Students will build a video essay that shares their findings and reflects their analysis.
Grade Level: 10 - University
Estimated completion time: 1.5 hours
This activity maps the journey of individuals saved by the efforts of Oskar Schindler through the testimonies of Holocaust survivors who talk about their lives before and during the Holocaust. Students will search for clips of testimony that depict pre-war experiences in Kraków, Poland; the experience in the Podgórze ghetto and Płaszów concentration camp and their experiences in Schindler's factory. Students will also be asked to represent these experiences with a map and timeline.