"Past is Present" in Action: Tracy Sockalosky
Mon, 08/31/2015 - 5:00pm
This year-long series will catch up with teachers and staff who participated in the Auschwitz: The Past is Present professional development program led by USC Shoah Foundation and Discovery Education to commemorate the 70th anniversary of the liberation of Auschwitz. The program brought 25 teachers from around the world to Warsaw and Krakow from Jan. 23-28, 2015, where they toured museums and historical sites, learned how to incorporate testimony into their teaching, and attended the official commemoration at Auschwitz-Birkenau State Museum. In "Past is Present" in Action, the participants reflect on the program and share how it has influenced their work.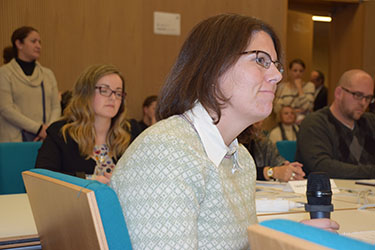 The Holocaust is a subject typically taught to high school students, but Tracy Sockalosky left Poland inspired by new ways she can incorporate testimony and the lessons she learned from Auschwitz: The Past is Present (APIP) into her courses at Wilson Middle School in Natick, Mass.
Sockalosky said she is careful not to frighten her seventh grade students with intense imagery and information about the Holocaust, but being at Auschwitz for the commemoration got her thinking about imparting empathy to her students. She realized how important it is to teach students to be empathetic and listen to other people's experiences and returned home motivated to incorporate these themes throughout her World Geography curriculum.
"I started thinking about how I include voice and people's stories in my teaching and how important stories are," Sockalosky said. "This year, I started by framing my class with the question "Why is it important to understand the perspectives of other people when thinking about the globe? Why is it important to think about what other people's world is and hear their story?"
She said she has begun using more primary source accounts, not just testimony but also diaries and news stories, in her lessons to expose students to more personal stories as they learn about history and other topics. She's also working on a lesson that will introduce her students to the concept of testimony and what to pay attention to when they listen to someone tell a personal story.
Last year, she also led her class in a lesson comparing Elie Weisel's Nobel Peace Prize speech and Roman Kent's speech at the Auschwitz commemoration she attended during APIP, thinking about what each 
man's call to action was and why they urged people to remember. Coupled with her assignment to find five additional genocides that have occurred around the world, Sockalosky felt her students really understood 
why it's important to never forget events like the Holocaust.
Tracy Sockalosky, bottom left, with Holocaust survivor Paula Lebovics, bottom center, and teachers during Auschwitz: The Past is Present
"The kids clearly got from the lesson that it's really important that we reflect on history and we reflect on people's experiences specifically around the Holocaust because although this is one example of tragedy in history, it sadly repeats itself," Sockalosky said.
Sockalosky has always been close to the Holocaust, since her grandfather was a liberator and she studied it in college, but she was surprised by just how strongly she was affected by the trip to Poland. Visiting Auschwitz was something she'll never forget.
"Walking through those blocks, having seen so many pictures and heard and read stories, you think it's going to be emotional but I didn't realize how emotional it was really going to be," she said. "That will always stick with me."
Like this article? Get our e-newsletter.
Be the first to learn about new articles and personal stories like the one you've just read.