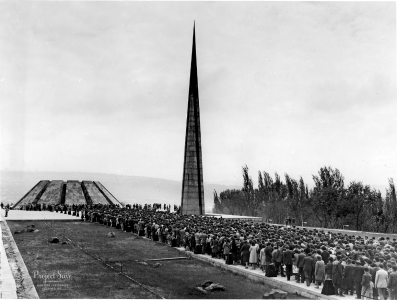 Today marks the 104th anniversary of the Armenian Genocide.
But while those who witnessed the horrors that led to the murder of some 1.5 million Armenian men, women and children are mostly gone, many of their stories will continue to be told through the recorded testimonies they gave over the years.
USC Shoah Foundation's Visual History Archive currently features several hundred such testimonies, each one providing important historical context and emotional depth.
The bulk of those testimonies are the work of two leaders in the field: J. Michael Hagopian and Richard Hovannisian.
Hagopian, a founder of the Armenian Film Foundation, recorded interviews between 1972 and 2005 for documentaries. The survivors and witnesses who make up this rare collection were interviconewed in 10 different languages and were between the ages of 8 and 29 during the genocide. Hagopian donated the collection to the Institute in 2010.
And last year, scholar Richard Hovannisian entrusted his collection of more than 1,000 audio-only interviews he and his students at UCLA conducted for decades to the Institute.
Even though the atrocities occurred more than a century ago, the interviews remain timely. To date, just 28 countries have officially recognized the Armenian Genocide, the latest being Italy. Calling on other countries to recognize the genocide, thousands of people on Wednesday marched through streets of Los Angeles, home to more than 200,000 people of Armenian descent. The Institute was acknowledged as a coalition partner for the rally.
USC Shoah Foundation honors the memories of those who were killed or displaced during the Armenian Genocide by sharing these clips of testimony.