Monday, October 16, 2017 - 2:15pm
Herklotz Room (Music Library, Doheny Memorial Library)
3550 Trousdale Parkway
Los Angeles
, CA
90089
United States
The USC Shoah Foundation Center for Advanced Genocide Research and the USC Institute of Armenian Studies present:
A public lecture by Dr. Boris Adjemian (Director, AGBU Nubar Library, Paris)
In this public lecture, Dr. Boris Adjemian will speak about the making of Armenian archival collections of victims' testimonies after the genocide and the evolution of their historiographical uses. 
Refreshments will be served.
Please RSVP to cagr@usc.edu.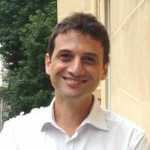 Dr. Boris Adjemian is a historian and the director of the AGBU Nubar Library (Paris).  He is also the editor-in-chief of the bilingual academic journal Études Arméniennes Contemporaines.  He defended his PhD in 2011 at École des Hautes Études en Sciences Sociales and Università degli Studi di Napoli.  His first book, entitled La Fanfare du Négus: Les Arméniens en Éthiopie (19e-20e siècles), was published by Éditions de l'EHESS in 2013.