Wednesday, October 3, 2018 - 12:00pm
Social Sciences Building (SOS) 250
United States
A public lecture by Martina Kessel (Bielefeld University, Germany)
Martina Kessel's research examines the meaning and role of humor as an identity practice in Germany during the time of National Socialism in Germany. In this lecture, she will explore the theory that non-Jewish Germans disguised violence as 'art' to justify their failure to comply with international or humanitarian beliefs.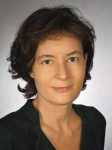 Martina Kessel is a professor in Modern History at Bielefeld University, Germany. Her research focuses on 19th and 20th century German and European history, war and violence in the modern age, gender history from the 18th to 20th century, and identity formation through inclusion and exclusion in modern societies.  
The Gerda Henkel Lecture Series brings German historians to the West Coast to present their research and engage in dialogue with their colleagues in the US and Canada. This lecture is sponsored by the Max Kade Institute for Austrian-German-Swiss Studies and co-sponsored by the USC Shoah Foundation Center for Advanced Genocide Research.
Lunch will be served. RSVP to cagr@usc.edu.