A Public Lecture by Samuel Kassow
Tuesday, February 20, 2018 - 5:00pm
Doheny Memorial Library 240 (Friends Lecture Hall)
3502 Trousdale Parkway
Los Angeles
90089
This lecture is part of the series "Hidden Archives - Public Sturggles: Events Commemorating the 75th Anniversary of the Warsaw Ghetto Uprising." Presented by Doheny Memorial Library and co-sponsored by the USC Shoah Foundation Center for Advanced Genocide Research.
In the Spring of 1943, as World War II raged on the European continent, and as the Nazis intensified their efforts to deport Jews to extermination centers, a group of Polish Jews in occupied Warsaw led an armed uprising. Over the ensuing twenty-eight days, the Warsaw ghetto was razed, leaving thousands dead and heaps of rubble in its wake. However, shortly before its destruction, a clandestine scholarly organization operating for the previous three years under the code name Oyneg Shabes (Joy of the Sabbath)  had buried milk cans and tin boxes that contained thousands of items documenting the lives and experiences of the ghetto's inhabitants. The efforts of the Oyneg Shabes, led by the Polish-Jewish historian Emanuel Ringelblum, ensured that the voices of Warsaw's doomed Jewish inhabitants would outlast Nazi efforts to silence them. While much of the cache was discovered in the aftermath of the war, it remained relatively unknown and largely untransalated until the end of the 20th century.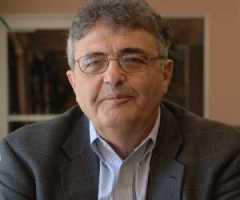 Samuel Kassow is the Charles H. Northam Professor of History at Trinity College and author of Students Professors and the State in Tsarist Russia: 1884-1917 (University of California Press, 1989), The Distinctive Life of East European Jewry (YIVO, 2003) and Who Will Write Our History? Emanuel Ringelblum and the Secret Ghetto Archive (Indiana University Press, 2007). He is the co-editor of Between Tsar and People (Princeton University Press, 1993) and edited In Those Nightmarish Days: the Ghetto Reportage of Peretz Opoczynski and Josef Zelkowicz (Yale University Press, 2016). Kassow was educated at Trinity College, the London School of Economics and Princeton University and is an expert in modern Jewish history, Holocaust historiography and Russian and Soviet history.
For questions and to RSVP for free parking, contact Zofia Lesinska at lesinksa@usc.edu.