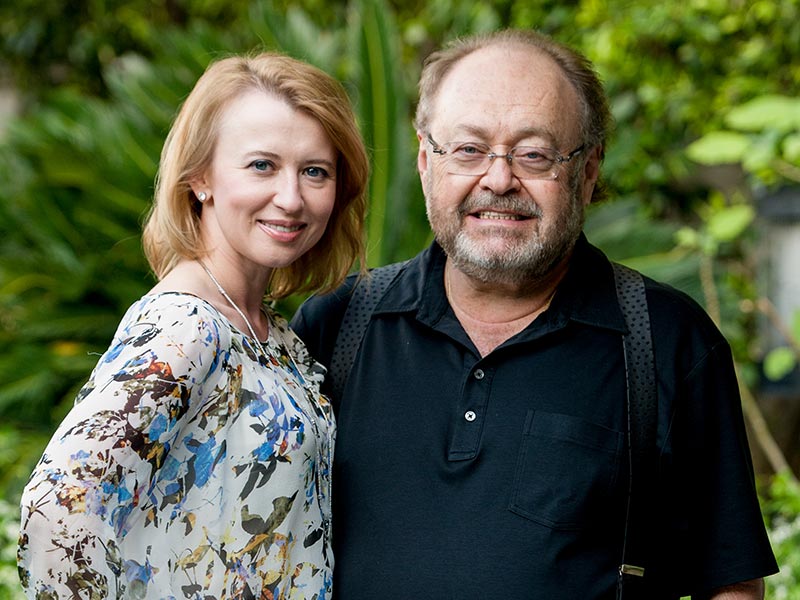 George and Irina Schaeffer
Expanding the Message
The child of Holocaust survivors, George Schaeffer has supported USC Shoah Foundation's mission since he first heard about it. His parents met after the Soviets liberated Ravensbrück, the Nazis' largest concentration camp for women. His father had been sent there as a laborer. The couple married in 1945, the same year they were freed.
By 1956, their liberators had become the oppressors. The family, now including young George, was forced to flee the violence of the Hungarian Revolution, immigrating to the United States on the first plane from Hungary that President Eisenhower allowed to land.
Despite the life he has created here, and his successes in building such leading beauty companies as OPI and Aloxxi, the hatred his family faced is never far from his thoughts. He also remains committed to ensuring that the experiences of survivors like his parents — as well as the millions who did not escape — are never forgotten, so that genocides are not repeated.
Toward that goal, he is a major force in helping expand the reach of the Institute's international teacher training initiatives in Hungary, Russia, Poland, and at the American University in Paris. His generosity also enabled the Institute's Visual History Archive to become accessible at Eötvös Loránd University in Budapest, the largest university in Hungary.
For Schaeffer, these efforts are about more than ensuring the past is not forgotten. They are also about building a safer future in an era threatened by terrorism and rising international tensions.
"I think history constantly repeats itself, and it's necessary to remind people with real film and with real people who went through this horrible tragedy," he says. "The world needs to remember in order to make sure it doesn't happen again."