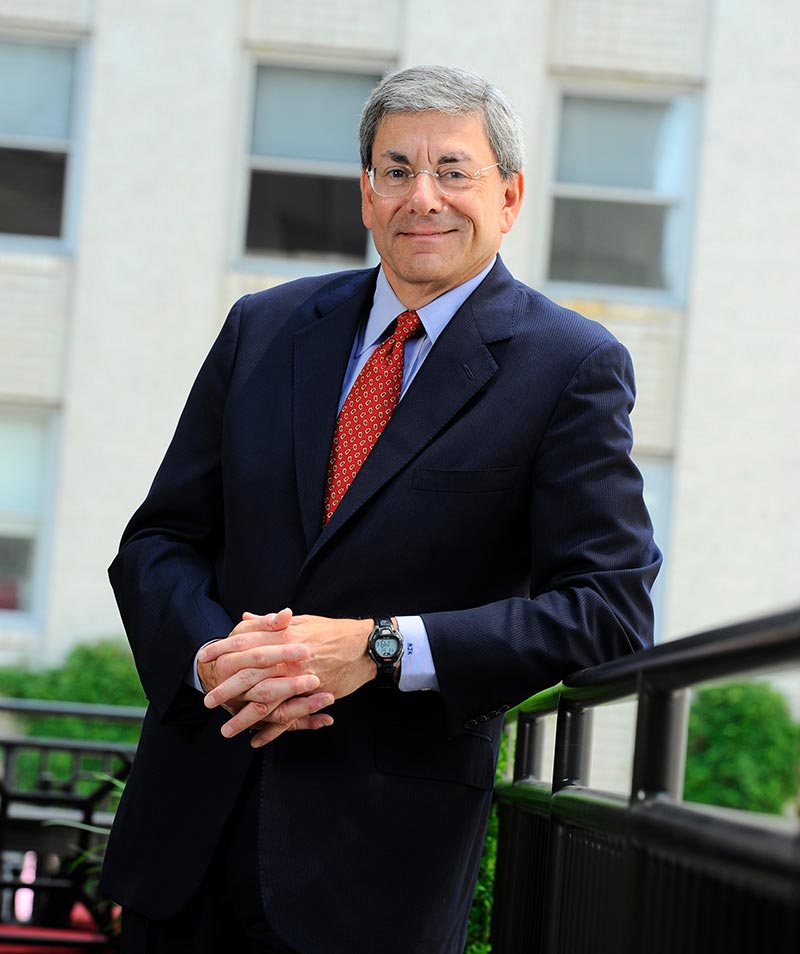 Robert Katz
Purposeful Leadership
For Board of Councilors Chair Emeritus Robert J. Katz, involvement with USC Shoah Foundation stems not from a direct personal connection, but from an emotional pull he'd later identify.
"My family escaped the Holocaust because my European ancestors immigrated to the United States before World War I," he says. "But in an odd way, that actually energized me. I felt a greater personal need and obligation to get involved — not because I was a survivor or child of survivors, but because my personal survival had not been threatened. How can those of us who happened to be safe through no action of our own not be the first to stand with those who were murdered, or came very close to being murdered, through no action of their own?"
Duty found him in late 1999, when a piece of mail drifted across his desk at Goldman Sachs in New York. It was a newsletter from the Survivors of the Shoah Visual History Foundation. "I'd never seen a previous issue, but I recalled the Schindler's List trailer saying that Steven Spielberg formed a foundation to record survivor testimonies. This was the first I'd heard anything further about it." He picked up the phone immediately and called the Foundation: "I don't to this day know who answered the phone, but I know what I said: 'I need to talk to somebody who knows something.'"
By then the organization was shifting gears, Katz recalls. The job of collecting testimonies was almost complete. "They were taking a deep breath and starting to ask, 'OK, now that we're almost at our goal, who are we? What are we? Are we a "project" or an ongoing institution with a mission beyond collection and preservation?'" Part of that rethinking, he says, was to expand the organization's footprint and raise its profile. That meant "growing" the underlying base — and "above all, embracing the East Coast."
After meeting with the organization's leadership, he signed on. "Nobody recruited me. I self-recruited out of intellectual curiosity and emotional resonance." That led Katz to host the organization's first East Coast fundraiser, help develop a national board and, over the course of several years, take part in far-reaching discussions concerning the organization's evolving mission, including its progression from a self-standing foundation to an institute on the campus of a great research university — as USC Shoah Foundation — The Institute for Visual History and Education.
In his various roles, Katz was key to taking the Institute through its next steps, moving from "project" to "institution." "We've morphed, and very deliberately so, into an academic center — but a very unusual one, because we don't operate purely as a scholarly institute devoted to research, writing, and teaching at the university level. One of the key places we knew we should be in is secondary school education, which is an area we've devoted ourselves to."
The power, he knows, is in the testimonies themselves — those stories drawn from the past and those dealing with contemporary areas of conflict, intolerance, hate crimes, and genocide. "You want to use the power of survivor testimonies to help prevent recurrences," he says. "But it doesn't work unless the people you're getting to view your testimonies can relate it to the modern day and their own lives. You have to broaden the base of both the experiences captured and the populations exposed to the stories."
Katz realizes that how these stories may sway future generations is difficult to measure. "To some degree it's a leap of faith," he says. "But my watchword ever since I've been here has been: 'Stop the talk, talk, talk, and always show, show, show. Just roll the tape. Let people see and hear the survivors and their voices telling what they experienced. Whatever we do, remember we are a visual force.' For me, the imperative remains: Capture and tell the firsthand stories. The power they have for making the world a better place is immense and self-evident: You feel it; you know it."