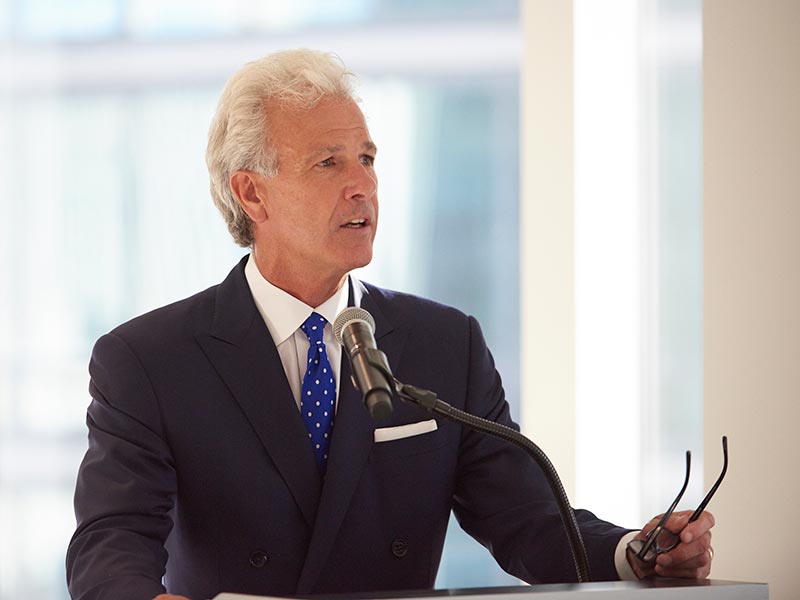 Sam Pond
Hope, Humanity, and Forgiveness
Samuel H. Pond, managing partner of Pond Lehocky Stern Giordano and a longtime supporter of USC Shoah Foundation, decided to dedicate even more time and energy to the cause by joining the Institute's Next Generation Council after a moving conversation with Board of Councilors Chair Stephen Cozen.
"We talked about what's important in life, what really matters," Pond recalls. "And, clearly, the work that the Institute is doing is profound. It's exponentially growing in influence every year and becoming so much more impactful as a global game changer."
Pond believes that the eyewitness testimonials archived at USC Shoah Foundation are of utmost importance for the organization's continued success. "It starts with the human experience and these real-life stories," he says. "They are often telling of horrific experiences, but in the end their stories are also uplifting. There's charity and courage. There's hope and humanity. There's forgiveness."
Pond recently hosted a well-attended event at his firm's Philadelphia office to help raise national awareness of USC Shoah Foundation. The power of these testimonials, he believes, is that when people see them they are transported - even riveted. "It touches them because it's not fiction. It's reality," he says. "If we can continue to get out these stories, to educate people, to just develop a dialogue, then the world may come closer together instead of continuing to separate."
Ultimately, he says, it is about education. "If we can educate people, if we can change the mind of one person toward love instead of hate, then hopefully we can prevent history from repeating itself."