When Edith Nadel Lotner left Poland for the United States, World War II was still a few years away and she had every reason to think she'd see her family again.
She exchanged letters with her relatives back home, but once the Holocaust began, there was nothing but silence. She never heard from them again.
 "She hoped and prayed that they survived the war," said Lotner's daughter, Helene Shapiro. "She did a very thorough search. They found people from the town, but nobody could tell her what happened to her family."
Family is important to Shapiro. She's writing a book about her family's experience and wants to make sure her descendants know of their history. And even though she lives in Florida, she has a strong connection to USC and the Institute. Her daughter, Leesa Wagner, is a member of USC Shoah Foundation's Next Generation Council. And three of her grandchildren – Renee, Roni and Myles Willett – have studied at USC. In fact, Renee and Roni both received their graduate degrees on Friday; Renee received an MBA and Roni is getting her Master's Degree from the Iovine Young Academy, where Myles is currently studying.
Also on Friday, Shapiro and family paid a visit to the Institute's office in Leavey Library to announce the naming of a collection of testimony that is connected to the Polish town of Narol and the Belzec concentration camp. The "Helene Lotner Shapiro Narol and Belzec Poland Collection, in memory of the Lotner and Feldman Families" comes as a gift from Leesa and Leon Wagner. His parents were also Holocaust survivors; their testimonies are in USC Shoah Foundation's Visual History Archive.
"We had this horrible experience with our family, but we are trying to make sure the grandchildren know about these things," Shapiro said.
Lotner never gave up hope of reconnecting with a family member who survived the Holocaust. She searched for years with the assistance of various aid societies that were set up after the war to reunite families. Those efforts were unsuccessful, but she persisted.
"It was very hard to live with the fact that she survived," Shapiro said. "She never thought about bringing her family over. Who would ever think they would kill all the men, women and children?"
Hope resurfaced in the late 1980s with the fall of communism. The Soviet Union were in possession of records kept by the Nazis and they were being made available for the first time. The detailed notes included names of victims, where they came from and even if they were infested with fleas or lice.
"I said to my mother, 'Let's try again,'" Shapiro said.
There was one problem: The Nazis were such meticulous record keepers that the Russian ledgers stretched for miles. It would take years for the Red Cross to process the information.
Lotner and her husband, Morris Lotner, both died in 1998 without ever finding a relative. It wasn't until 2014 that her daughter received a telephone call from the Red Cross. But even then, the news wasn't good: They found no records of the family.
But like her mother before her, Shapiro was tenacious. She and her daughter, Leesa, would take on her mother's mission as her own. And she had a tool at her disposal that her mother could never have imagined: DNA testing. A family member sent in a sample. A few weeks later, they found a match. And it turns out that he too had been searching for family.
"It was the most amazing thing," Leesa Wagner said. "The second I found out, I made the phone call. I said we've been searching for you for three generations."
The man on the other end of the phone was Jose Schwarzer. His mother was Lotner's aunt. His side of the family escaped the Holocaust by moving to Argentina, but he was now living just a few blocks away from Shapiro's home in Florida.
"He said he was searching for relatives," Wagner said. "He couldn't be lovelier. He came the first day to dinner."
Finding his relatives close by was no less thrilling for Schwarzer.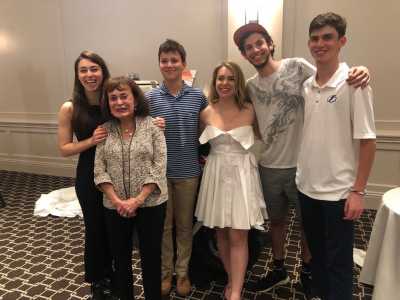 "It's pretty overwhelming, emotional and indescribable," he said. "'We share a neighborhood. We crossed paths many times, but we didn't know we were family."
The connection helped both families discover things about their pasts.
"It helps us to put some of the big puzzle pieces of the family story together," Schwarzer said.
Since the first meeting, the two families have grown ever closer. They dine together frequently and celebrate each other's birthdays.
While thrilled by the new discovery, there are pangs of sadness that Lotner wasn't able to meet the family she never knew she had.
"I always wish my grandmother had known," Wagner said.
Even though Lotner wasn't able to realize her dream, Shapiro is happy that her two children and five grandchildren will be able to meet their newly found relatives.
"He fits into our family perfectly," she said. "Meeting him was a great moment in our lives."