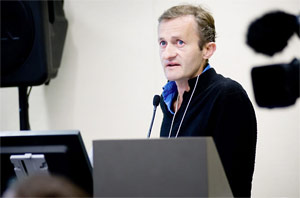 Faculty Name:
Colin Keaveney, Assistant Professor, French and Italian
Institution Name:
University of Southern California
Case Overview:
Professor Keaveney's upper level French course explores themes of love, loss, collective and personal memory, and modernity through readings of French literary texts, theoretical readings, films, poems, and songs. One of the texts used in the class is the French novel Dora Bruder, which tells the story of a young girl who was sent to Auschwitz. The book combines different aspects of memory, loss, life, chronology, and French history, and reconstructs what the girl's life may have been like, even though very little is known about her.
Pedagogical Approach:
Students are asked to actively imagine Dora Bruder's experience with the aid of contemporary birth certificates, police reports, bureaucratic documents, and descriptions of photographs. In an effort to promote student engagement, Professor Keaveney provides supplemental materials to have them answer speculative questions such as:
Who took the photographs?
When were the photographs taken?
What might the people in the photographs have been thinking when they were taken?
VHA Use:
Students are also assigned French-language segments from the VHA chosen by Professor Keaveney based upon topical relevance in the assigned readings, such as police issues and anti-Jewish laws, etc. Students then have the responsibility of making connections between the segments in the VHA and the text. This involves recounting victim testimonies while putting them in the context of the assigned text. Since there are no English subtitles in the VHA, students must pay close attention to the testimonies to responsibly transcribe them in order to present them to their fellow classmates. Professor Keaveney uses from the texts an example that refers to a particular police report recounting a visit to the household of a family called Jacobson. The police were looking for one of the sisters called Nadia. She was linked with the Resistance and had run away. While they were searching the house, the younger sister, Louise, suddenly entered the apartment. Since she was not wearing the Jewish star, as required by law, they took her to the police station. From there she was deported to Auschwitz. The VHA interview with her sister Nadia Kaluski-Jacobson allowed students to juxtapose the dry official account from the text with a personal true story of loss and bereavement.
Concluding Observations:
Professor Keaveney contends that "the VHA can provide factual and emotionally powerful information to allow students to better understand those who experienced the German occupation of France in the 1940s." The content within the VHA is rich in historical knowledge, which gives students more substance, meaning, and depth to the French literature explored in the course. It also enhances the class discussions for more compelling and productive dialogue. This same methodological approach can be incorporated in other language and literature courses, such as Russian, German, Italian, Spanish, and others.