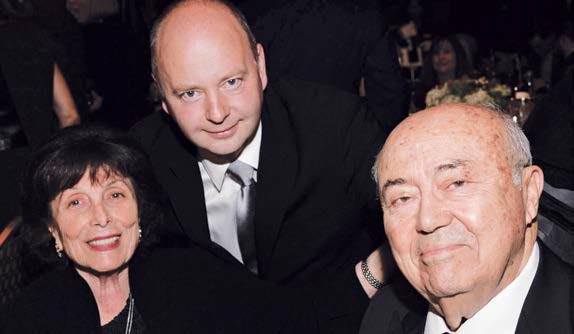 Andrew Viterbi and Erna Finci-Viterbi
Changing the World
The late Erna Finci Viterbi shared a passion with her husband, Andrew, for helping people learn from the Holocaust to combat intolerance and the violence that stems from it. In November 2014, three months before Erna passed away, the Viterbis honored another person with that drive when they awarded Stephen D. Smith the inaugural Andrew J. and Erna Finci Viterbi USC Shoah Foundation Executive Director Chair.
The chair supports Smith's leadership of USC Shoah Foundation and recognizes his lifetime of work in genocide education and prevention. The ceremony at which it was bestowed in November 2015, also honored a lifetime of philanthropic leadership on the part of the Viterbis, who have devoted much of their lives to causes related to education, the arts, Jewish organizations, and science and engineering research. Erna's service included being on USC Shoah Foundation's Board of Councilors. Together, they named the USC Andrew and Erna Viterbi School of Engineering with a $52 million gift in 2004.
The Holocaust touched both their lives before they even met. They each escaped Nazicontrolled Europe, but Erna was more personally affected. As a youth, she and her family fled their native Sarajevo only to be deported to the Parma region of Italy. Fortunately, local townspeople saved the family from being sent to the camps. They then made it to Switzerland, remaining there until moving to California after the war.
"We need only look to the Viterbis to understand this one simple truth: The past may always be present, but the future is ours to change," USC President C. L. Max Nikias said at the ceremony. "Stephen Smith is a champion of this vision. He has seen how eyewitness testimony can change the world, one voice at a time."