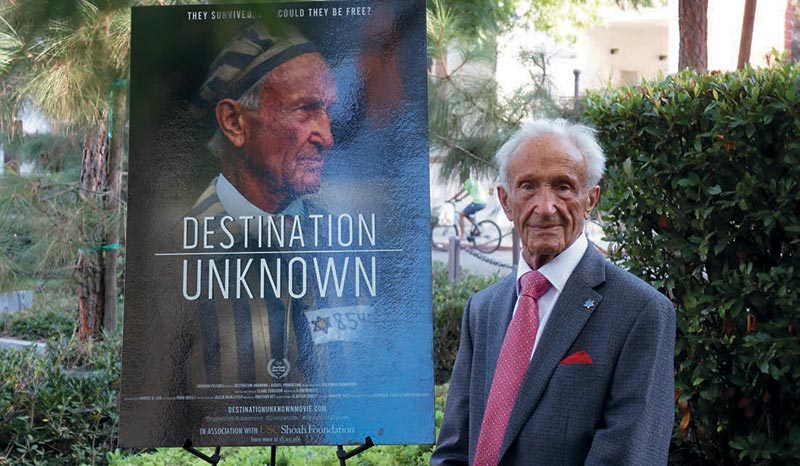 Ed Mosberg
Holocaust Survivor Ed Mosberg has not slowed down. At 95, he's dedicated much of his life to the tireless work of sharing his story and preserving the memory of those lost, which includes more than 60 of his family members. "I lost my whole family," Mosberg said, "and I have to ensure that their story will never be forgotten."
As part of this effort, he's given three iterations of testimony for USC Shoah Foundation: traditional video interview testimony in 2016; a Dimensions in Testimony interactive interview in 2018; and 360 Testimony on Location also in 2018 when he was filmed in two countries at more than 28 locations important to his life journey, including Mauthausen concentration camp in Austria where he was a prisoner 74 years before.
Mosberg also appeared in the documentary film Destination Unknown, has been the subject of a portrait for David Kassan's Facing Survival art exhibit, and has given speeches to thousands of children and adults, including student groups, police recruits and participants of the March of the Living at Auschwitz-Birkenau.
"This is my obligation and duty to my family and to the six million Jews who were murdered," Mosberg explained of his ongoing efforts. "I will never stop as long as I live." Since first connecting with USC Shoah Foundation in 2016, Mosberg has been a vital partner, donating not only his time and voice to a variety of Institute projects, but also providing financial support to ensure his story and those of other survivors are shared as widely, and in as many formats, as possible. Among these projects is a mobile filming rig that allows the Institute to film survivors' interactive testimonies from the comfort of their homes as well as the Dimensions in Testimony educational exhibit at the Holocaust Resource Center at Stockton University in Mosberg's home state of New Jersey.
The exhibit, which was temporarily closed during the COVID-19 pandemic, gives middle and high school students the opportunity to meet and learn from Mosberg's interactive testimony, thus promoting one of Mosberg's primary goals of educating as many as possible about the horrors of the Holocaust.
Mosberg's ongoing support of the Institute has allowed him to amplify his own voice and given others the same chance. "There is nothing more important than sharing my message," he said. "I lost my family, something I can never forget." His support of USC Shoah Foundation will help ensure the world will never forget, either.