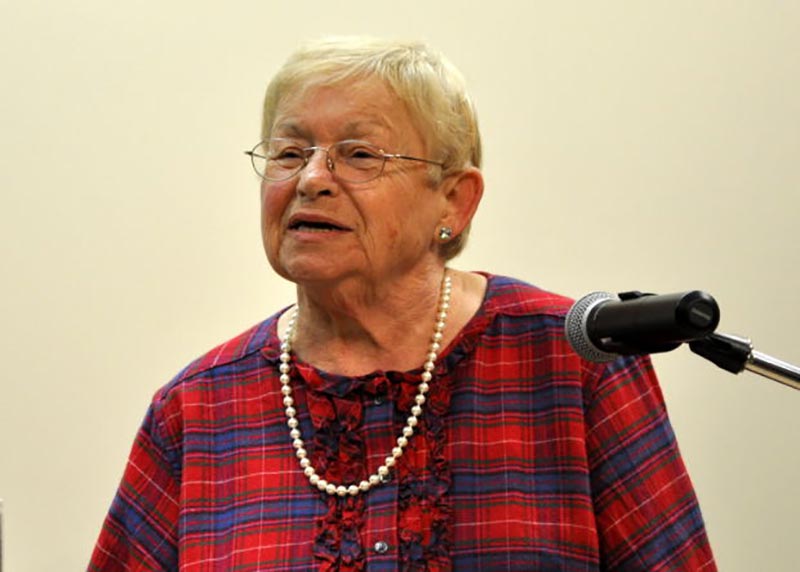 Hilda Mantelmacher
Turning Hate into Love and Action
Hilda Mantelmacher's life features many defining moments, yet three in particular stand apart from the rest: going through the Holocaust; an episode of 60 Minutes; and the film Schindler's List.
An Auschwitz survivor who lost her parents, little brother, and grandparents during the Holocaust, she does not know her birthday, but says, "every day I wake up is my birthday." After the camps were liberated, Mantelmacher came to the United States in the 1950s to begin her new life. She found work and started a family. Her two daughters became teachers, and she found her own life's work as an educator.
In the 1980s, an episode of 60 Minutes was her first call to action. Guests on the show suggested that the Holocaust was a "lie." Mantelmacher worried that this revisionist history was not only circulating the airwaves but reaching young students. She decided to personally reach students throughout her home state of Pennsylvania, teaching them about the Holocaust and the effects of hatred. "Don't use the word hate, and don't hate," she tells students from elementary school through college. "If you don't hate, there is no Holocaust."
Mantelmacher has also volunteered in Jewish nursing homes for more than 25 years, educating staff about survivors' experiences and the possible effects of their painful memories. For instance, one resident always felt cold, a result of being forced to live in the woods with his wife and daughter in Poland. A female resident refused to let her hair be cut because she thought it would be shaved off as done in the concentration camps.
In 1993, Mantelmacher saw Schindler's List, and, after the film, a trailer for USC Shoah Foundation, which became her second call to action. She says Steven Spielberg was an inspiration, with his brave gamble of educating millions with the stories of survivors. "He decided to share the story with the world," she says. "It was like a funeral—but a funeral that made me feel good."
Today, she continues teaching about the Holocaust but requires that a contribution be made to the Institute for any speaking engagement she conducts. "Do not send me flowers; they die in one or two days," she says. "Send a donation to USC Shoah Foundation, because it lives forever." Through her selflessness and determination, the Institute has received countless donations over the years.
For a woman who lost a great deal to hate, Mantelmacher seems to unfailingly respond with service and love. Through her life and work, she underscores the importance of USC Shoah Foundation's mission to educate people of all ages and never let the world forget survivors' own stories.