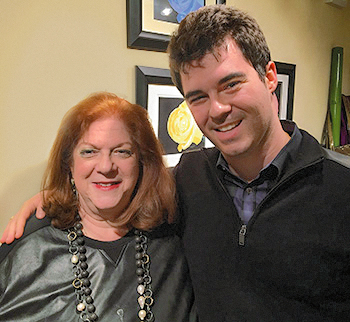 Nancy and Jonathan Fudem
When Nancy Fudem and her son Jonathan were contemplating ways to honor the memory of Nancy's husband Frank, a prominent San Francisco commercial real estate broker who passed away in 2012, they considered some of his lifelong passions: family, education, and his Jewish faith. His wide range of interests, from spy novels to economic theory to Talmud study, indicated a deep and curious mind that valued the power of knowledge. "Frank credited much of his success to his start as a scholarship student at York Country Day School, and was always passionate about education," Nancy said.
Nancy and Jonathan decided that a fitting tribute would be to create a legacy of scholarship in Frank's name, allowing others to use education to better themselves and the world at large. Working with USC Shoah Foundation, they established the Frank Fudem Research Fellowship at the Center for Advanced Genocide Studies (CAGR). The Fudem Fellowship allows advanced-standing Ph.D. candidates from any academic discipline to spend a month in residency at CAGR utilizing testimony within the Visual History Archive (VHA) to further their understanding of genocide's causes as well as ways to combat it. As Nancy explained, "We live in perilous times, with hatred and antisemitism on the rise and terrifyingly prevalent. We believe that education is the answer."
The Fudems first learned about the Institute's work while Jonathan was a freshman at USC. They were immediately "intrigued and hooked," said Nancy. "We were moved and impressed to learn about the origin of the Foundation, and proud of USC for providing it a home." Upon further explorations of the VHA and the way its testimonies could enlighten and inspire viewers, the Fudems came to believe in the Institute's power to fight hatred by shining a light on its pernicious effects.
By giving financial assistance to scholars as they further their research using VHA testimony, "the Frank Fudem Fellowship will contribute to educating educators in the areas of remembrance, understanding, and tolerance, and will motivate and prepare them to educate their own students," Nancy said. Because the scholars in residence will continue to teach others throughout their academic careers, their research at the Institute will enact a multiplier effect, benefitting an even greater number of people beyond those who come in direct contact with the Institute.
The fact that this research will help create a more just society, Nancy explained, is a legacy Frank would be proud of. "Supporting academic research is an honor for all of us. If one scholar impacts one student on the basis of research facilitated by the Frank Fudem Fellowship, we will all have accomplished something important."