International Day of Tolerance
Fri, 11/16/2007 - 12:00am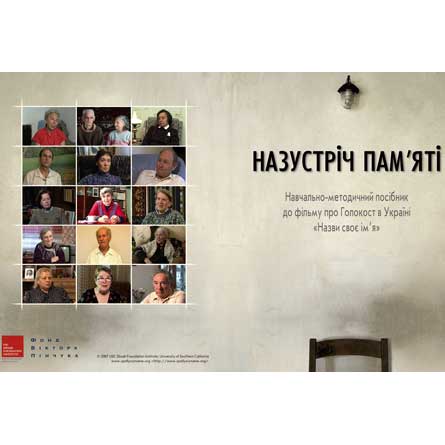 Nova Doba, USC Shoah Foundation Institute, Victor Pinchuk Foundation Aim to Reach 3,000 Ukrainian Educators by 2009
KYIV, UKRAINE–NOVEMBER 16, 2007–On the occasion of the International Day of Tolerance—an annual day of observance initiated by UNESCO in 1996 to generate public awareness of the dangers of intolerance—a two-day seminar took place on November 15 and 16 at the House of Teachers in Kyiv to train Ukrainian teachers of social sciences and humanities on the use of a new multimedia teacher's guide titled Encountering Memory. The seminar was conducted within the framework of the educational program of the same title, initiated by the USC Shoah Foundation Institute for Visual History and Education and the Victor Pinchuk Foundation, in partnership with the All-Ukrainian Association of Teachers of History and Civic Education "Nova Doba."
The comprehensive guide, which was approved by Ukraine's Ministry of Education and Science in July of 2007 and published in the fall, is designed to accompany Spell Your Name, a documentary film about the Holocaust in Ukraine directed by Sergey Bukovsky.  The film is a collaboration between the USC Shoah Foundation Institute for Visual History and Education and the Victor Pinchuk Foundation.  More information about Spell Your Name is available at www.spellyourname.org.
Encountering Memory, authored by Oleksandr Voytenko and Mikhail Tyagly, includes a video component with Spell Your Name as well as excerpts of Holocaust survivor and witness testimony from the USC Shoah Foundation Institute Visual History Archive.  The teacher's guide addresses such topics as xenophobia, discrimination, tolerance, and democratic coexistence, and is suited for use in secondary school history classes as well as specialized civics courses and extracurricular activities.
The seminar in Kyiv was one of 25 sessions in the first phase of a 3-tiered program intended to provide training on Encountering Memory to 3,000 Ukrainian teachers by 2009.  To conduct the seminars, the USC Shoah Foundation Institute entered into a partnership with Nova Doba, the All-Ukrainian Association of Teachers of History and Civic Education.  In addition, the partners are working in cooperation with the Ukrainian Center for Holocaust Studies, a charitable educational and research foundation specializing in Holocaust history.  The training program is made possible through generous funding by the Victor Pinchuk Foundation, which also funded the creation of the teacher's guide Encountering Memory and Spell Your Name.  Mr. Pinchuk and Mr. Steven Spielberg served as the executive producers of the film.  "Lessons of tolerance are of particular importance for modern Ukraine, the society of which presently suffers from the negative influence of certain political ideas, which rather disconnect people than create a platform based on common values for future development of the country and its citizens," said the President of the Victor Pinchuk Foundation Thomas Eymond-Laritaz.
Seminar attendees included teachers, methodology specialists, and student youth educators serving grades 9-11.  Each received a free copy of Encountering Memory.
"It's fitting that the session in Kyiv should take place on the International Day of Tolerance," Douglas Greenberg, USC Shoah Foundation Institute Executive Director, said.  "Encountering Memory is relevant not only to the study of the history of the Holocaust in Ukraine, but also as a means to help students recognize the threat of intolerance today."
Six trainers are participating in the program.  They are Oleksandr Voytenko, co-author of Encountering Memory and President of Nova Doba; Anna Lenchovska, Regional Consultant in Ukraine for the USC Shoah Foundation Institute; Anatoly Podolsky, Director of the Ukrainian Center for Holocaust Studies; Mikhail Tyagly, co-author of Encountering Memory and Research Specialist of the Ukrainian Center for Holocaust Studies; and Nataliya Golosova and Iryna Kostyuk, history teachers and trainers from Nova Doba.  "Through the use of Encountering Memory, the history of the Holocaust can be presented in a way that is innovative and current," said Oleksandr Voytenko.  "Ukrainian teachers have a strong interest and readiness to work with such materials and believe that they will help students understand the need for tolerance and foster their civic virtues."
Training sessions are slated to take place in each of the 24 regions of Ukraine and the Autonomous Republic of Crimea, with an initial goal of reaching approximately 600 teachers by the end of the 2007-2008 school year.  In the second phase of the program, some of these educators will themselves become trainers, and in the third phase, they will provide instruction for local teachers in their respective regions.  The program is expected to conclude in February 2009.  To date, seminars have been conducted in Kharkiv, Cherkasy, Lviv, and Ivano-Frankivsk in addition to Kyiv, and are scheduled for other regions of Ukraine.
Valery Sylenko, a teacher at Cherkasy State Gymnasium #1, who attended one of the Encountering Memory training seminars said, "When a teenager sees and hears a living witness of the Holocaust, he is taken by that person's emotional state and begins to empathize.  Using video testimonies in history and civics classes is an original approach, which helps bring life into the classroom.  I plan to use this resourceas part of an 11th grade lesson on the Second World War and in a 10th grade Law Studies course."
About the USC Shoah Foundation Institute
With a collection of nearly 52,000 video testimonies in 32 languages and from 56 countries, the USC Shoah Foundation Institute's archive is the largest visual history archive in the world.  The Institute interviewed Jewish survivors, homosexual survivors, Jehovah's Witness survivors, liberators and liberation witnesses, political prisoners, rescuers and aid providers, Roma and Sinti survivors (Gypsy), survivors of Eugenics policies, and war crimes trials participants.  In total, 3,446 interviews were conducted in Ukraine and in the Ukrainian language outside of Ukraine. 
The Shoah Foundation Institute is part of the College of Letters, Arts and Sciences at the University of Southern California.  The Institute's mission is to overcome prejudice, intolerance, and bigotry—and the suffering they cause—through the educational use of the Institute's visual history testimonies.  For information about the USC Shoah Foundation Institute, visit sfi.usc.edu.
About the Victor Pinchuk Foundation
The Victor Pinchuk Foundation develops and supports projects that contribute to the modernization of Ukraine and to the emergence of a new generation of Ukrainian leaders.  Its six fields of activity and current projects have been carefully selected to contribute to those goals:  Health (national network of neonatal centers (Cradles of Hope), programs fighting HIV/AIDS in collaboration with Olena Franchuk ANTIAIDS Foundation, Clinton Foundation, and Elton John's AIDS-Foundation); Education (national scholarship program Zavtra.UA, Kyiv School of Economics, educational tolerance program for schools); Encountering Memory, based on the documentary about the Holocaust in Ukraine; Spell Your Name (produced in cooperation with Steven Spielberg; Aspen Ukraine Initiative; Culture (center of contemporary art PinchukArtCentre, Four Seasons Chamber Orchestra); Human Rights (legal clinics/legal aid in cooperation with George Soros Foundation); Ukraine in the World (international network supporting European integration of Ukraine Yalta European Strategy, projects in cooperation with Amicus Europae Foundation, Brookings Institution, Peterson Institute of International Economics, International Crisis Group); and Local Communities (project Beit Tzindlikht).  For information about the Victor Pinchuk Foundation, visit http://pinchukfund.org/en/.
About Nova Doba
Nova Doba, the All-Ukrainian Association of Teachers of History and Civic Education, is a national public educational organization.  It consists of 24 collective members from various regions of Ukraine.  The mission of the Nova Doba Association is to promote development of history and civics education in the educational institutions of Ukraine for the purpose of improving the process of democratization in the country's public life.  Nova Doba conducts conferences and educational seminars; develops educational and methodological products for the secondary school classes of History and Civics; participates in the preparation and discussion of state documents on education policy, textbooks, and teaching aids; and publishes the periodical Doba, an educational-methodological chronicle on history and civics education. For information about the Nova Doba Association, visit www.novadoba.org.ua.
Like this article? Get our e-newsletter.
Be the first to learn about new articles and personal stories like the one you've just read.