Steven Spielberg Says "Justice Lives in Memory" in UN Keynote Address
Mon, 01/27/2014 - 9:47am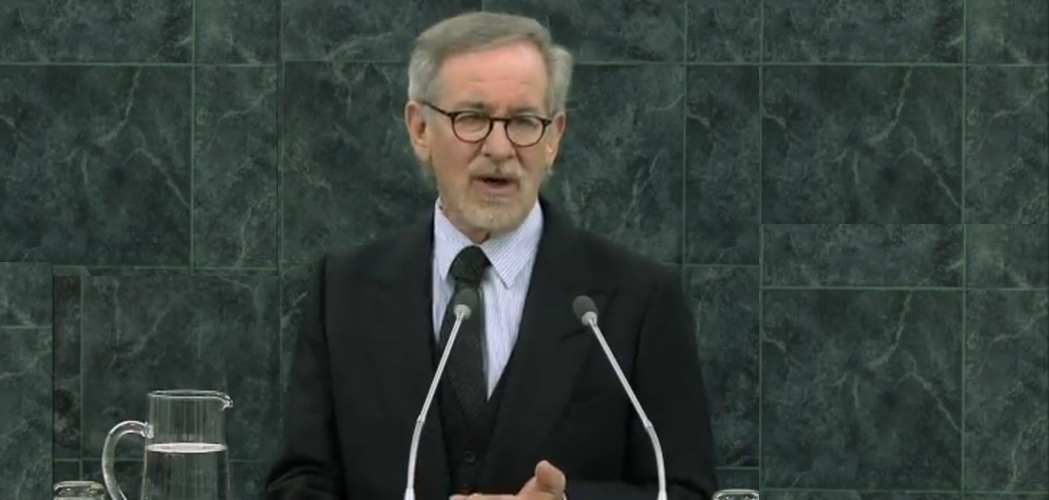 Steven Spielberg, founder of the USC Shoah Foundation, said it is vital for genocides to be remembered through eyewitness testimony in his keynote address this morning at the United Nations' International Holocaust Memorial Day ceremony.
The Holocaust Memorial Ceremony is hosted by the Holocaust and the United Nations Outreach Programme, which encourages Holocaust remembrance and education and promotes genocide awareness through educational activities, special events, and academic materials. In 2005, the UN General Assembly designated January 27 as an international day of commemoration in memory of the victims of the Holocaust, known as International Holocaust Memorial Day.
The ceremony was held at UN headquarters in New York City. It featured remarks by UN ambassador Samantha Power and Holocaust survivor Rena Finder, music performed by the 92nd Street Y Woodwind Quintet and prayers recited by Cantor Shmuel Barzilai.
Spielberg founded the Survivors of the Shoah Visual History Foundation in 1994 after directing the Academy Award-winning film Schindler's List.
In his speech, Spielberg said even after waiting "twenty years of directing sharks, aliens and dinosaurs," he still didn't feel ready to make a movie about the Holocaust – though he had grown up with the harrowing stories of survival told by his grandparents and their friends.
After countless Holocaust survivors he met on the set of Schindler's List urged him to tell their stories, he realized that, if given the right platform, the survivors themselves could be "the world's teachers."
Now that nearly 52,000 genocide survivors have recorded testimony for the Shoah Foundation's Visual History Archive, it is our responsibility to engage directly with history through their testimonies, Spielberg said. Even though the scope of genocide can sometimes be difficult to fully comprehend, we must rely on memory to promote justice.
"We know that repressing memory, willed forgetting, is perhaps the greatest danger we face as a species," Spielberg said. "Because we've been spared, we know that despair is a choice, and remembering is a choice, but if we want to remain fully human we have no choice but to confront and remember the past, to learn, and to act on what we've learned."
"History is simply a way of saying human life," Spielberg continued. "When testimony and witness form the basis of policy, when truth, rather than narrow national or local interests, forms the foundation for action, there is great cause to hope for resolution of what appear to be unsolvable problems."
Like this article? Get our e-newsletter.
Be the first to learn about new articles and personal stories like the one you've just read.