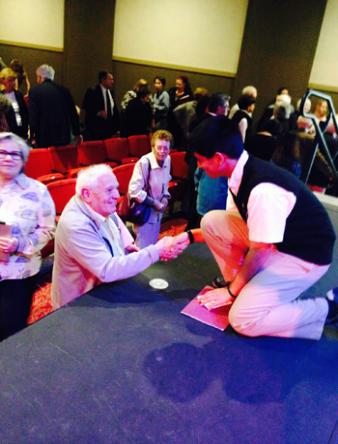 Holocaust survivor testimonies from the Visual History Archive inspired heartfelt works of art, writing and film from students across America in Chapman University and The 1939 Society's Holocaust Art & Writing Contest.
The winners and runners-up of the 15th annual contest were announced at a ceremony at Chapman University in Orange, Calif., on Friday. The contest challenges middle- and high school students to watch a survivor testimony from USC Shoah Foundation's Visual History Archive or the archives of The 1939 Society and then create a response in the form of an essay, poem, artwork or, for the first time this year, a short film.
This year, 175 public, private and parochial schools around the country participated in the contest. The winners and their teachers received a trip to Washington, D.C. to visit the United States Holocaust Memorial Museum.
Winners in middle school and high school for each category are chosen by a panel of judges that include Chapman University faculty, Holocaust experts and artists. USC Shoah Foundation IWitness manager Jenna Leventhal served as a judge and presented awards at the ceremony on Friday.
The winners and finalists were inspired by the testimony of survivors including Jack Lewin, Esther Stern and Gertrude Goetz. The runner-up in the high school writing category, Andrew Aldujalli, wrote an essay responding to the testimony of George Weiss, a USC Shoah Foundation volunteer. Aldujalli discusses how he, growing up Muslim, relates to Weiss's struggle with his own Jewish identity as a child.
Weiss attended the award ceremony and met Aldujalli and other students.
Click here to view previous years' winners; this year's winners will be posted soon.