They do their work for IWitness all over the country, but this weekend the IWitness regional consultants came together for a seminar at the USC Shoah Foundation.
IWitness regional consultants Brandon Barr, Michelle Clark and Liz Bommarito teach middle- and high school humanities in Chicago, San Marcos, Calif., and Brooklyn, NY, respectively. As regional consultants, they use IWitness in their classrooms, introduce other educators in their area to IWitness and host IWitness teacher training workshops.
IWitness senior content specialist Brandon Haas, based in Florida, also joined the seminar.
IWitness provides access to nearly 1,300 full life histories, testimonies of survivors and other witnesses to the Holocaust and other genocides for guided exploration. Students can watch testimonies and use them in individual or group multimedia projects; teachers can assign activities as classwork or homework, and can even custom-build their own lessons and activities. The testimonies are searchable by more than 9,000 keywords, enabling students to pinpoint exact moments of interest within each testimony, which averages two hours in length.
IWitness has registered users in 55 countries and all 50 states, including 4,500 educators and 15,000 students.
Before the IWitness seminar began, the consultants and education staff from USC Shoah Foundation led a workshop at the United States Holocaust Memorial Museum's Southern California Teacher Forum on Holocaust Education on the University of Southern California campus. The workshop included a hands-on IWitness training and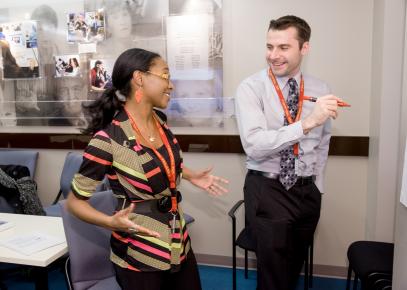 instruction on using testimony in the classroom.
The IWitness consultants' seminar began in earnest with an overview of USC Shoah Foundation, IWitness and the consultant program, which utilizes a peer-to-peer (educator to educator) model of outreach. The group then received training on delivering IWitness professional development programs and tailoring presentations to fit their audiences.
The consultants then discussed how to leverage their professional networks and worked together to develop plans for the next steps in their outreach. Finally, the consultants enjoyed a Skype session with two of USC Shoah Foundation's international consultants, Andrea Szönyi and Martin Šmok, who are based in Hungary and Czech Republic, respectively.