USC Shoah Foundation and Steven Spielberg to Host President Barack Obama as Featured Speaker at 20th Anniversary Gala
Fri, 03/21/2014 - 6:00am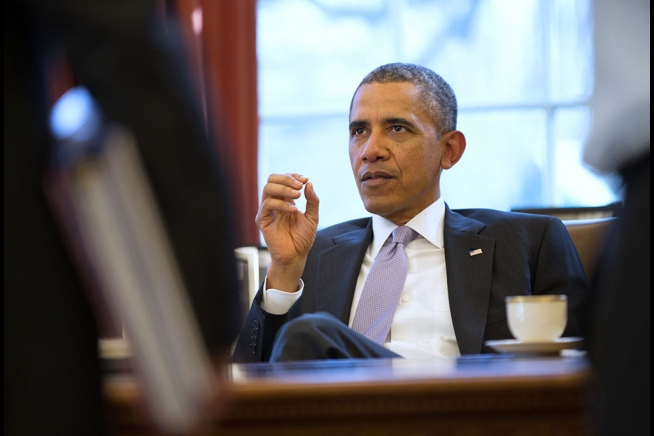 LOS ANGELES, CA — March 20, 2014 — On May 7, 2014, USC Shoah Foundation – The Institute for Visual History and Education will gather in Los Angeles for its 20th Anniversary Ambassadors for Humanity Gala.  To help mark this occasion, the Institute will have the great privilege of welcoming President Barack Obama, who will speak to common values and shared responsibilities in building a brighter future.  Institute founder and USC trustee Steven Spielberg will recognize President Obama with the Institute's highest honor, the Ambassador for Humanity Award for his global efforts to protect human rights, his commitment to education and expanding educational technology, and his work advancing opportunities for all people.
"President Obama's commitment to democracy and human rights has long been felt," Spielberg said. "As a constitutional scholar and as president, his interest in expanding justice and opportunity for all is remarkably evident. The president's recent appointment of the first special envoy for Holocaust Survivor Services in United States history demonstrates his staunch commitment to honoring the past while building a better future. I am extremely grateful to have President Obama join us on this significant milestone of the USC Shoah Foundation."
USC President C. L. Max Nikias said he was proud of the Institute's growth since it joined USC in 2006.
"In just two decades, the USC Shoah Foundation has become a vital center for Holocaust and genocide studies, as well as a dynamic partner for advancing education in these areas," Nikias said. "Thanks to Steven Spielberg's vision, tenacity and dedication, the foundation's work is now felt across the world, most importantly among so many young people who learn tolerance and respect through its educational programs.  Such humanistic values will surely remain with them throughout their lives—a testament to the foundation's importance."
USC Shoah Foundation Executive Director Stephen D. Smith said, "President Obama is a passionate advocate of causes that embody the work of the Institute.  We are honored to have his participation at a time when memory is becoming history, and Americans take on the responsibility to remember and act with conscience." 
TNT is once again serving as the Presenting Sponsor, continuing a strong relationship with the institute that has spanned more than a decade.
"The USC Shoah Foundation's Visual History Archive is an invaluable tool for promoting tolerance and mutual respect," said Steve Koonin, president of Turner Entertainment Networks. "The archive provides a vital link to the past through first-person accounts that have the power to inform and inspire. TNT proudly supports this significant 20th Anniversary milestone event and the USC Shoah Foundation's mission to ensure that the lessons of history will never be forgotten."
About USC Shoah Foundation - The Institute for Visual History and Education
USC Shoah Foundation is dedicated to making audiovisual interviews with survivors and witnesses of the Holocaust and other genocides a compelling voice for education and action.
Steven Spielberg established the Shoah Foundation after completing the film Schindler's List to collect and preserve the video testimonies of survivors and other witnesses of the Holocaust. He envisioned that these eyewitness accounts would have a profound effect on education, and that the survivors would become teachers of humanity for generations to come.
Today, the Institute's Visual History Archive preserves history as told by the people who lived it and lived through it. With its current collection of nearly 52,000 eyewitness testimonies in 34 languages and from 58 countries, it is one of the largest digital collections of its kind in the world.
USC Shoah Foundation is part of the University of Southern California's Dana and David Dornsife College of Letters, Arts and Sciences. Working within the university and with partners around the world, the Institute advances scholarship and research, provides resources and online tools for educators, and disseminates the testimonies for educational purposes.
The Institute is also working to preserve its testimonies in perpetuity, and to expand the Visual History Archive with accounts of survivors and witnesses of other genocides. In 2013 the Institute added an initial collection of 65 testimonies of survivors and rescuers from the 1994 Rwandan Tutsi genocide through a partnership with Aegis Trust and in February 2014 an initial collection of 12 testimonies of survivors from the 1937 Nanjing Massacre were integrated into the Visual History Archive through a partnership with Nanjing Massacre Memorial Hall. The Institute is also working to add collections from the Armenian and Cambodian genocides, as well as a collection of Testimonies from North Africa and the Middle East.
For more information about the USC Shoah Foundation, please go to sfi.usc.edu.
For ticket packages and gala dinner information, please call 818-777-7876 or email ambassadorsgala2014@gmail.com.
###
Press Contact:
Andy Gelb                                                             Anne Marie Stein / Josh Grossberg
Slate PR                                                                  USC Shoah Foundation
310-461-0111                                                       213-740-6036 / 213-740-6065
Like this article? Get our e-newsletter.
Be the first to learn about new articles and personal stories like the one you've just read.