Mission to Rwanda Begins with Visit to Partner School and Memorial Sites
Wed, 04/02/2014 - 4:30pm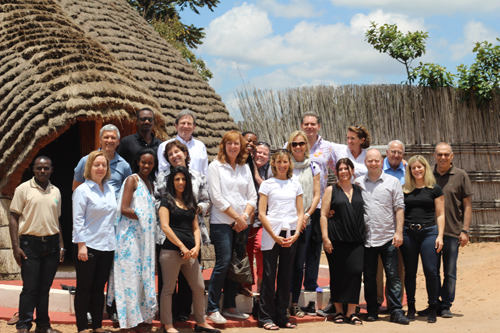 A special delegation of staff and supporters of the USC Shoah Foundation arrived in Rwanda yesterday to begin a weeklong mission to learn about the Institute's work in Rwanda, reinforce their commitment, and share the experience with others.  
The mission to Rwanda (April 1-8) follows the Institute's highly received mission to Hungary and Poland in fall 2013. The delegation is made up of USC Shoah Foundation's senior leadership, supporters, partners and colleagues, and will commemorate USC Shoah Foundation's 20th anniversary as well as the 20th anniversary of the Rwanda Tutsi Genocide.
The mission's aim is to provide engagement with a focus on personal stories, testimony and USC Shoah Foundation's grassroots work in Rwanda through its partnership with Aegis Trust and the Kigali Genocide Memorial.
USC Shoah Foundation's work in Rwanda dates back to 2007 and has been focused on archive building and education. On the mission, the delegation will learn about USC Shoah Foundation's role in helping to build a Genocide Archive of Rwanda, hear about the integration, launch, and plans for expansion of the Rwanda Testimony Collection in the Visual History Archive, and experience the use of Holocaust and Rwandan testimonies with Rwandan students using IWitness.  The participants will also have a chance to learn about the work of the Rwandan Peace Education Program to reach youth, educators, and the public around a variety of activities and programs throughout the country.
The first day of the mission introduced the delegates to several aspects of the genocide and USC Shoah Foundation's work in Rwanda.  The delegates visited Kagarama Secondary School and met Davis Wamonhi, an educator trained by USC Shoah Foundation and Aegis Rwanda, and his students, who engaged in an IWitness activity.  The group was able to ask questions and observe the lesson.
The group then visited Kigali Genocide Memorial (KGM), the main site of memorial of 250,000 murdered Tutsi in and around Kigali. Founded in 2004, and the USC Shoah Foundation's primary partner in Rwanda, KGM also houses a permanent exhibit on the Genocide of the Tutsi along with information about other genocides throughout the world.
The day ended with a chance for the delegates to meet with USC Shoah Foundation's various partners and supporters in Rwanda, including Aegis Trust. The event was an opportunity to introduce mission participants to the various partners, to acknowledge the work thus far in peace education, archive building and to look towards a promising future on the eve of an important milestone in Rwanda.
Like this article? Get our e-newsletter.
Be the first to learn about new articles and personal stories like the one you've just read.