USC Shoah Foundation Appoints Stephen A. Cozen as Chairman of its Board of Councilors
Tue, 02/24/2015 - 3:49pm
USC Shoah Foundation is pleased to announce Stephen A. Cozen as chairman of its Board of Councilors.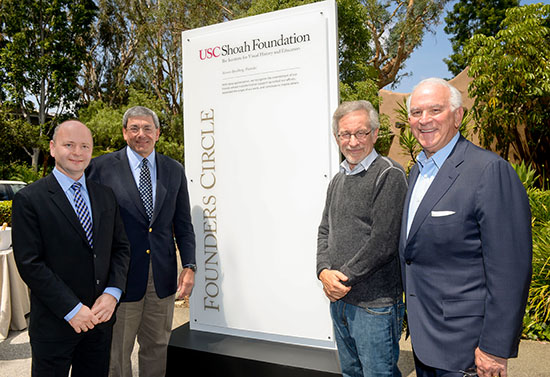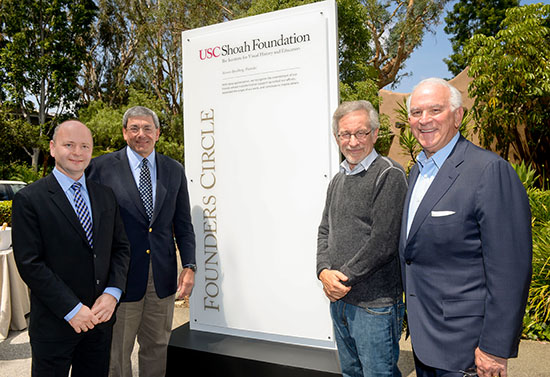 (L-R: Stephen Smith, Robert Katz, Steven Spielberg and Stephen A. Cozen at the unveiling of a plaque at Universal Studios honoring the members of the Institute's Founder's Circle, May 8, 2014)
Contact: Josh Grossberg 213-740-6065
josh.grossberg@usc.edu
Rob Kuznia 213-740-0965
rkuznia@usc.edu
Lisa Haas 215-665-2792
Los Angeles, Feb. 17, 2015 – USC Shoah Foundation - The Institute for Visual History and Education is pleased to announce Stephen A. Cozen as chairman of its Board of Councilors. Cozen, founder and chairman of the law firm Cozen O'Connor, will provide leadership to the board, which guides strategic direction and policy on the dissemination, scholarship, and educational use of the 53,000 testimonies in the Institute's Visual History Archive. Cozen succeeds Robert Katz, who has served as board chair since May 2010.
In addition to his work on the Board of Councilors, Cozen is co-chair of the Institute's capital campaign, which has raised $84 million of the $150 million target amount.
"Steve has been an outstanding member of our Board of Councilors since 1997, and his current leadership co-chairing the Institute's capital campaign and maintaining a robust commitment to our mission has been invaluable," said USC Shoah Foundation Executive Director Stephen Smith.
With his home base in Philadelphia, Cozen is looking to expand the Institute's presence on the East Coast. He is also passionate about using the resources and tools of USC Shoah Foundation to create programming and initiatives to help stem the rising tide of anti-Semitism around the world.
"The Shoah Foundation is in a unique position to affect the course of history in positive and profound ways," Cozen said. "As chairman, I will work tirelessly to ensure that we do everything we can to make a difference in the world."
USC Shoah Foundation recently commemorated its 20th anniversary and has embarked on an aggressive campaign to increase the scholarship and educational use of the testimonies in its Visual History Archive, as well as expand the Archive itself, the largest repository of its kind in the world.
###
About Stephen A. Cozen
Stephen A. Cozen is the founder and chairman of Cozen O'Connor, a Philadelphia-based law firm with 23 offices throughout the United States, the United Kingdom and Canada.
An accomplished litigator and counselor, Cozen is a Fellow in the American College of Trial Lawyers, a designation held by only the most respected and experienced court room practitioners, and is a Fellow of the International Academy of Trial Lawyers and Litigation Counsel of America.
In addition to his work with USC Shoah Foundation, Cozen serves on numerous education and philanthropic boards, including The National Museum of American Jewish History and the University of Pennsylvania's Law School Board of Overseers. Cozen also spearheaded the development of the Samuel D. Cozen PAL Center and is actively involved with the organization. He also serves on the boards of Assured Guaranty Ltd., Franklin Square Holdings, LP, Haverford Trust Company, Global Indemnity PLC., and ABR Reinsurance Capital Holdings, Ltd.

Cozen earned his undergraduate degree and law degree, both with honors, from The University of Pennsylvania in 1961 and 1964, respectively. Cozen was admitted to practice in Pennsylvania in 1964, before all of the courts of Pennsylvania, and in addition to many U.S. District Courts and U.S. Courts of Appeal, the U.S. Supreme Court, and the U.S. Court of Federal Claims.
About USC Shoah Foundation
USC Shoah Foundation — The Institute for Visual History and Education is dedicated to making audio- visual interviews with survivors and other witnesses of the Holocaust and other genocides, a compelling voice for education and action. The Institute's current collection of 53,000 eyewitness testimonies contained within its Visual History Archive preserves history as told by the people who lived it, and lived through it. Housed at the University of Southern California, within the Dana and David Dornsife College of Letters, Arts and Sciences, the Institute works with partners around the world to advance scholarship and research, to provide resources and online tools for educators, and to disseminate the testimonies for educational purposes.