USC Shoah Foundation and Discovery Education to Host Virtual Experience on May 13
Wed, 04/29/2015 - 5:00pm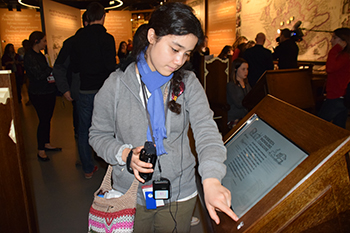 USC Shoah Foundation and Discovery Education, the leading provider of digital content and professional development for K-12 classrooms, will host an interactive virtual experience for middle- and high-school students worldwide to provide a deeper understanding of the Holocaust on Wednesday, May 13 at 1 p.m. EST.
During Auschwitz: The Past is Present Virtual Experience, attendees will hear the firsthand perspectives of a Holocaust survivor, 25 teachers and 13 students who recently participated in the 70th anniversary commemoration of the liberation of the Auschwitz German Nazi concentration and extermination camp in Poland, and engage in meaningful dialogue about the relevance of the Holocaust in today's world.
This virtual experience is part of the Auschwitz: The Past is Present initiative, a global communications and education program offered by the USC Shoah Foundation and Discovery Education in association with the Auschwitz-Birkenau State Museum, in support of the official observance of the 70th anniversary of the liberation of Auschwitz. Designed to promote a deeper understanding of the continued importance of the Holocaust, this virtual event will connect students with a survivor to explore the history of Jewish life in Poland by visiting Polish memorial sites, including the Museum of the History of Polish Jews, the Warsaw Ghetto and Jewish Cemetery, and the Auschwitz-Birkenau State Museum; and discuss the consequences of abject hatred and intolerance. Additionally, students will get an exclusive look at the official commemoration that took place on the Jan. 27 anniversary of the liberation outside the infamous Death Gate at Auschwitz Birkenau leading to the concentration camp, and hear survivor stories revealed during the ceremony. Participants may register and submit questions to be answered by some of those who traveled to Poland during the live virtual event at pastispresentauschwitz.com/virtual-experience.
"Going to Poland was a priceless experience," said Rhode Island teacher Soljane Martinez-Quiles, who was one of 25 teachers selected to participate in professional development programs in Poland. "Many schools could never take their students on field trips to these authentic historic sites, so what better way than to bring these sites – these experiences – to schools all over the world? The validity of what we teach will be enhanced that much more for young people to see us there, not just pointing to it on a map or using a handout to describe it."
To support educators with this virtual experience, USC Shoah Foundation, IWitness – the Institute's free online educational platform offering access to more than 1,300 testimonies from survivors and witnesses of the Holocaust and other genocide – and Discovery Education will provide classroom resources that include pre- and post-event activities to enrich students' experience with the virtual event. These activities will enable students to hear survivor testimony, provide some context to the Holocaust, teach students about the past, and encourage them to reflect on how their actions can help make the world a better place.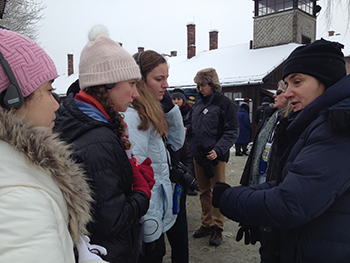 Earlier this year, USC Shoah Foundation and Discovery Education selected 25 teachers from North America, Europe, Africa, andAustralia to participate in a unique professional development program in Poland as part of the Auschwitz: The Past is Present initiative. These educators along with the 13 students chosen for this program began their journey in Warsaw on Jan. 23, 2015, at the Museum of the History of Polish Jews and concluded their trip by joining the official ceremonies at the Auschwitz-Birkenau State Museum on Jan. 27, 2015. The trip encouraged educators to implement digital media resources in their classroom instruction through the use of compelling, primary-source interviews available in the Institute's Visual History Archive.
"By participating in the Virtual Experience, young people everywhere will be able to learn important lessons while engaging with students like themselves," said Dr. Kori Street, USC Shoah Foundation Director. "They will also gain a deeper understanding of history before, during and after the Holocaust."
By working together on this important project, USC Shoah Foundation and Discovery Education are filling an ever-present need to keep history alive for generations to come. Interacting with testimony as a primary source through IWitness connects young people with voices from the past in a profound and meaningful way.
The program also launched the integration of the USC Shoah Foundation's testimonies and IWitness activities into two Discovery Education digital services, Discovery Education Streaming Plus and Discovery Education Social Studies Techbook™ for educators to incorporate into instruction.
"Discovery Education is proud to partner with the USC Shoah Foundation to provide students around the world with this powerful learning opportunity that strengthens their understanding about the relevance and importance of Holocaust remembrance," said Lori McFarling, Chief Marketing Officer and Senior Vice President, Discovery Education. "This virtual experience will engage students through dynamic digital content that provides important historical context, while introducing them to survivors and connecting them with the past in a way that motivates them to build a better future." 
David Zaslav, President and CEO of Discovery Communications, chairs the committee for Auschwitz: The Past is Present, a global communication and education program that supports official activities of the 70th anniversary of the liberation of the German Nazi concentration and extermination camp. In addition to this initiative, the program partnered with Witness Travel Program, in conjunction with World Jewish Congress, which brought 100 survivors and liberators of Auschwitz to be honored guests at the 70th anniversary commemoration.
For more information and to register, visit http://www.pastispresentauschwitz.com/  
Like this article? Get our e-newsletter.
Be the first to learn about new articles and personal stories like the one you've just read.