Agahozo-Shalom Youth Village Hosts USC Shoah Foundation and Aegis Trust at Graduation
Mon, 01/11/2016 - 5:00pm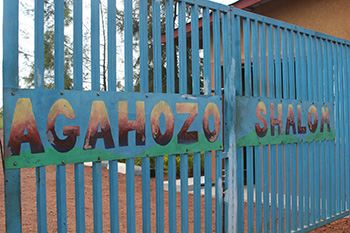 USC Shoah Foundation Executive Director Stephen Smith is part of a group of partners invited to attend the 2016 graduation ceremony at Agahozo-Shalom Youth Village and review the work of their respective organizations in Rwanda.
Smith and James Smith, co-founders of Aegis Trust, are scholars-in-residence at Agahozo-Shalom Youth Village (ASYV), a residential community and school for orphaned and vulnerable youth in rural Rwanda. They received the Anne Heyman Spirit Award at ASYV's annual Stand Up & Be Counted gala in May 2015.
The ASYV Graduation Trip 2016, Jan. 11-19, coincides with the graduation ceremony for the class of 2015 on Thursday, Jan. 14.
ASYV supporters and partners on the trip will review the work of USC Shoah Foundation and Aegis Trust in Rwanda, including the Rwanda Peace Education Program, IWitness Rwanda, and documentation and archive-building. They will also meet with genocide survivors and educators and attend the graduation ceremony.
ASYV has incorporated IWitness, USC Shoah Foundation's educational website, into its curriculum. ASYV teacher Gamariel Mbonimana attended IWitness educator workshops at Kigali Genocide Memorial and now takes his classes to the school computer lab to complete IWitness activities about the Rwandan Tutsi Genocide and the Holocaust.
Smith and the other attendees will also spend quality time with the ASYV staff and students, including having dinner and spending the night on campus.
Like this article? Get our e-newsletter.
Be the first to learn about new articles and personal stories like the one you've just read.