Join the Conversation for #AskanArchivist Day
Tue, 10/04/2016 - 5:00pm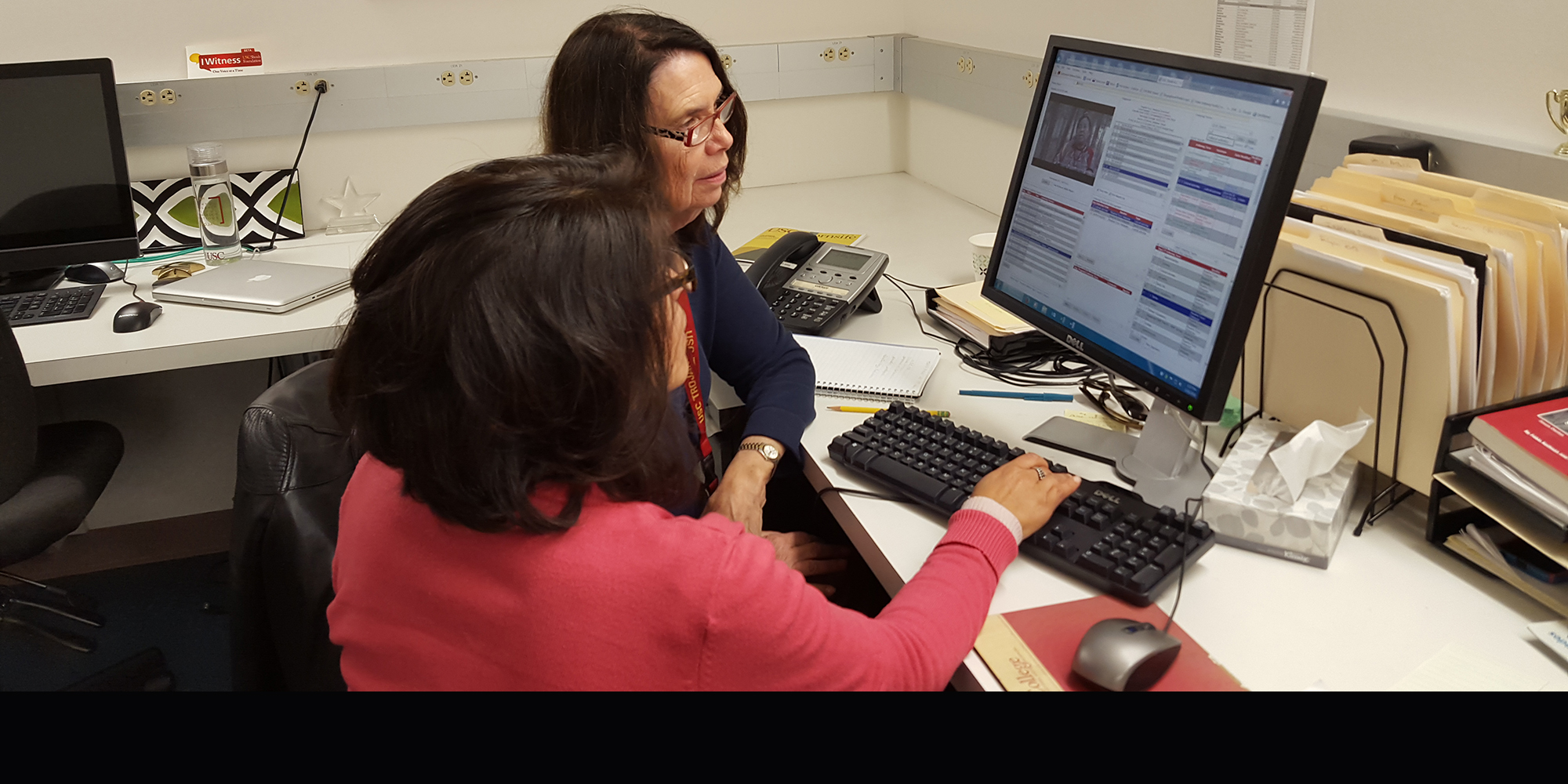 Above: View Facebook Live broadcast interviews with USC Shoah Foundation indexers (top) and archivists
To commemorate National Archives Month, the Society of American Archivists is sponsoring a social media event #AskAnArchivist Day on Wednesday, Oct. 5. The day is an opportunity for archivists to interact with anyone interested in their profession by answering questions with the hashtag #AskAnArchivist.
We hope you will join USC Shoah Foundation as we share best practices of using the Visual History Archive, host live conversations with our archivists and indexers; and give a demonstration of the new ProQuest search function.
There are many different ways you can participate:
Tweet your questions to @USCShoahFdn with #AskanArchivist about the Visual History Archive, indexing and general archive questions.
Watch the Facebook Live broadcast on at 10 a.m. PDT on Oct. 5 – USC Shoah Foundation Archivists Sandra Aguilar and Daryn Eller will describe their day-to-day tasks and provide a demonstration of the Visual History Archive. Special guest Doug Ballman will also join the conversation to discuss how testimony is accessed throughout the world. Then at 2 p.m. PDT, USC Shoah Foundation indexers Crispin Brooks and Manuk Avedikyan will describe the indexing process of testimonies and answer questions from Facebook and tweets with #AskanArchivist. Contribute to the conversation with your own insights in the comments section.
Contribute by sharing on social media how you use and/or contributed to the Visual History Archive.
Share #AskanArchivist Day on your own social media accounts and with your colleagues.
Follow USC Shoah Foundation on Instagram for a behind the scenes look of #AskanArchivist Day including a special tour of the Information Technology Services (ITS) department.
In the United States, October is designated as National Archives Month and to commemorate USC Shoah Foundation will share unique facts about the Visual History Archive on Twitter and our blog, Through Testimony. We are currently collecting stories, individuals and photos not expected to be found in the Visual History Archive. Some examples include mentions of Elvis Presley, Jackie Robinson and Nelson Mandela. If you or any of your colleagues have come across a unique story in the Archive please submit your find to social media specialist Deanna Hendrick Deanna.hendrick@usc.edu.                             Your unique find might be published in a special blog post for #AskanArchivist Day. 
We hope you will be able to help us commemorate this special day celebrating the work of archivists and archives. 
Like this article? Get our e-newsletter.
Be the first to learn about new articles and personal stories like the one you've just read.