USC Shoah Foundation and Partners Attend Vienna Workshop on Testimony in Education
Mon, 01/09/2017 - 5:00pm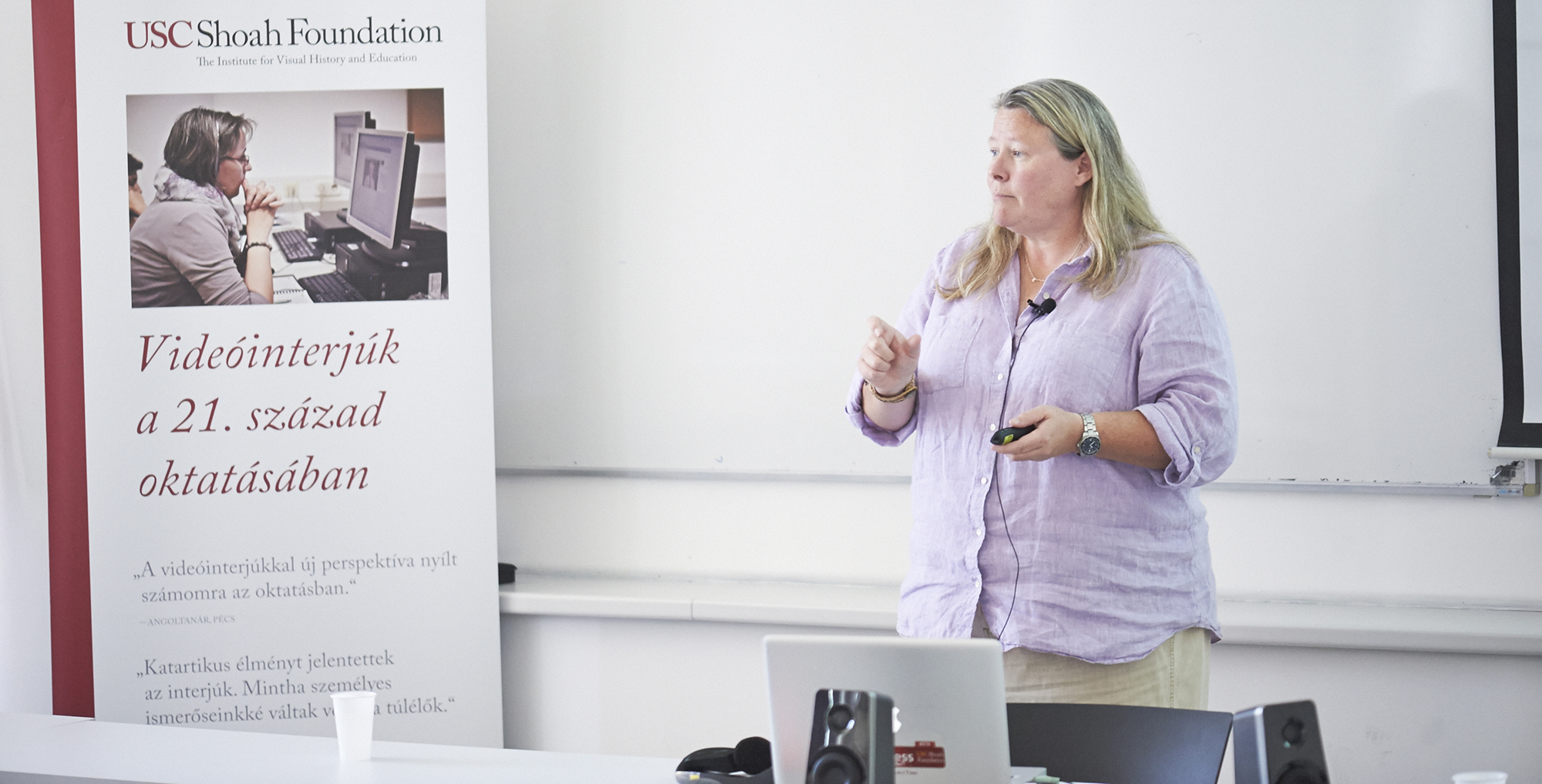 The foundation "Remembrance, Responsibility and Future" (German acronym EVZ) is hosting an international workshop on the use of Holocaust survivor testimonies in education January 9-11 in Vienna, Austria. Two USC Shoah Foundation staff members as well as several partners were invited to present at the workshop.
The workshop is divided into three working groups: education, research/academia and museums/memorial sites. Presenters will share their testimony-based projects and discuss how video testimonies can be most effective within their respective educational contexts. They will share best practices and discuss similarities and differences of using video testimonies within their respective countries and school curricula.

Director of Education Kori Street and Hungarian Regional Consultant Andrea Szőnyi will give a presentation to the education working group about IWitness, USC Shoah Foundation's educational platform that delivers testimony-based education across several geographic locations. They will discuss the opportunities and challenges of testimony-based education in unique, local environments.  The presentation and subsequent paper are based on several years of academic evaluation of the work of USC Shoah Foundation's educational programming.
In addition to Street and Szőnyi, several individuals and organizations that have partnered with USC Shoah Foundation will also present at the workshop.
Tony Cole, a teacher in the UK, will present with colleague Darius A. Jackson a case study of how Holocaust survivor testimony developed historical knowledge in his students. USC Shoah Foundation has profiled Cole for his use of IWitness in his classroom in Essex, England, working with students with special needs.
Carson Phillips, managing director of the Sarah and Chaim Neuberger Holocaust Education Centre in Toronto, will share the Neuberger's program to introduce recent immigrants to Canada to the Holocaust through survivor testimony. The Centre recently joined USC Shoah Foundation's Preserving the Legacy initiative to integrate its Holocaust survivor testimony collection into the Visual History Archive.
In the research/academia working group, there are also a few familiar faces.
James Griffiths and Luise Stafford, from the UK's National Holocaust Centre and Museum, will discuss the Centre's "In Our Hands" program, which used testimony to teach primary school children about differences and diversity. Griffiths participated in the IWitness Teaching Fellowship in August 2015 which helped prepare him for a possible partnership between the Centre and USC Shoah Foundation.
Michael Berson and his students were some of the first to pilot IWitness when it was just being developed in 2011. Berson, a professor of social science education at the University of South Florida, and Ilene R. Berson will present their study on the use of testimony to promote participatory and student-driven learning in fifth grade students.
Finally, former USC Shoah Foundation Teaching Fellow Alina Bothe will discuss how testimonies from the Visual History Archive challenge Holocaust education in Germany on a didactical and educational level.
A publication based on the presentations and discussions of the workshop is forthcoming.
USC Shoah Foundation has partnered with EVZ on several projects, including the Ukrainian teacher's resource guide Where Do Human Rights Begin: Lessons of History and Contemporary Approaches and the anthology From Testimony to Story: Video Interviews about Nazi Crimes: Perspectives and Experiences in Four Countries.
Like this article? Get our e-newsletter.
Be the first to learn about new articles and personal stories like the one you've just read.