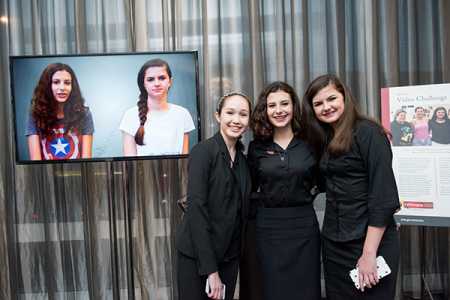 2016 winners Maya Montell, Allison Vandal and Caroline Waters display their video at the Ambassadors for Humanity gala in Los Angeles
Time is running low for middle and high school students interested in entering the fourth annual IWitness Video Challenge hosted by USC Shoah Foundation, whose deadline is May 5, 2017. The Challenge, which will award $10,000 total in prizes, invites and encourages students to participate in their communities and complete an IWitness activity by submitting a short explainer video detailing how they were inspired through testimony to make a positive impact.
The contest folds in content from one of the more than 70 activities found in IWitness, USC Shoah Foundation's free educational website that brings human stories from the Institute's Visual History Archive – the world's largest repository of testimony from survivors and witnesses to the Holocaust and other genocides – to teachers and their students.
To participate, secondary school students in the United States and Canada (excluding Quebec) will use their access to resources in the VHA to watch testimonies from survivors who exemplified bravery in their actions. Then, students are taken through the process of identifying a problem and determining how best to contribute in order to solve the problem. This leads to them to the final step of the Challenge – developing a video that captures the participating student's efforts at solving a problem in their community, and how they solved it.
No prior video editing knowledge is needed to participate, as IWitness has a brief tutorial for using its built-in video editor to create one- to four-minute video projects.
This year, prizes include a US $5,000 scholarship for the student who creates the National Winning Entry; a $1,000 scholarship for the student falling in second place; and a $500 scholarship for third place. The educator associated with the National Winning Entry will receive a $1,000 grant to be used to implement change in his/her school. And the school or organization associated with the Winning Entry will receive a $2,500 grant to be used to create change in the community. The winning student will be invited to screen their film at USC Shoah Foundation in Los Angeles – flights for the winning student, their educator and a parent/guardian will be taken care of.
Last year's winner "Community of Poetry" – a group of eighth-graders from New Jersey – created a poetry group at their school to enable students to better express themselves, their hardships and their appreciation for one another. They were inspired to do this after listening to Holocaust survivor Donia Blumenfeld Clenman recite poetry in her testimony. The three – Maya Montell, Allison Vandal and Caroline Waters from Readington Middle School in Raritan, N.J. – encouraged students to speak up about their emotions through the Poets Undercover Guild.
The 2015 winners, Emma Heintz and Natalia Podstawka, embarked on a mission to bring a bit of kindness to each of their classmates. Their video, "From, Your Friend :)" documents their project to write and distribute 415 personalized notes of compliments and encouragement to every student at Douglas Middle School in Massachusetts, and how testimony clips in IWitness inspired them to set an example of love and acceptance.
2014 Challenge winner Ruth Hernandez, now a senior at Esperanza Academy Charter High School in Philadelphia, put together a video called "Voices of Our Journey" about the topic of immigration, summing up the Challenge's premise in just under four minutes – that one person can make a difference, and that empathy is best taught with examples.
To enter the Challenge, visit iwitness.usc.edu and get your entry in by May 5. Challenge winners will be announced around June 13, 2017.