Back to School with IWitness 2018: Updates to Video Editor WeVideo
Fri, 07/28/2017 - 5:00pm
IWitness is enhancing its cloud-based video-editing service starting Aug. 1.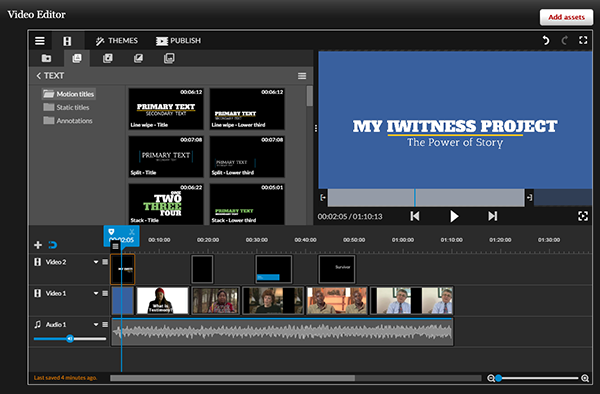 The updated WeVideo editor
In this series, we take a closer look at the new features and resources coming to IWitness in time for the 2017-2018 school year.
IWitness is enhancing its cloud-based video-editing service starting Aug. 1.
WeVideo online video-editing tools are tightly integrated into 21 separate IWitness video activities that challenge students to research and produce public service announcements, video essays, or short films. WeVideo is also used by participants in the annual IWitness Video Challenge that asks middle and high school students in the United States and Canada to submit short videos to show how they were inspired by testimony to make positive choices and create value in their local community.  A group of students from the Walter Payton College Preparatory High School in the Chicago Public School District were recently announced as first place winners of the 2017 IWitness Video Challenge.
IWitness users will notice some new features in the latest update of WeVideo. Students and teachers will enjoy new motion titles, premium music, and more advanced features like the ability to add transitions on all tracks, one of the most asked-for features from users.
By directly integrating WeVideo within the IWitness online platform, students have access to  advanced editing features that are easy to learn. It also means that teachers do not have to contend with acquiring, installing or maintaining additional software in order to have students participate.
"With its ease of use and nothing to install, WeVideo lets students get right to work on their projects," said USC Shoah Foundation Director of Education, Dr. Claudia Wiedeman. "It is simple, intuitive and enables students to focus on telling their story rather than overcoming technical challenges. Integrating the WeVideo platform makes it easy for anyone to be a participant by becoming an active storyteller using modern, video-making techniques."
WeVideo is a powerful, easy to use, cloud-based video creation platform that is the digital editing and storytelling choice of more than 22 million consumers, students, businesses, and third-party media solutions. WeVideo is available from virtually any computer or device at home, school, work or on the go to capture, edit, view and share videos. Built for the future in HTML5, WeVideo brings maximum speed, responsiveness, security and expandability to browser-based video editing. WeVideo is a Google Play Editors' Choice selection with more than 7.5 million downloads to date. WeVideo is also the exclusive digital storytelling solution of Google's Education Creative Bundle for Chromebooks and a Microsoft Education Partner. More than 6,500 schools use WeVideo to enhance classroom learning.
WeVideo CEO Krishna Menon said, "USC Shoah Foundation makes incredible use of digital storytelling and WeVideo is very proud to be a valued partner. As a company with a strong heritage in education and a firm belief in the power of video to inspire students, we think USC Shoah Foundation and its IWitness educational platform are progressive, both in terms of their important educational mission and their effective use of technology to connect with the public in general, and students in particular."