Detroit Philanthropists Honor USC Shoah Foundation Board of Councilors Member Mickey Shapiro
Thu, 12/21/2017 - 11:59am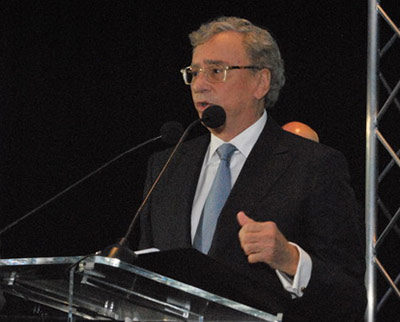 When asked where he gets his generosity of spirit, Mickey Shapiro, USC Shoah Foundation Board of Councilors member, credits his parents, Holocaust survivors Sara and Asa Shapiro, and the deep respect he has for their resilience and all they achieved.
Mickey's parents were from the same town in Poland. His mother, Sara, gave her testimony to USC Shoah Foundation in 2012. His father, Asa, sadly passed away in June 2017. Born in a Displaced Persons camp just after WWII, Mickey, along with his family, emigrated to the United States. His parents set an example when it came to a work ethic, as well as living the values they held dear of gratitude, giving back, and helping others.
In honor of Mickey's numerous contributions to the community, he was recently presented with the Max M. Fisher Award for Outstanding Philanthropist by the Association of Fundraising Professionals (AFP), Greater Detroit chapter.
"Mickey Shapiro and my grandfather share common values of wisdom, generosity, service, and leadership, said Blake Fisher, grandson of Max M. Fisher, who presented the award to Shapiro. Fisher continued, "Reverence for the past, compassion for the future, and unrelenting commitment to helping others are just a few of the things my grandfather and Mickey have in common."
The Award for Outstanding Philanthropist is presented to an individual or family with a proven record of exceptional generosity, whose demonstrated commitment encourages others to take leadership roles in philanthropy.
Mickey Shapiro's leadership role with USC Shoah Foundation is one that is close to his heart. He has been a generous donor and active family member of USC Shoah Foundation for nearly 15 years.
In 2015, Shapiro endowed the Sara and Asa Shapiro Annual Holocaust Testimony Scholar and Lecture Fund at USC Shoah Foundation Center for Advanced Genocide Research. The fund enables one senior scholar to spend up to one month in residence at USC Shoah Foundation to conduct research in the Visual History Archive® and give a public lecture. The first two recipients were renowned Holocaust scholars David Cesarani and Omer Bartov. Additionally, to further honor his parents, Shapiro endowed the Sara and Asa Shapiro Lounge at the Institute's new headquarters on the fourth floor of the Thomas and Dorothy Leavey Library on campus. The new Lounge will provide a quiet reception and rest area for guests during their visit. As Mickey states, "I'm deeply grateful that their names are forever linked to this work…My parents… were among the last of a generation of Holocaust survivors who looked to USC Shoah Foundation to share their stories to inspire future generations."
In the fall of 2015, Shapiro joined Steven Spielberg as Co-Chair of USC Shoah Foundation's Ambassadors for Humanity Gala, becoming the most successful gala to date with Mickey's leadership; the event was held at the Henry Ford Museum in Detroit and honored William Clay Ford Jr. USC Shoah Foundation joined forces with Ford Motor Company to launch IWitness Detroit with a goal to magnify the Institute's testimony-based educational work in metro Detroit. The local effort to engage teachers and students is a tremendous ongoing success.
Since its inception, more than 300 Detroit area educators have signed up for IWitness educator accounts, reaching more than 15,000 Detroit area students. Many of these teachers attended IWitness Detroit training sessions.
"Without Mickey's generosity, much of the Institute's work would not be possible," said USC Shoah Foundation Executive Director Stephen D. Smith. "Mickey's dedication to making a difference in his community and in the world through his leadership and philanthropy is an inspiration to us all. We congratulate him on this well-deserved acknowledgement by AFP."
Like this article? Get our e-newsletter.
Be the first to learn about new articles and personal stories like the one you've just read.