EDITOR'S NOTE: USC Shoah Foundation this year launched an initiative to give out small grants to USC professors of any discipline who incorporate the Institute's archive of genocide-survivor testimony into their coursework in a way that emphasizes diversity and inclusion. This is the third story in a series of five about the 2017 recipients.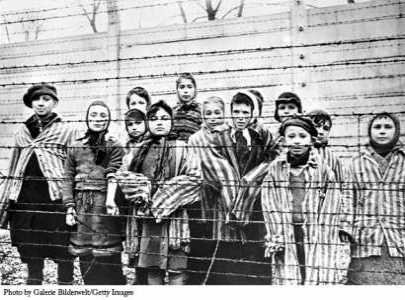 "Just like a leaf tossed to the wind,
Separated from its branches and tree,
Not belonging anymore—
Liberated, but not free."
This is opening stanza of a poem by Holocaust survivor Itka Zygmuntowicz, who read "A World That Vanished" on camera in her testimony with USC Shoah Foundation.
It is among several poems read by the genocide survivors who authored them during the recording of their testimonies for the Visual History Archive that Dr. Beatrice Sanford Russell, an English literature professor at USC, assigned to her students last semester in her "Poetry and Protest" class.
For her innovative use of testimony, Sanford Russell was a recipient of USC Shoah Foundation's Diversity and Inclusion Through Testimony (DITT) grant.
Sanford Russell had taught Holocaust literature before, and had worked with audiovisual material. But she didn't begin weaving genocide-survivor testimonies into her syllabus until this year, in response to USC Shoah Foundation's call for grant applicants.
"The inclusion of testimonies had a drastic impact on the way that the course's messages came across to the students," she said. "There was a heightened sense of stakes within the classroom discussion, because these poems were tied to people who felt very real to the students, because they had seen their faces and heard their voices and distinctive stories of survival."
Students in Sanford Russell's class read several poems by Holocaust survivors and wrote essays defending the use of poetry as a form of testimony in response to German philosopher Theodor Adorno's famous claim that "to write poetry after Auschwitz is barbaric."
Included within the course's syllabus is the testimony of Holocaust survivor Eva Slonim, who was depicted in an iconic photo of a group of children standing behind the barbed wire at Auschwitz after liberation in 1945. Slonim is also the author of many poems, in which she details her life as a prisoner of Auschwitz.
She composed one poem along with a group of other children while imprisoned in Auschwitz. It reads: 
"The camp is as large as the whole world to us,
And it's full of barracks.
Be happy and rejoice, handsome Jewish worker!
Soon this nightmare will come to an end.
The great day of change is approaching,
And the Jewish suffering will forever end.
We will return to our nice homes,
Embrace our beloved parents, and all loved ones that we haven't seen for so long.
There will be table full of plenty, beautiful clothes, toys,
And nothing will ever go wrong."
A student in the class observed: "The description of the camp being 'large as the whole world' immediately instills both the feeling of being a child and the feeling of having a limited access to the world, both of which are crucial to understanding Eva's perspective as a survivor."
The student added: "Rather than flushing away details from history, poetry can add infinitely more if you read between the lines, and in this case those details can be the key to readers empathizing with her and other victims of the Holocaust."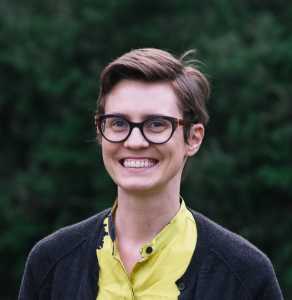 Although testimony was a mandated part of the course's syllabus, Sanford Russell said she saw the sign of the power of testimony when her students told her that they ended up watching more than she had assigned.
And after watching the testimonies in class, "the classroom seemed quieter and more serious, but the students were totally engaged," she said. "There was a sense that we all were processing together what we had seen, and it really felt like a collective emotional experience."
Sanford Russell, who is working on a book manuscript titled Romanticism and Repetition, 1790–1870, said she plans to continue using the audiovisual testimonies when teaching the course in coming semesters.
"Speaking personally, I found them very moving," she said. "From an instructional perspective, the testimonies challenged me to continue to bring additional media perspectives to my other courses."
The 2018-19 Diversity and Inclusion Through Testimony Grant Call for Proposals will be published in August. Please check back here for more information.
Where are they today?
A photographer from the Red Soviet Army unit that had liberated the Auschwitz extermination camp on January 27, 1945, took this photograph of child survivors a few weeks later. Click on one of the children in the photo to learn more about what has happened to them since this photograph was taken.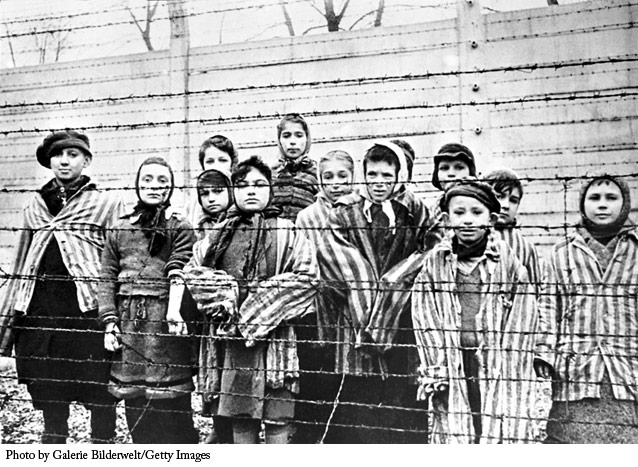 If anyone would like a copy of the original photo, please contact Bob Ahern at bob.ahern@gettyimages.com