USC Shoah Foundation and Discovery Education Award $10,000 in Scholarships and Prizes to 2019 'Stronger Than Hate Challenge' Winners
Thu, 09/05/2019 - 10:30am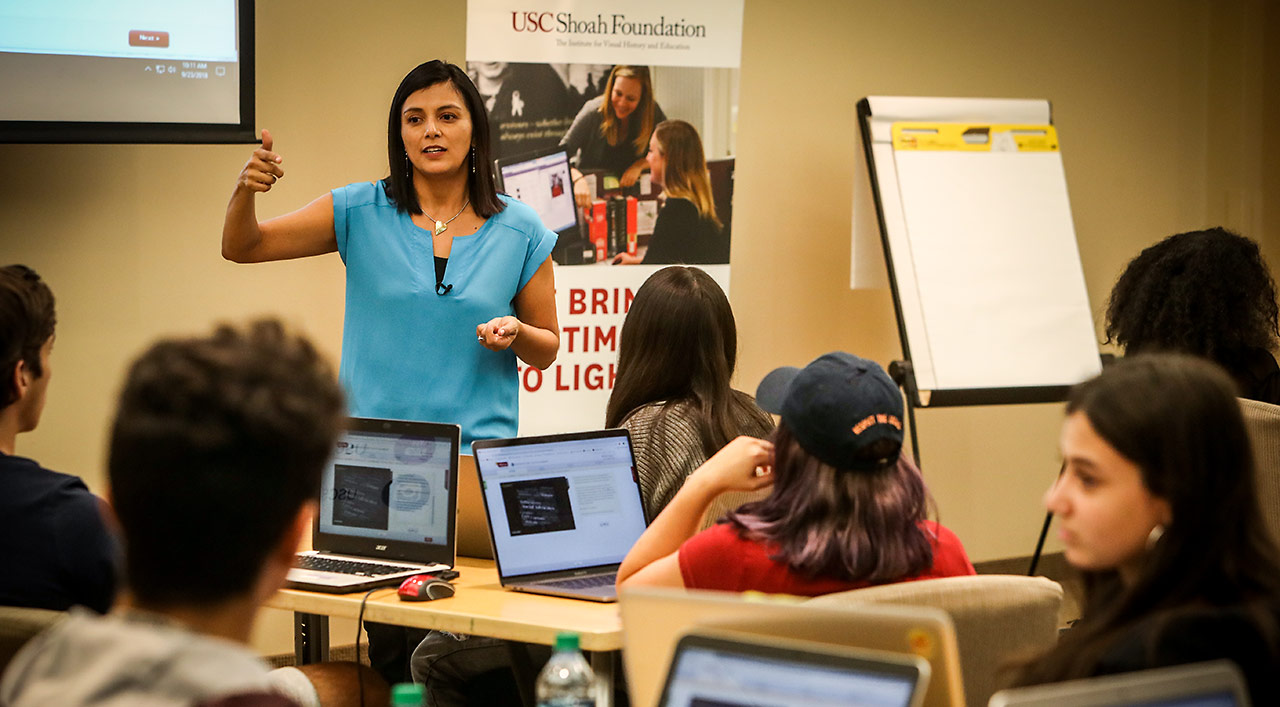 In an effort to spark a social movement against hatred in all forms, USC Shoah Foundation, established by Steven Spielberg after his experience filming "Schindler's List"— which gave voice to survivors and witnesses of the Holocaust and other genocides through  education and action – and Discovery Education, today announced the Teaching with Testimony 2019 Stronger Than Hate Challenge winners.
Sabrina B. and Sydney B. of Monte Vista High School in Danville, Calif., will receive a $5,000 scholarship for their winning video essay Learning to Love, which aims to inspire their school and community to counter hate. As part of the Grand Prize, Monte Vista High School will use a $3,500 grant to further the fight against hate at their school through an underfunded art program that will help further students' awareness of their differences through art projects and campaigns. Additional scholarships -- for $1,000 and $500 -- will be awarded in the form of a check to the national second- and third-place challenge winners, respectively.
They are:
Reagan G. and Robert O. from Jeannette Senior High School in Jeannette, Pa., for their video submission Choosing Kindness Over Hate.  (Second place.)
Dannin V., Hannah A., Kiley H. and Madelyn A. from Renaissance Academy in Phoenixville, Pa., for their video submission Get Comfortable with Being Uncomfortable.  (Third place.)
"As an educator, it is vital to prepare students with critical-thinking assignments that challenge harmful stereotypes and empower them to extend their leadership abilities beyond the classroom," said Anjali Brandeis, a teacher at Monte Vista High School. "I'm proud of my students for understanding the gravity of modeling compassion and reconciliation in today's society, and I am confident that they will use what they've learned from their participation in the 'Teaching with Testimony Stronger Than Hate Challenge' to help create a better future."
The California and Pennsylvania-based student leaders created their video essays with the intention of inspiring a shared passion for human rights and social justice. Stronger Than Hate Challenge Grand Prize winners Sabrina B. and Sydney B. also facilitated a local community speaking event to expand students' knowledge of the value and importance of diversity, equity and inclusion. "Change starts with the individual decision to do something different," asserts Sabrina. "Each of us, in our everyday interactions, have the choice to be accepting and nonjudgmental."
The Stronger Than Hate Challenge encourages students in grades 6-12 to complete research-based and standards-aligned activities, culminating in taking action against hate. The challenge also asks students to capture their journey in a video essay to help them share their message with the world. Teaching with Testimony is rooted in the belief that one person can make a difference. It invites educators, students, parents and communities to create positive action by viewing powerful testimony from survivors and witnesses of genocides to evoke a sense of shared global citizenship and a call to make the world a better place.
In 2018, USC Shoah Foundation launched the Stronger Than Hate initiative to leverage the Institute for Visual History and Education's more than two decades as a world leader in the field of testimony-based education and research by scaling proven models to address the rising crises of hatred in America and abroad. The Stronger Than Hate initiative serves as a proactive, actionable response to intervene in the cycle of hatred and violence. Programs reach educators, students, policy makers, influencers, and the public via schools, universities, communities, and boardrooms, both virtually and in person around the world.
"USC Shoah Foundation would like to congratulate the 2019 'Stronger Than Hate Challenge' winners and every participant for their vision and effort to promote universal themes of triumph and perseverance," said USC Shoah Foundation Director of Education Claudia Wiedeman. "'Teaching with Testimony' empowers youth with digitally immersive content that counters intolerance and bias, connecting communities with real testimonies that eradicate hate, while building stronger bridges to understanding and love. We are proud to partner with Discovery Education to advance this learning approach in schools across the nation and around the world."
"Discovery Education is proud to be a part of an initiative that encourages students to counter hate through educational development and advancement," said Senior Vice President and Chief Marketing Officer of Discovery Education Lori McFarling. "The 'Stronger Than Hate Challenge' provides students with a safe, inclusive space, and this year's challenge winners have exceeded our expectations by producing captivating content that promotes the need for equity, inclusion and action in school communities across the country."
Composed of a series of standards-aligned resources for middle and high-school students, Teaching with Testimony challenges students to employ empathy, build critical-thinking skills, and become inspired to create a brighter future after listening to firsthand accounts from survivors and witnesses of genocide. In addition to being deeply integrated into Discovery Education's Social Studies Techbook™, the recently introduced Discovery Education Experience and professional learning offerings, Teaching with Testimony includes digitally immersive classroom resources, Virtual Field Trips and activities that provide educators with the tools they need to teach students to respond to injustice and ultimately counter hate.
Teaching with Testimony resources are available at no cost at teachingwithtestimony.com. For more information about Discovery Education's digital content and professional development services, visit discoveryeducation.com. Stay connected with Discovery Education on Facebook, Twitter, Instagram and Pinterest @DiscoveryEd.
Like this article? Get our e-newsletter.
Be the first to learn about new articles and personal stories like the one you've just read.