CAGR Conference Summary - Comparative Lenses: Video Testimonies of Survivors and Eyewitnesses of Genocide and Mass Violence (June 2019)
Sat, 11/30/2019 - 12:00am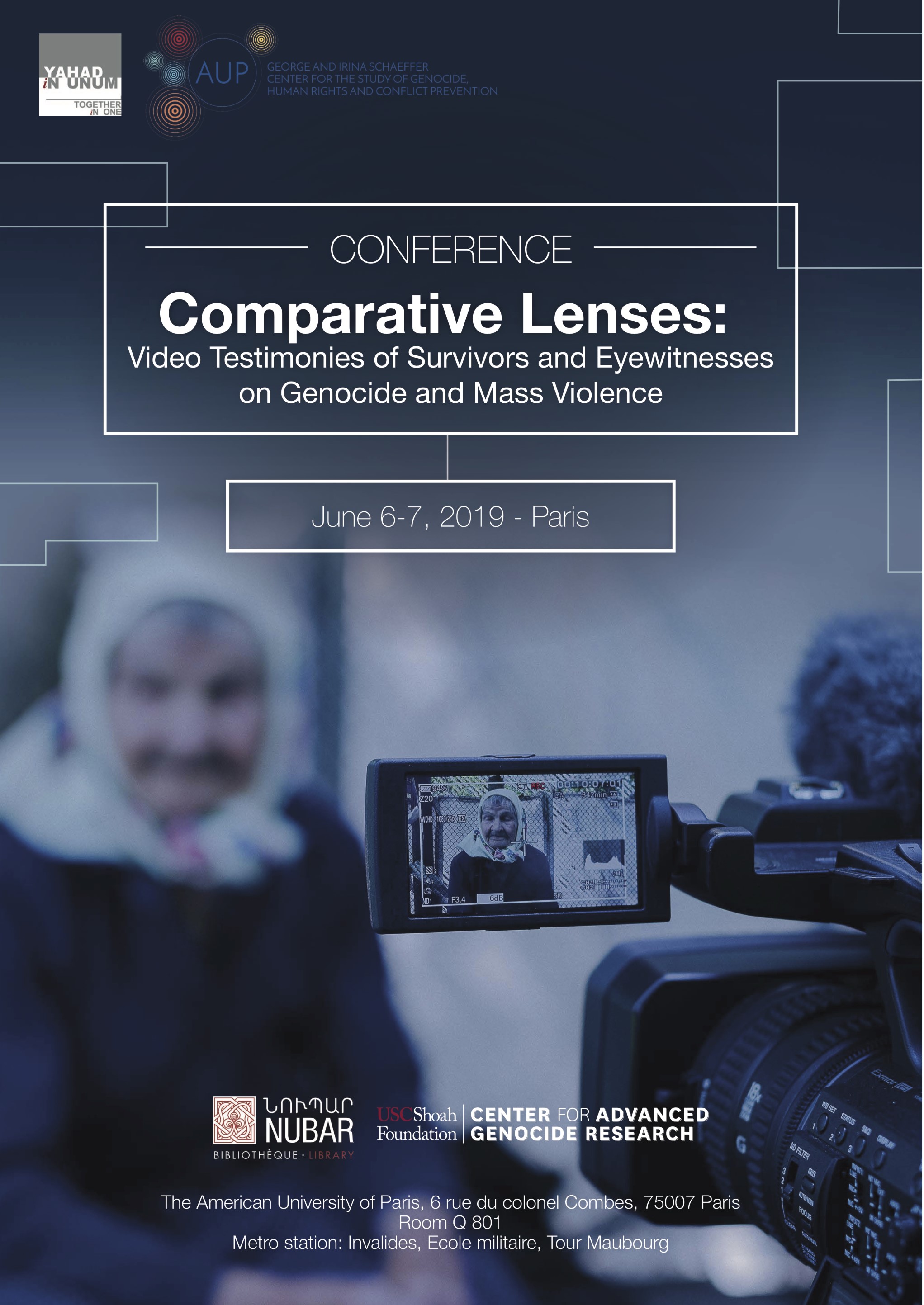 "Comparative Lenses: Video Testimonies of Survivors and Eyewitnesses of Genocide and Mass Violence"
American University of Paris, Paris, France
June 6-7, 2019
The international conference "Comparative Lenses: Video Testimonies of Survivors and Eyewitnesses on Genocide and Mass Violence" convened more than 30 experts from Poland, Ukraine, France, the United Kingdom, Israel, the Netherlands, Australia, Cambodia, Macau and the United States to present new research on video testimonies of survivors and eyewitnesses of genocide and mass violence.
The conference was organized by the George and Irina Schaeffer Center for the Study of Genocide, Human Rights and Conflict Prevention at the American University of Paris, Yahad-In Unum, the USC Shoah Foundation Center for Advanced Genocide Research and the AGBU Nubar Library. 
The insightful presentations from junior and senior scholars touched on many topics regarding documentation of the Holocaust, such as victims' and eyewitnesses' perspectives, the documentation of human bodies during and after the Holocaust, the relevance of language, time, place and the video medium, and the ethics and challenges of video documentation. The conference included a panel with introduction of testimony archives and a concluding session featuring Center Director Wolf Gruner, as well as a presentation by 2018-2019 Center Research Fellow Jean-Marc Dreyfus. Many of the presenters of this conference, which included talks on sexual violence, used the video testimonies of the survivors from the USC Shoah Foundation Visual History Archive. The conference helped to illuminate the similarities, differences and potentials of various video testimony collections to further Holocaust and genocide studies. 
Read the conference program here.
This is the third of three brief summaries about the conferences co-organized by the USC Shoah Foundation Center for Advanced Genocide Research in 2019. 
Like this article? Get our e-newsletter.
Be the first to learn about new articles and personal stories like the one you've just read.