Passing of Joseph Feingold Demonstrates Urgent Need for "Last Chance Testimony"
Thu, 05/07/2020 - 3:03pm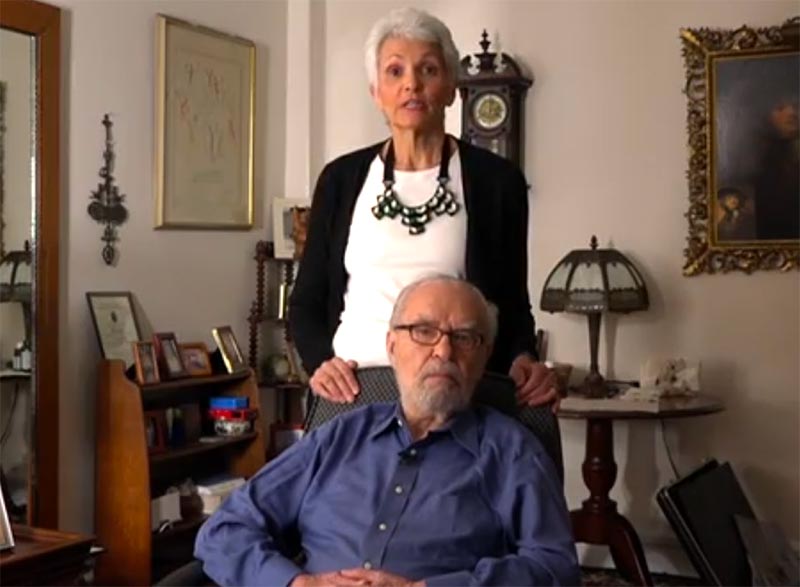 Joseph Feingold was 17 years old when he and his father, Aron, fled the Nazi invasion of Poland. Fleeing east, the duo were apprehended by the Soviet military and subsequently spent six years in the freezing cold of separate Siberian labor camps.
His mother, Ruchele and two brothers, Henry and Alex, stayed behind in Poland. Ruchele and Henry, lost their lives in concentrations camps, while Alex, survived the horrors of both Auschwitz and Bergen-Belsen.
After the war, Mr. Feingold became a successful New York-based architect and subject of the Oscar-nominated documentary short, "Joe's Violin."
On April 15, Joseph Feingold passed away at Mount Sinai West Hospital in New York City, at the age of 97 from complications of COVID-19.
Portions of his story have been published in obituaries in the New York Times, Jewish Telegraphic Agency, and WQXR radio, of which Mr. Feingold was a longtime listener and patron and whose involvement inspired the documentary.
In 2017, Mr. Feingold recorded a more than 4 hour testimony with USC Shoah Foundation as part of the Last Chance Testimony Collection, enabling Holocaust survivors to share their stories for USC Shoah Foundation's Visual History Archive—before it is too late—where they will exist in perpetuity.
"Joseph's remarkable, full oral history would have been lost to time had he not sat with us to recant his story," Said Stephen D. Smith, Finci-Viterbi Executive Director of USC Shoah Foundation. "Joseph's tragic passing, like many others in recent weeks, highlights the urgent need to capture Holocaust survivor stories before it is too late."
Smith recently spoke to the New York Times, who profiled Mr. Feingold, among others, in a recent story about the vulnerability of Holocaust survivors to the global COVID-19 pandemic. Smith described the pandemic as "the greatest threat to this generation since the Second World War."
Since its founding by Steven Spielberg in 1994, the Institute has compiled over 54,000 Holocaust testimonies, most of which were conducted before the year 2000. At that point, having surpassed the goal of recording over 50,000 interviews, the Institute shifted gears to focus on recording testimonies of other genocidal events, as well as finding ways to use its testimonies for research and education.
Now, the very youngest Holocaust survivors are 75 years old. Their numbers are rapidly diminishing, even as antisemitic incidents in the United States and Europe are steadily climbing.
"Holocaust survivors, in general, are a resilient population, but they face an unseen threat to their lives and livelihood. We have to capture more of their stories and preserve them in perpetuity for educational use. Sadly, our timelines are shortening. This is our last chance," said Smith.
Less than 400,000 survivors remain worldwide, of which approximately 100,000 live in North America.
During the years in which USC Shoah Foundation's effort to collect large numbers of Holocaust testimonies was on hold, hundreds of Holocaust survivors reached out to request that their interview be recorded. Many expressed the hope that their stories will be used to educate future generations.
To learn more and support the project, click here.
Like this article? Get our e-newsletter.
Be the first to learn about new articles and personal stories like the one you've just read.