USC Shoah Foundation and Discovery Education Announce UK Winners of Stronger Than Hate Challenge
Mon, 11/22/2021 - 9:55am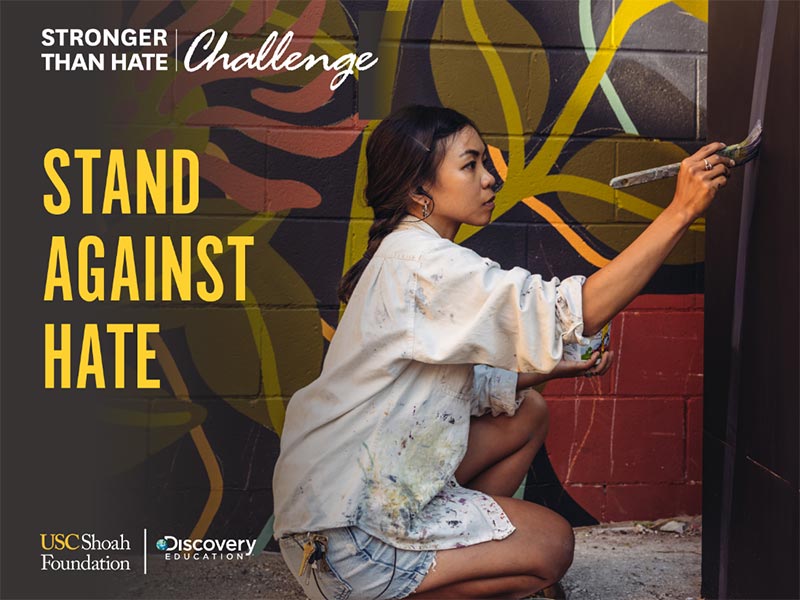 USC Shoah Foundation and Discovery Education have announced the winners of the United Kingdom category of the 2021 international Stronger Than Hate Challenge
First prize in the challenge was awarded to Elizabeth Stickland, a Year 8 (US 7th grade) student from Attleborough Academy who wrote a powerful poem about how communities can overcome prejudice. Elizabeth's top prize is a £5,000 ($6,700) grant for her school and an iPad.
Second prize went to Callum Halkett (Year 10, US 9th grade) from Wey Valley College in Guildford, and third prize went to Charlotte Lloyd (Year 11, US 10th grade) from Sandbach School in Cheshire.
Open to students in Canada, the United Kingdom and the United States, the high-profile Stronger Than Hate Challenge is held annually, empowering children to tackle hate within their communities and take action for a better future. Students are asked to submit a creative project—a video, poem, song, blog or piece of art—showing the power of testimony to overcome hate and strengthen communities.
The Stronger Than Hate Challenge builds upon the USC Shoah Foundation and Discovery Education no-cost and standards-aligned educational initiative, Teaching with Testimony, which inspires middle and high school students to create a better future by learning from the powerful testimony of survivors and witnesses of genocide.
Students taking part in the Stronger Than Hate Challenge were encouraged to listen to these stories and be inspired to produce a piece of work which reflects the power of testimony to tackle hate.
First prize winner Elizabeth Stickland said: "I was delighted to learn that I had won the UK Stronger Than Hate Challenge. Testimony shaped my poem and my views, it allowed the victim's voice to be spoken, to be heard."
 "Those who can speak, who are listened to, speak for those who cannot. [Testimony is] an invaluable source, and one that ought to be freely available to anyone who cares to listen," she added.
USC Shoah Foundation Head of Programs for Education, Lesly Culp spoke to the aim of the challenge and lauded all who participated.
"Through the power of story, the Stronger Than Hate Challenge empowers kids to be agentic—to critically examine the world around them and make a difference. Along with our congratulations to this year's winners, we extend our gratitude to all participants for taking the challenge and being a positive force."
President of Social Impact at Discovery Education, Lori McFarling, said "We are proud to partner with USC Shoah Foundation to elevate student voices and promote understanding and diversity. Congratulations to each of the 2021 Stronger Than Hate Challenge winners and thank you for your inspirational work to make the world a more equitable place."
Like this article? Get our e-newsletter.
Be the first to learn about new articles and personal stories like the one you've just read.