Two USC Students Will Share the 2022 Beth and Arthur Lev Student Research Fellowship
Thu, 06/30/2022 - 3:00pm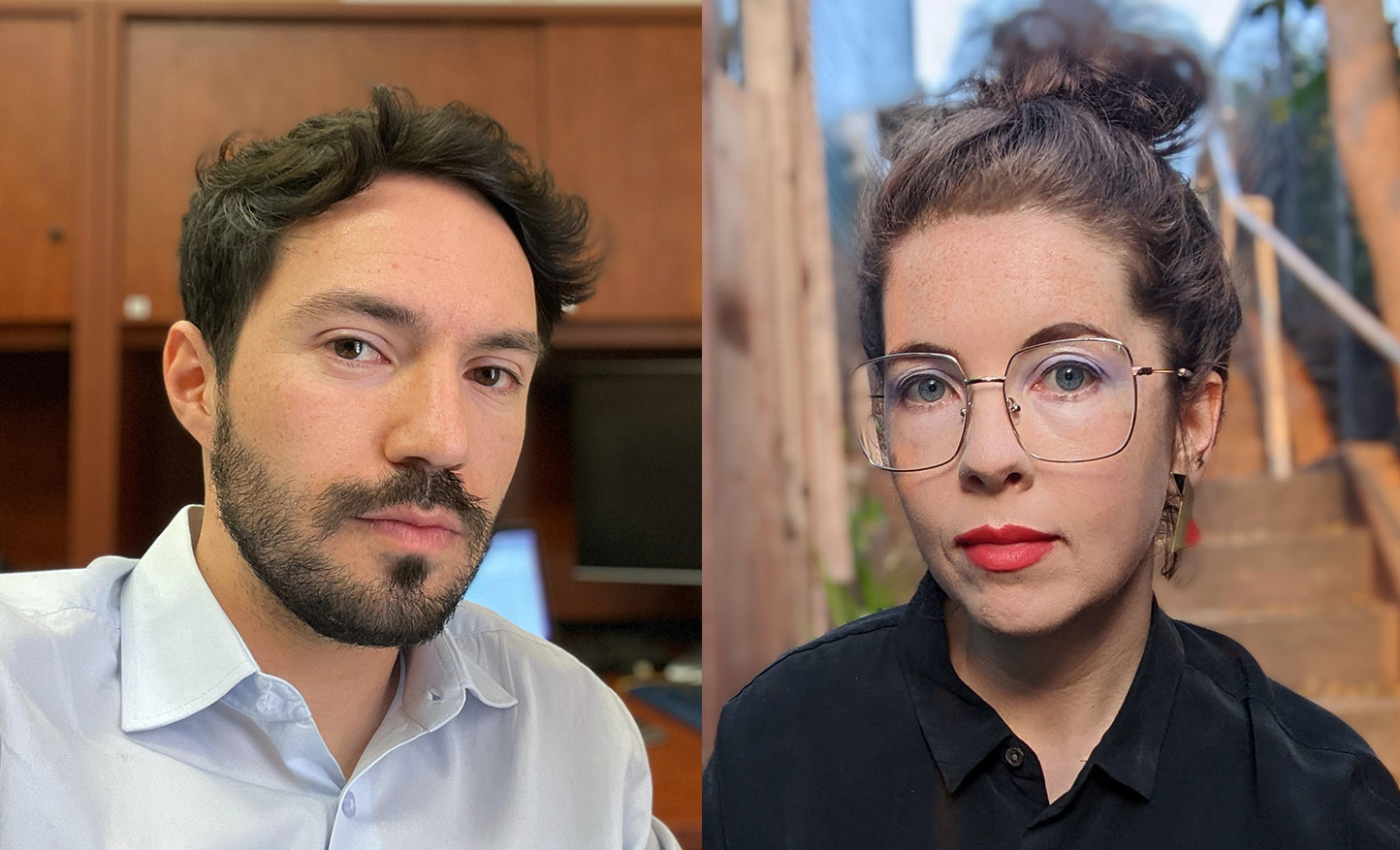 Two USC scholars – graduate students Emily Geminder and Vaclav Masek - will share the Beth and Arthur Lev Student Research Fellowship for Summer 2022.
The Beth and Arthur Lev Student Research Fellowship provides support for USC students at any academic level and from any discipline to conduct a month of research in residence at the USC Dornsife Center for Advanced Genocide Research focusing on testimonies of the USC Shoah Foundation Visual History Archive (VHA) and other related USC resources and collections. Both research fellows will give public talks about their summer research during the 2022-2023 academic year.
Emily Geminder is a PhD candidate in the Literature and Creative Writing Program at USC. In her research at the Center, she is exploring Holocaust survivor testimonies in the VHA not only for what survivors are saying - although she is interested in that too when it comes to the topic of rumors and sites of contested memory - but also for the moments in interviews where language fails and where survivors communicate their memories outside of language. She is investigating moments whether other kinds of expressions besides words emerge, such as silences, expressions of emotions, and body language. 
Emily Geminder's dissertation in progress "Impossible Archives, Degenerate Futures: Writing as Contagion" analyzes queer and feminist artists and writers' use of ephemeral archives - archives of dreams, fictional and imaginary archives, embodied archives - to contest rhetorics of fascism, eugenics, and white supremacy. She is the author of Dead Girls and Other Stories (Dzanc Books, 2017), which The New York Times Book Review praised for "[leaving] a reader enchanted, provoked, and curious about the little-noticed corners of the darkening world." The collection of stories was awarded the Dzanc Books Short Story Collection Prize.
Her short stories, poems, and essays have appeared in AGNI, American Short Fiction, Literary Hub, Mississippi Review, New England Review, Prairie Schooner, Tin House Open Bar, Witness, and many others. The recipient of an AWP Intro Journals Award, a Glenna Luschei Prairie Schooner Award, and a Pushcart Special Mention, she previously worked as a journalist in New York and Cambodia. Geminder earned her BA in English and Gender Studies at Hampshire College in 2008 and her MFA in Creative Writing at the University of Missouri in 2016, where she was named a Durwood Fellow.
Vaclav Masek is a second-year graduate student in the Sociology department at USC. In his dissertation, entitled "Temporal Imaginations: Collective Memory and Collective Action in Post-Conflict Guatemala," Masek is exploring the ways that social movements in Guatemala draw on the past as a source of inspiration. In his research on resistance to extractive projects in Guatemala, Masek has been collecting ethnographic and participant observation data over parts of the past year.  To trace the continuities, ruptures, and intergenerational legacy of Indigenous resistance in the past and through the present – from colonialism to genocide to extractive projects today - Masek will conduct research with VHA testimonies of Guatemalan genocide survivors.
Vaclav Masek is a prolific bilingual writer. He frequently authors op-eds in elPeriódico, one of the largest Spanish-language newspapers in Guatemala. Prior to this, he wrote a monthly column on CNN en Español commenting on contemporary Central America. His public sociology work has been published by NACLA (North American Congress on Latin America), the Latin Dispatch, Plaza Pública, and Nómada. He has published two peer-reviewed academic articles in International Area Studies Review and Public Integrity and has presented his work widely at conferences and workshops in Argentina, Guatemala, Mexico, Spain, and the United States. In his academic career, Masek has been the recipient of multiple fellowships and awards, including the Fundación BOLAR Scholarship, Humanity in Action Fellowship, Tinker Foundation Research Grant, among others.
Vaclav Masek earned his BA in Sociology, Spanish, and Global Liberal Studies at New York University where his undergraduate thesis explored transitional justice initiatives in Guatemala intended to enfranchise populations affected by the armed conflict through land reform. Also at New York University he earned his MA in Latin American and Caribbean Studies. Before starting his PhD, Masek served as a Counsel in the Congressional Committee on Labor for the 9th Legislature of the Republic of Guatemalala. 
Like this article? Get our e-newsletter.
Be the first to learn about new articles and personal stories like the one you've just read.