Professor Jan Grabowski Named the 2022-2023 Shapiro Scholar in Residence
Tue, 02/07/2023 - 4:07pm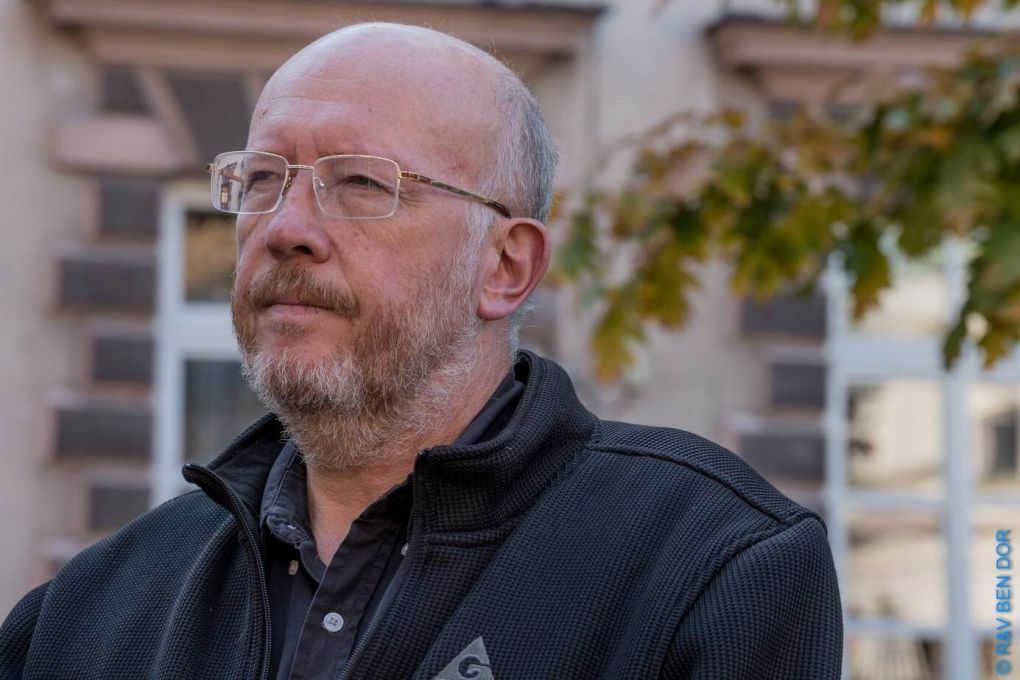 Professor Jan Grabowski, a distinguished scholar of the Holocaust in Poland will serve as the 2022-2023 Sara and Asa Shapiro Scholar in Residence at the USC Dornsife Center for Advanced Genocide Research and USC Shoah Foundation. He will deliver the Annual Sara and Asa Shapiro Lecture, entitled "Holocaust in Poland: New Research, New Findings", and spend a week in residence at the Center and USC Shoah Foundation in March 2023.
"We are excited to welcome Jan Grabowski, a world-renowned Holocaust scholar. His meticulous research on the Polish involvement in and reaction to the German persecution and mass murder of the Jews in Nazi-occupied Poland is trailblazing and challenges post-war myths," said Center Founding Director, Shapell-Guerin Chair in Jewish Studies and Professor of History Wolf Gruner.
USC Shoah Foundation Finci-Viterbi Executive Director Dr. Robert Williams welcomed the selection of Grabowski for the residency. "I have had the good fortune to know Jan Grabowski for many years and admire his groundbreaking work on the Holocaust in Poland," Dr. Williams said. "At a time of resurgent and growing antisemitism in Poland and across Europe, I can think of no more fitting recipient of the Sara and Asa Shapiro Scholar in Residence fellowship."
Grabowski is Professor of History at University of Ottawa in Canada and a Fellow of the Royal Society of Canada. He has been teaching at University of Ottawa since 1993, winning Professor of the Year award in 2014. His academic training includes a PhD in History from Université de Montréal and an MA in History from the University of Warsaw.
Grabowski's research focuses on the Holocaust in Poland and, more specifically, on the relations between Jews and Poles during the war.  He has authored, co-authored, or edited 20 books and published more than 80 articles in many languages (German, Hebrew, English, Polish, and French). Grabowski's book Hunt for the Jews: Betrayal and Murder in German-Occupied Poland focused on hitherto unknown Polish participation in mass murder and was awarded the Yad Vashem International Book Prize for Holocaust Studies in 2014. In 2018 he co-edited and co-authored Dalej jest noc (Night Without End), a two-volume study published in English by Indiana University Press in 2022, on the fate of the Jews in selected counties of occupied Poland. After publication of Night Without End in Poland, a Warsaw district court pronounced Grabowski and co-author Barbara Engelking guilty of defamation for a brief passage in their 1,600-page book, a verdict that was overturned on appeal. Grabowski's most recent book On Duty: The Role of the Polish "Blue" Police in the Holocaust (Na Posterunku. Udział Polskiej Policji Granatowej i kryminalnej w Zagładzie Żydów, Czarne Publishing House), which was published in Poland in 2020, will be published in English by Yad Vashem in 2023.
Grabowski has been the recipient of numerous research fellowships and awards, including most recently the 2023 Distinguished Visiting Scholar award from Lund University in Sweden and the 2022 Canadian SSHRC Impact Award for research, awarded in December 2022. Among numerous positions of distinction, he was appointed the 2021-2022 Cleveringa Professor and Chair at Leiden University in the Netherlands, Distinguished Visiting Fellow at the Institut für Zeitgeschichte in Munich, Germany in 2020, Ina Levine Invitational Scholar at United States Holocaust Memorial Museum in Washington, D.C. in 2016, and Baron Friedrich Carl von Oppenheim Chair for the Study of Racism, Antisemitism, and the Holocaust at Yad Vashem in Israel in 2011. He has served on the editorial board the journal Revue d'histoire de la Shoah since 2019 and on the Babyn Yar Holocaust Memorial Charity (BYHMC) board since 2020.
Intended to inspire prominent scholars, the Sara and Asa Shapiro Annual Holocaust Testimony Scholar and Lecture Fund was established through a gift by longtime USC Shoah Foundation Executive Committee and Board of Councilors member Mickey Shapiro. The fund enables one senior scholar to spend time in residence at the USC Dornsife Center for Advanced Genocide Research and the USC Shoah Foundation.  This prestigious fellowship is only available through an invitation by staff at the Center.
The fellowship offers senior scholars the opportunity to use the Holocaust and genocide resources at USC, particularly the USC Shoah Foundation's Visual History Archive, which contains more than 56,000 testimonies of witnesses and survivors of the Holocaust, including the testimony of Sara Shapiro, and related unique resources and collections.
Grabowski is the seventh Shapiro Scholar in Residence, following 2020-2021 Shapiro Scholar Sara R. Horowitz, 2019-2020 Shapiro Scholar Peter Hayes, 2018-2019 Shapiro Scholar Marion Kaplan, 2017-2018 Shapiro Scholar Christopher R. Browning, 2016-2017, Shapiro Scholar Omer Bartov, and inaugural Shapiro Scholar David Cesarani.
Like this article? Get our e-newsletter.
Be the first to learn about new articles and personal stories like the one you've just read.