This past May, a friend sent me an article he knew I would appreciate. It was an opinion piece in the New York Times titled "Burying My Bubby During the Pandemic" written by a comedy writer named Eitan Levine who, like me, grew up with a grandmother who survived the Holocaust. I began to read and found myself immediately wrapped inside his writing which was so honest it was cathartic.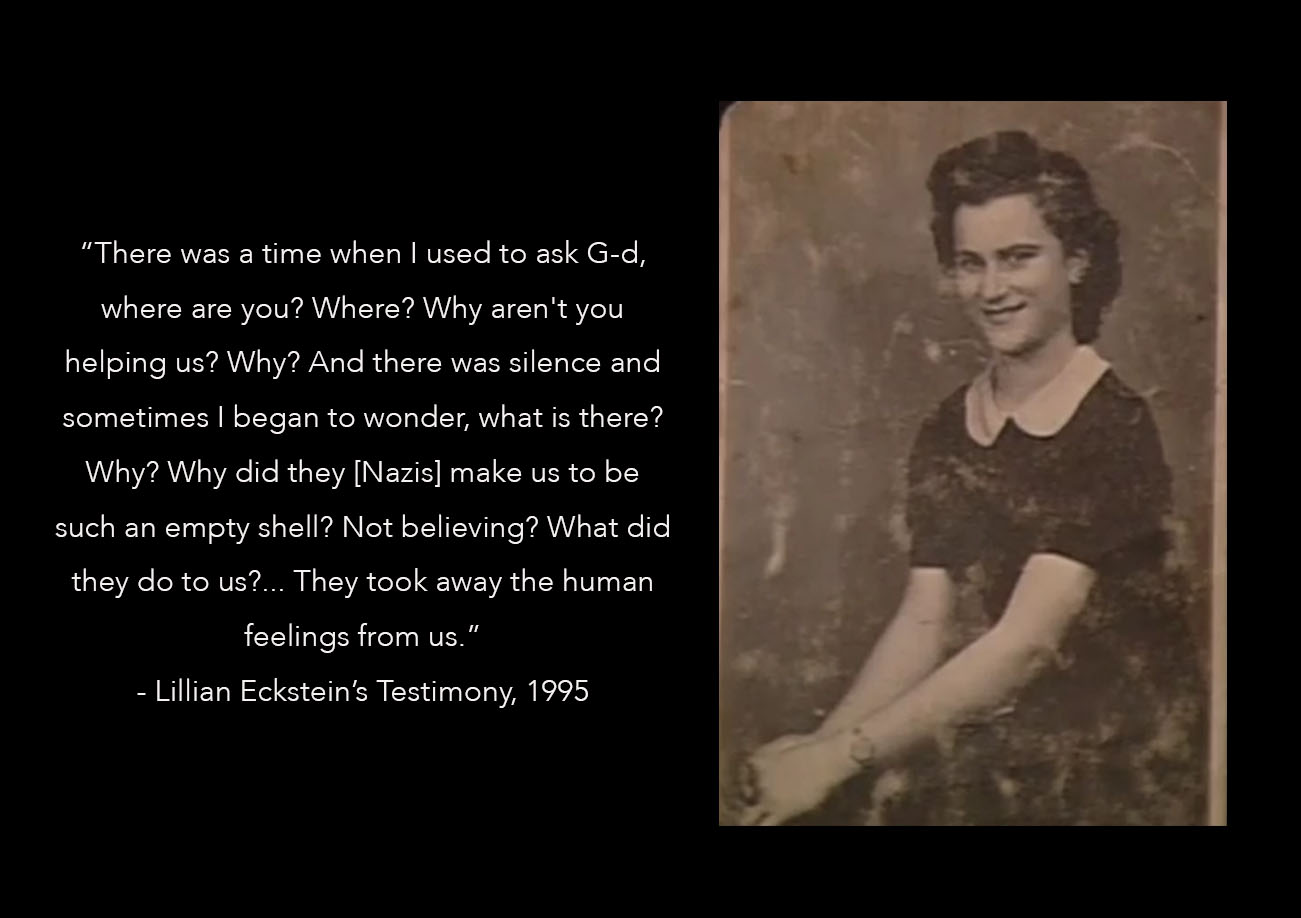 "My mother put me on a conference call with a nurse who explained exactly how we were going to say goodbye to my grandmother, Bubby. She was dying of the coronavirus." he wrote. "I told her I was sorry that she had to go like this, I said I loved her, cried a lot, told her I loved her again… I wasn't even wearing pants when it all happened… I ran to put a shirt on because I thought it would be a "nice thing" for Bubby. Like she would have wanted me to say goodbye with at least a button-down shirt on."
I immediately reached out to Eitan and asked if his grandmother's testimony was in USC Shoah Foundation's Visual History Archive. He told me that he thought so although he'd never seen it and gave me her name -- Lillian Eckstein. A few minutes later I had downloaded her 2.5-hour-long interview recorded in 1995.
I sent Eitan the testimony. "I have no words. Thank you for this." he quickly wrote back. "I have always wanted something like this."
For more than 25 years, USC Shoah Foundation has been dedicated to collecting as many testimonies of Holocaust survivors as possible. There are over 55,000 oral histories in their Visual History Archive, representing survivors from the Holocaust as well as half a dozen genocides and victims of current conflicts. These testimonies are used for education, research, and art, including films, a podcast and other creative storytelling projects. They are watched hundreds of thousands of times on YouTube a year and are the core of the Institute's global education program and Stronger Than Hate initiative. 
With most Holocaust survivors in their late 80s and 90s, the Institute continues on with the Last Chance Testimony Collection. The program formally launched in 2018 as a race-against-the-clock final push to record interviews. More than 300 survivors are already on the Last Chance Collection's waiting list and tens of thousands of survivors across the globe have not yet told their story.
USC Shoah Foundation testimonies average around 2.5 hours (although it is not uncommon for interviewees to talk for much longer) and are guided by a trained interviewer who asks about life before, during and after war. In addition to sharing their experiences during the war, survivors and witnesses alike speak to their family memories, giving details about their unique interests and hobbies, and what their schooling and socioeconomic status was before the war. They are asked about their communities, their religious beliefs and practices, and their experiences with racism, prejudice and discrimination. When possible, members of their family will join them for part of the interview. And, near the end of every testimony, survivors are asked to offer a message for the future. The stories they tell and the artifacts they show (including family photographs) allow these survivors to become the teachers of today, tomorrow and years into the future.
For many years, Joshua Kaufman, a Holocaust survivor from Hungary never told his story. "It didn't exist when we grew up," his daughter Rachel said. "There were some stories that came out here and there, but when we would go to events and they would ask Holocaust survivors to stand up, my dad would never stand, but it's totally different now."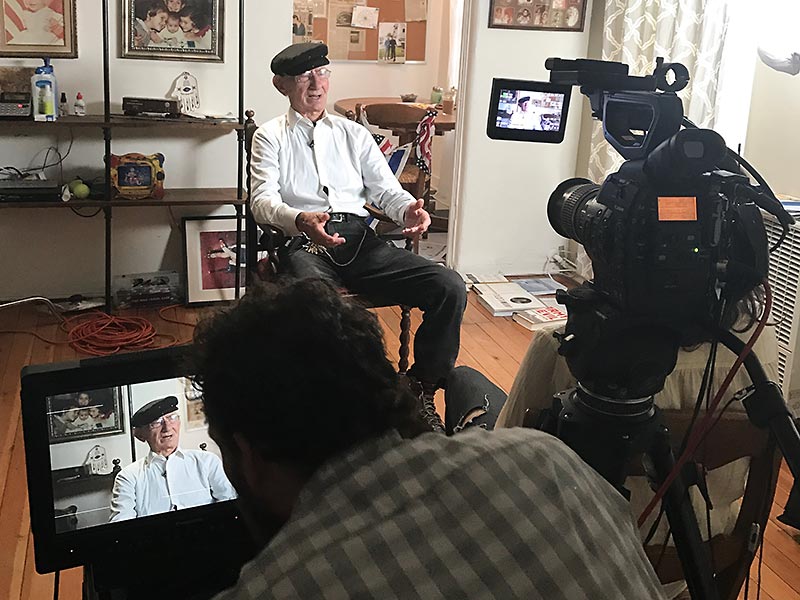 Holocaust survivor Joshua Kaufman gives his 2017 testimony to USC Shoah Foundation from his apartment in Los Angeles, California.
Videographer Jeff Schneider puts a mic on Holocaust Survivor John Adler who gave his testimony in 2018 at the age of 94 as part of the Last Chance Testimony Collection.
At 92-years-old, Joshua stands tall and with perfect posture when he talks about the Holocaust. After a half century of silencing his own story, he speaks it with authority. He was the only survivor in his family having escaped being murdered in Auschwitz; instead he was transported to Dachau concentration camp and used as slave labor. 
Rachel remembers her father starting to talk openly about the Holocaust around the year 2013 when a Bar Mitzvah boy asked that he come speak to his grade. "My dad had never spoken to anyone before so he told them to prepare questions and that's what they did. And, that same year he said that he would only tell us more of his story if we went back to Dachau, which we did."
Since starting to tell his story, Joshua has made it a cornerstone of his public identity. He speaks about the war often and was painted by artist David Kassan as part of an exhibition called Facing Survival at USC Fisher Museum -- a joint program with USC Shoah Foundation. Joshua has been given Presidential recognition and honoured at a State of the Union address. He has publicly attended a trial in Germany against a former Auschwitz guard and was the subject of an incredible story in which he reunited with one of the American soldiers who liberated him from Dachau at the end of the war.
When Joshua gave his testimony to USC Shoah Foundation and asked how it felt to have his family with him during the interview, he said, "I cannot find the words to express myself… I was sure, one hundred percent that I had zero zero zero chance to survive. How I survived? Again, no answer. They call me a hero. I feel myself not a hero. After I was liberated, I was ashamed to say [to] people that I'm a Holocaust survivor."
John Adler is another survivor from Los Angeles and gave his story in the fall of 2018, just a week before his 95th birthday.
John was born as Hans Gunter on September 17, 1923 in a small village in Germany to a homemaker and a house painter. He was just shy of 16-years-old when the war began and his family was lucky -- they got out. John's mother and father found refuge in Shanghai, which at that time was occupied by the Japanese and one of the few places Jews could go to without a visa. But, John was adamant that there was a better option for him, unsure of how Jews would be treated in Shanghai. "[I] convinced my parents that I'm better off going to Palestine than to Japan," he said, "I don't know -- [the Japanese] might do the same thing as the Nazis. Who knows? And it took a lot of begging, and they finally said, OK. And six weeks after that, I went to a preparation camp, preparation for life in a kibbutz." 
John tells the entire story in his testimony — his childhood into teenagehood, his journey to Palestine and the war-time years, returning to Europe after the Nazis were defeated, an Italian romance after the war, and his eventual reunion with his parents in the United States. Then, when asked why he decided to give his interview, John responded with a similar sentiment as so many other survivors. "Mostly for my daughter," he said. "And the kids that come after me."
Over 50 Holocaust survivors have been interviewed since the Last Chance Collection officially launched in 2018. Other survivors that have recently been interviewed include activist Hedi Fried who is in her nineties and lives in Stockholm, Sweden; Nelly Finkelstein, a Mountain Jew who survived the war hiding in the North Caucasus and gave her testimony in Russian; and, Miriam Katin, a graphic artist who was just a child when her mother faked both of their deaths in Hungary in order to survive the war.
With coronavirus turning 2020 on its head, USC Shoah Foundation has pivoted dramatically in how testimonies are being collected so that the health and safety of the survivors are of the utmost priority. Survivors are now being sent 'remote capture kits' that include a professional grade camera, laptop, microphones and lighting equipment. Caregivers or family members with whom they're quarantining set up the equipment and they all receive a detailed, but accessible guide to help them through the set-up process and to help them feel comfortable with the innovative model. The interview itself, which happens over zoom, is filmed on the camera which is manned remotely by a professional videography team. All this ensures that the quality of remote interviews is on par with those that have been collected for the previous 25 years.
Alex Burstein was the first survivor interviewed by this model and was interviewed by Crispin Brooks who is the curator of the Institute's Visual History Archive. After seven years of waiting to be interviewed, Alex gave his testimony to USC Shoah Foundation from his home in Toronto, Canada. At the end of his interview, when he was asked what it meant to him to be able to give his testimony, he said, "It is to remember… and to be remembered."
As studies, like the Echoes & Reflections U.S. College Survey, prove the power of teaching testimony in the classroom, it is most important that these stories continue to be collected. And as reports of antisemitism steadily rise and identity-based prejudice and discrimination around the world becomes more rampant, the experiences that survivors retell with vulnerability and hindsight serve as personal historical truths. They are stories that are full of warning signs and lessons in both humanity and inhumanity that will be reflected upon for many generations to come.
---
To learn more about the Last Chance Testimony Collection and ways to engage with the program, visit here.