Toolkit
Donate
Welcome! Find resources to explore and share the work of USC Shoah Foundation.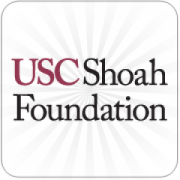 Add a button to your mobile phone home screen so you can always find our website
5 Things You Need To Know
1

USC Shoah Foundation

USC Shoah Foundation—The Institute for Visual History and Education is dedicated to developing empathy, understanding and respect through testimony.

As keeper of the world's largest archive of audiovisual testimonies of survivors and witnesses to genocide, we put storytelling at the heart of this mission.

Our effort to expand on the collection of 55,000 testimonies continues apace, but our work extends well beyond amassing interviews.

2

The Visual History Archive

The vast majority of the Archive's nearly 55,000 interviewees are Holocaust survivors, but hundreds of survivors and witnesses from other genocidal events are also represented. These include:

The Armenian Genocide (1915)
The Nanjing Massacre (1937)
The Cambodian Genocide (1970s)
The Guatemalan Genocide (early 1980s)
The Genocide against the Tutsi in Rwanda (1994)
Contemporary Antisemitism
The Central Africa Republic Conflict (2012-2014)

Key points:

It would take 13 years of 24/7 viewing to watch the entire VHA.
The VHA's powerful search engine can key in on specific moments of interest.
The full Archive is available at 85 subscribing universities and museums worldwide.
Anyone with a smart phone or an internet connection can access the VHA Online, which includes 2,000 full testimonies and metadata and a slideshow for all 55,000 interviewees.

3

IWitness

The Institute's no-cost, award-winning educational website that uses clips of testimony to teach the importance of tolerance and empathy.

Nearly 200 learning activities
Most are completable in 1-3 hours
Teaches empathy, critical thinking, digital literacy
Meets international academic standards
We train teachers how to use IWitness effectively

Examples:

The Power of Propaganda: (Grades 7-9) Holocaust survivors talk about how their non-Jewish friends turned against them as German society was exposed to more and more anti-Jewish propaganda. The activity then asks students to create a PSA in IWitness aimed at their age group about how the media influences behavior.
Refugees: Displacement and Resettlement: (Grades 8-10) Students learn the origin story of the UN Commission on Refugees, which was created to handle the flood of European refugees after World War II. They learn about the refugee situation in the present day, reflect on then and now, and pen a letter to somebody who has been resettled in their community.
Witnessing Jim Crow: (University level) Students read about the Jim Crow laws that pervaded the American South. They watch clips of testimony from Holocaust survivors who relocated to Southern states after the war and were appalled to find segregation rules that reminded them of Nazi Germany. They reflect critically.

4

New Dimensions in Testimony

New Dimensions in Testimony is a collection of interactive biographies that enable people to have question-and-response sessions with pre-recorded video testimonies of Holocaust survivors.

The technology is groundbreaking, but the aim is straightforward: Holocaust survivors are among the world's best teachers of tolerance, and our time to have deep conversations with them is running out. New Dimensions in Testimony (a.k.a NDT) offers a way to preserve the ability to have these "conversations" long into the future.

Key points:

Interviewees include 15 Holocaust survivors and 1 Nanjing Massacre survivor.
NDT's machine-learning technology was developed to meet the goal of preserving our ability to interact with Holocaust survivors.
Interviews are "future-proof," meaning they can be displayed in various formats. (Augmented reality, VR, mobile and methods that are still in the R&D phase, such as hologram projection.)
NDT has been piloted at museums in NY, DC, Illinois, Houston, Toronto and more.

5

Center for Advanced Genocide Research

The Center advances innovative interdisciplinary research on the Holocaust and other genocides.

Each year the Center hosts dozens of research and teaching fellows, visiting scholars, and visiting researchers whose work is informed by the Institute's resources.

Directed by esteemed Holocaust scholar Wolf Gruner, the Center also organizes a yearly international conference on pioneering topics in genocide studies and hosts an annual lecture series.

Fellows and collaborating researchers include:

A historian who accessed testimonies in the Archive of survivors who'd been interned at a little-known Jewish ghetto in Nazi-occupied Poland. The interviews expanded her knowledge of the rare open-air ghetto, depicted in a series of photos she'd discovered.

A doctoral student in fashion who mined the Archive's collection of more than 700,000 photos for a thesis on wedding dresses.
 Renowned Holocaust scholar Omer Bartov of Brown University, who reviewed 250 testimonies to write his book "Anatomy of a Genocide"
3 Perspectives
Extra Tools