It's Been A Year
An amazing, stunning, terrible, brilliant, tragic, beautiful, humbling year.
It has been a year, today, since anyone but me, Luis, facility management services and DPS officers have spent any time together on the 4th floor of Leavey Library. 
As I scanned my Trojan Check Daily Pass and entered campus today, I quietly marveled at my naïve optimism that when we shut down last year for our three day pilot in advance of the transition at USC to working from home it would be for just a few weeks, perhaps months. The first weeks spent preparing and revising plan after plan for our always imminent return to work. But as the days turned into weeks, our focus shifted to how to support each other and continue the work.
"Continuing" does not begin to characterize the work that was accomplished in the past year — we crushed it by any measure. We developed new ways to take testimonies during a lockdown; accelerated technical developments; built beautiful new interfaces; launched global programs, reaching hundreds of thousands of individuals across all our audiences; launched new programs and partnerships; we told stories in new ways and made powerful content that was used worldwide; developed new models to reach our lay leadership; helped our communities access resources; and increased our impact in every program.
And while our many accomplishments would be amazing in any year, in this year, when we had to find new ways to do everything we do, it is an astonishing achievement. And we did it together.
Sitting in our empty office sorting the mail, I am struck that it took leaving our open space to really develop the kind of cross-departmental collaboration the space was intended to develop. It took being isolated in our homes to reduce the silos that exist in all organizations and overcome the barriers that our international colleagues are only too familiar with. We learned that we needed each other to succeed – that no one, no team can do it without help – and we found ways to connect. We also got to know each other – and each other's families, pets and homes — much better.     
For all of our accomplishments, I am most impressed by the achievements we have made in living our values. Throughout this year, our first priority was caring for and about each other, supporting each other in navigating this new and challenging reality.   It has been truly humbling to witness day in and day out the level of empathy and love that exists in our organization.
As we head into our 366th day of working from home life as an agile workforce, the world is making a slow return to a new normal, zoom exhaustion is real and our arms are aching from vaccines, we wanted to document this year.
It's been a year. 
Daphne Yang, Annotation Specialist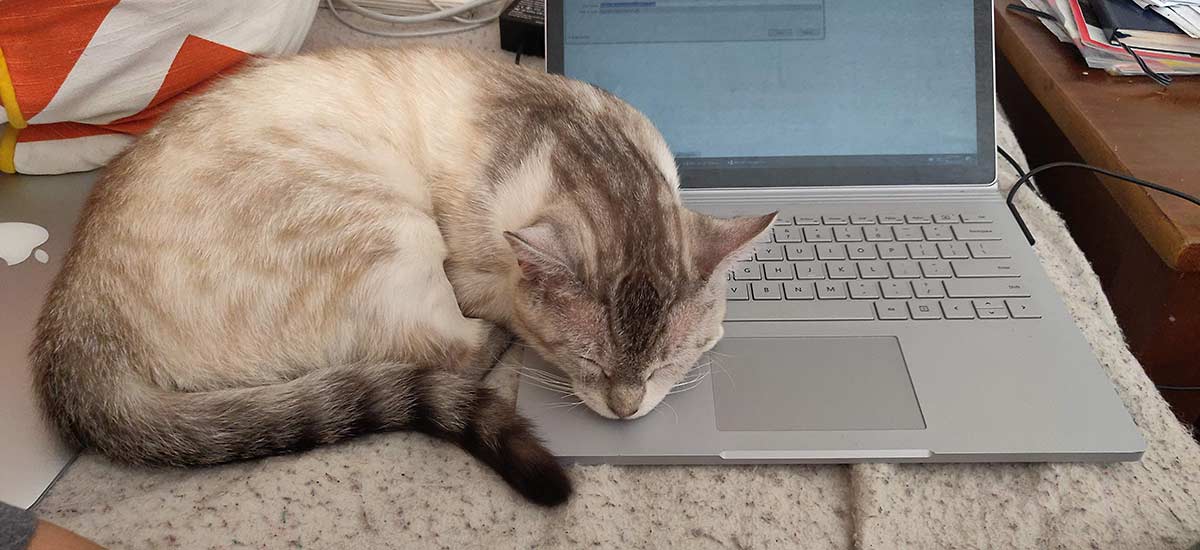 What Dimensions in Testimony and the entire Institute has accomplished floors me, but what has really kept my head up has been the unwavering spirit of my team. I don't know how I could have done this year without not only the collective energy, but also the morning check-ins to see each other's faces, share inane news, and hoist pets. It's kept me remembering that we're all real people doing this work. While many things in the last 12 months have changed from the Before Times (like a new aversion to words like "uncertain" and "unprecedented") and many have not, the DiT team has been the best support in continuing each day and looking forward to an After Times, second only to pandemic adoptee feline menace Mango.
Letisha Young, Program Manager, Administrative Programs
After almost a whole year, I finally got a workstation. Until last week, my workstation was either my bed or the couch. 
John Fanning, Program Coordinator for Museum Experience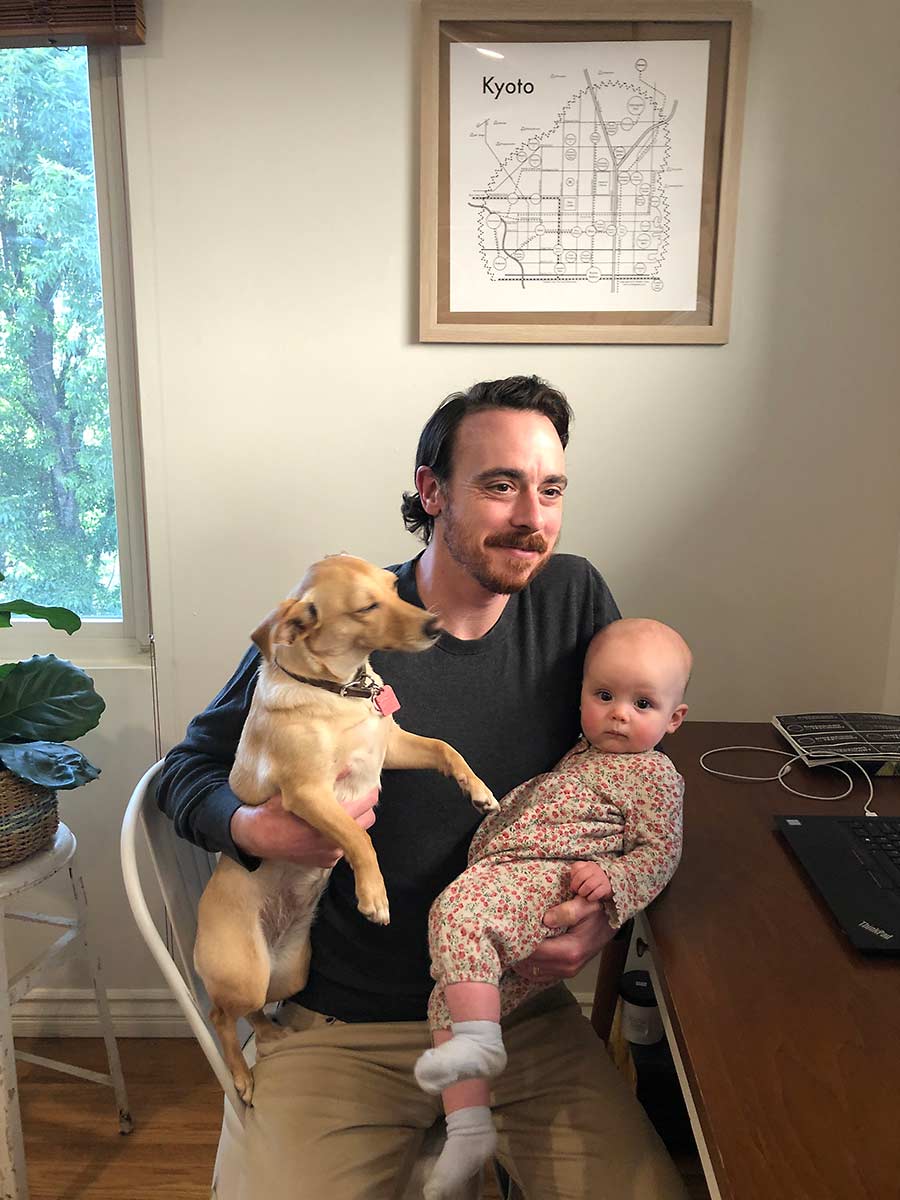 The only good thing about being so far away from friends, family, and colleagues has been getting to continue the important work we all do together, while being able to spend more time with these two!
Daryn Eller, Archivist
During the pandemic, I took on a new responsibility: helping get indexer-proposed terms into the Thesaurus. Sitting at this desk, I worked through the Thesaurus Manager Training in between other tasks (and making meals for my teenage daughter).
Susan Popler, Director, Visual History Archive Program
The dog - Sasha, our Covid puppy. She's a great business partner as she sits quietly at my feet most days and always loves my ideas : )   She's a wonderful addition to our family. We wouldn't have adopted her if it were not for work from home. 
The office – It's a great working environment with lots of light and relaxing views. Covid actually gave us the opportunity to change our living arrangements. We sold our home in LA and moved to San Diego to ride out the storm.  We're enjoying it here.  Lot's of space and natural beauty.  
The chair – The newest addition to my working space. It arrived last week. It replaces a rickety antique that creaked every time I moved! I should have done this months ago and am very thankful that I have the means to replace it. 
Badema Pitic, Visual History Archive Research Officer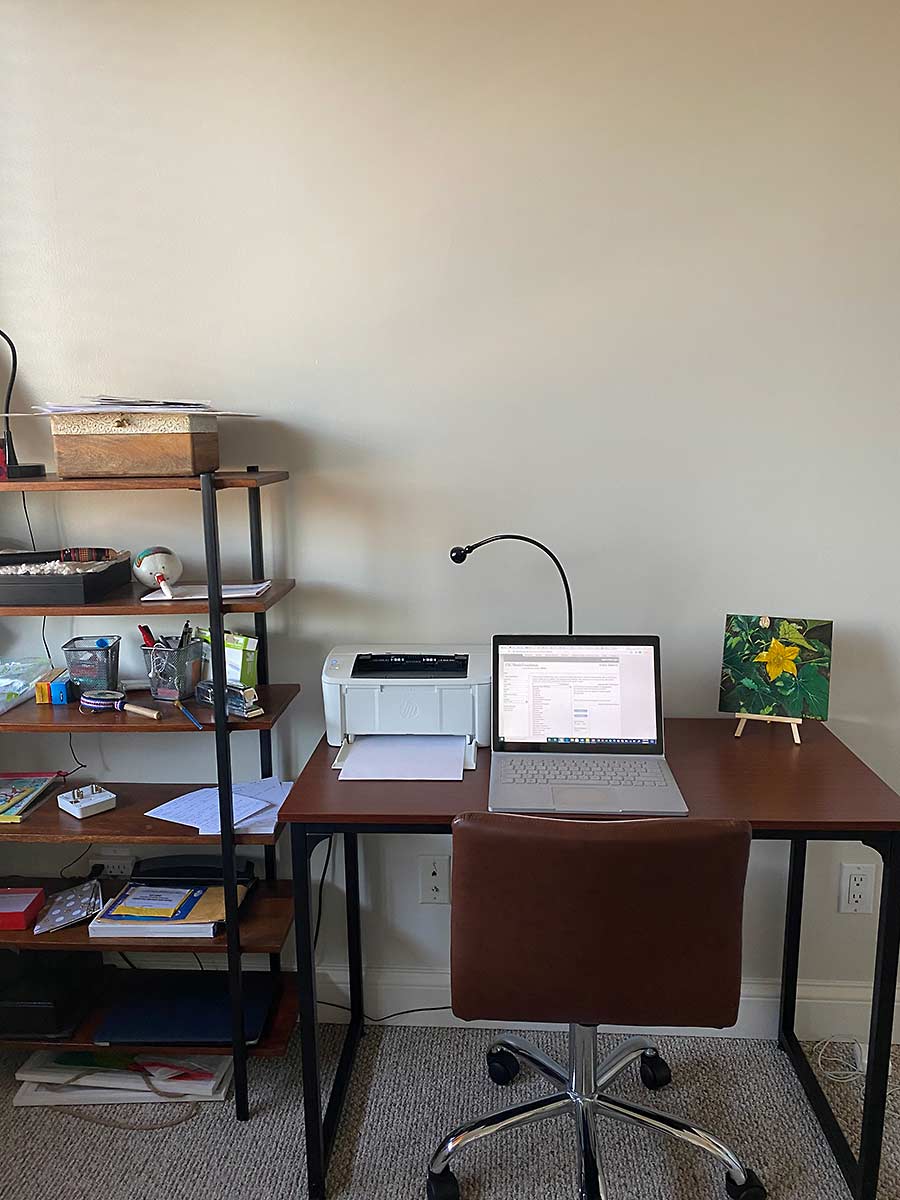 While the past year brought up many challenges, moving the Center's programming online enabled us to reach more numerous, more diverse, and more international audiences than ever before. I am especially proud and grateful for having an opportunity to support and participate in the Institute's online event dedicated to the 25th anniversary of genocide of Bosnia.
Susan McKibben, Head of Project Management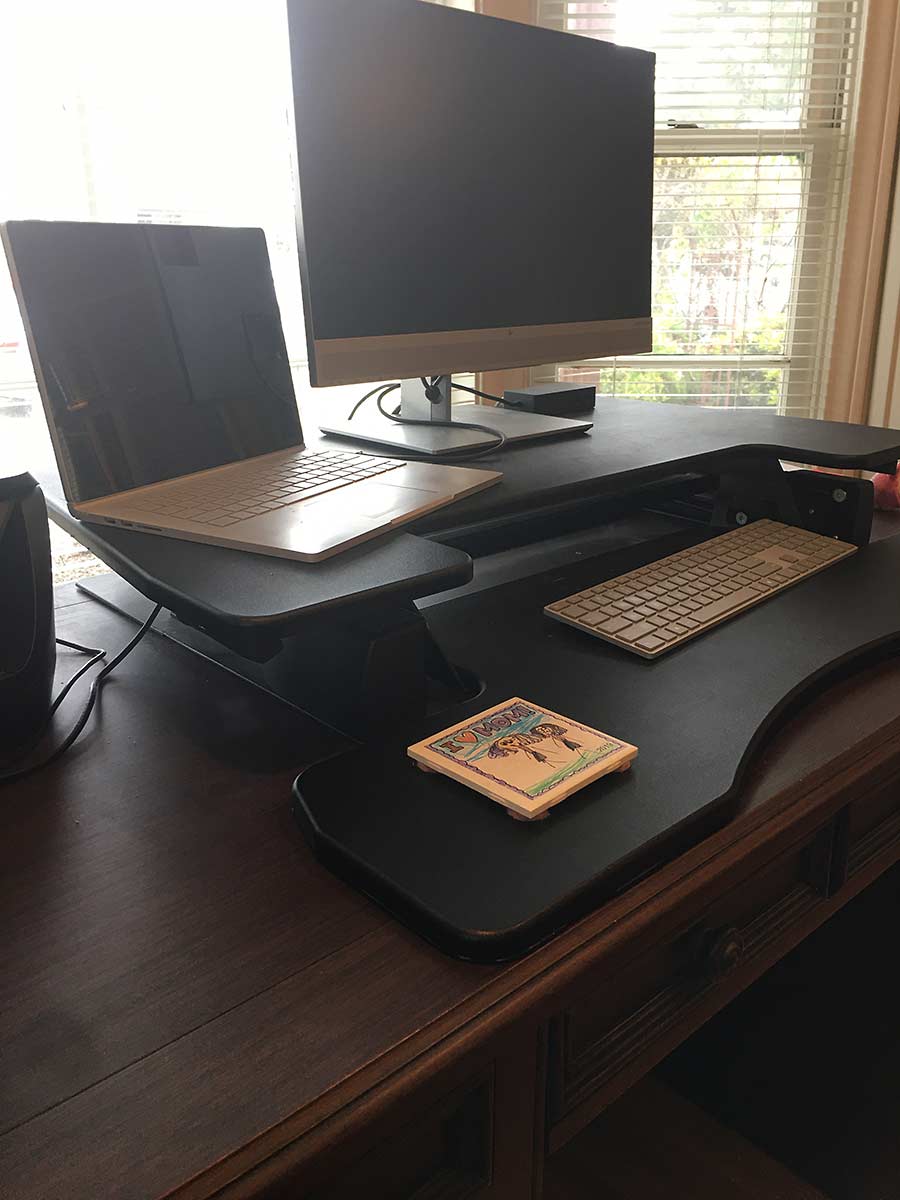 I'm so proud of the Education Team in how we adapted to respond to the needs of teachers and students in these circumstances, and my own first anniversary at USC SF occurred just a few weeks ago. I'm grateful to have been traveling through the difficult period of the pandemic with such wonderful, kind, resilient colleagues.
Mary Anna Noveck, Learning and Development Specialist (Primary)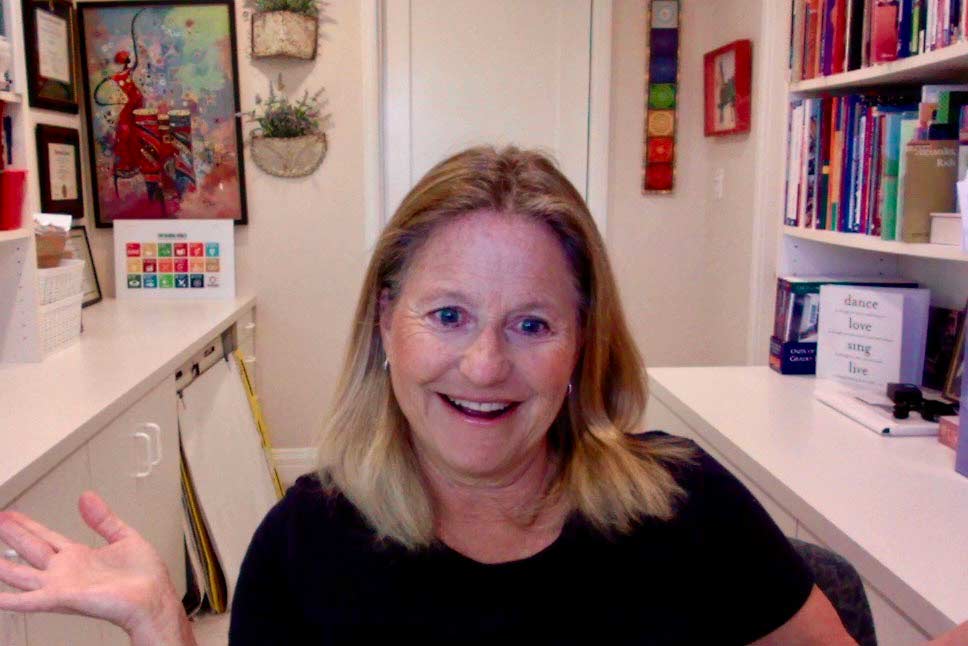 I think what's been unique for me during the pandemic is interviewing and being hired to join the Education Team at USC Shoah Foundation all via Zoom without ever meeting anyone in person. This is my office space – I call it the galley, which was originally the nursery for my son Jake who is now 27 years old.  A special shout out to my team for being so supportive and bringing me on board to promote the Institute's leadership in early childhood/primary education.  I look forward to meeting and working with everyone in person soon.
Colleen Mahan, Executive Assistant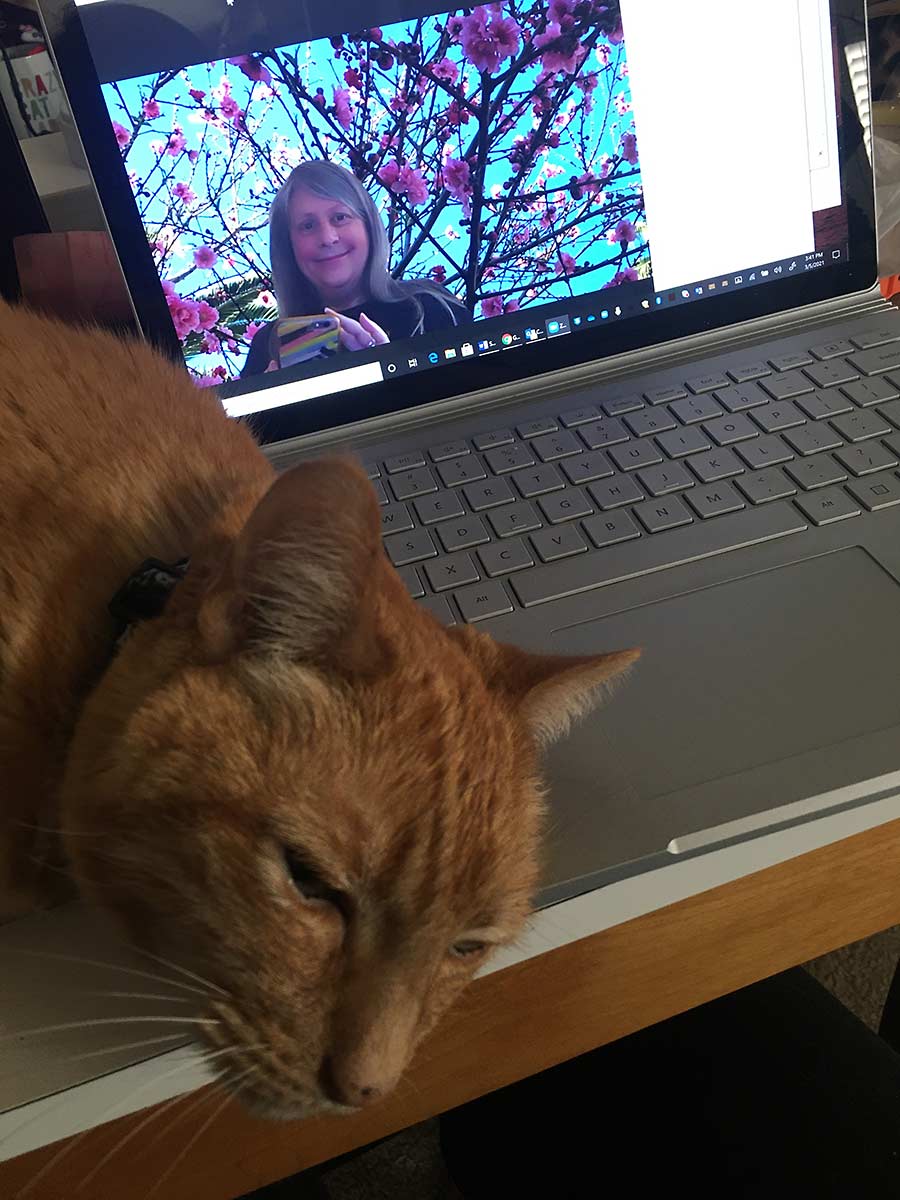 This photo pretty much sums up my past year of working-remotely-from-home.  BlueJeans was out and Zoom was in. Cancel trip to Poland-Hungary. Pivot to everything on Zoom. Thought: How long will this really last? Twelve months later, 1,000 Zooms later, car mileage below 100 miles, zero dress clothes = zero dry cleaning bill. Big winner = my cat, Oliver! 
Aaron Zarrow, Strategic Communications Manager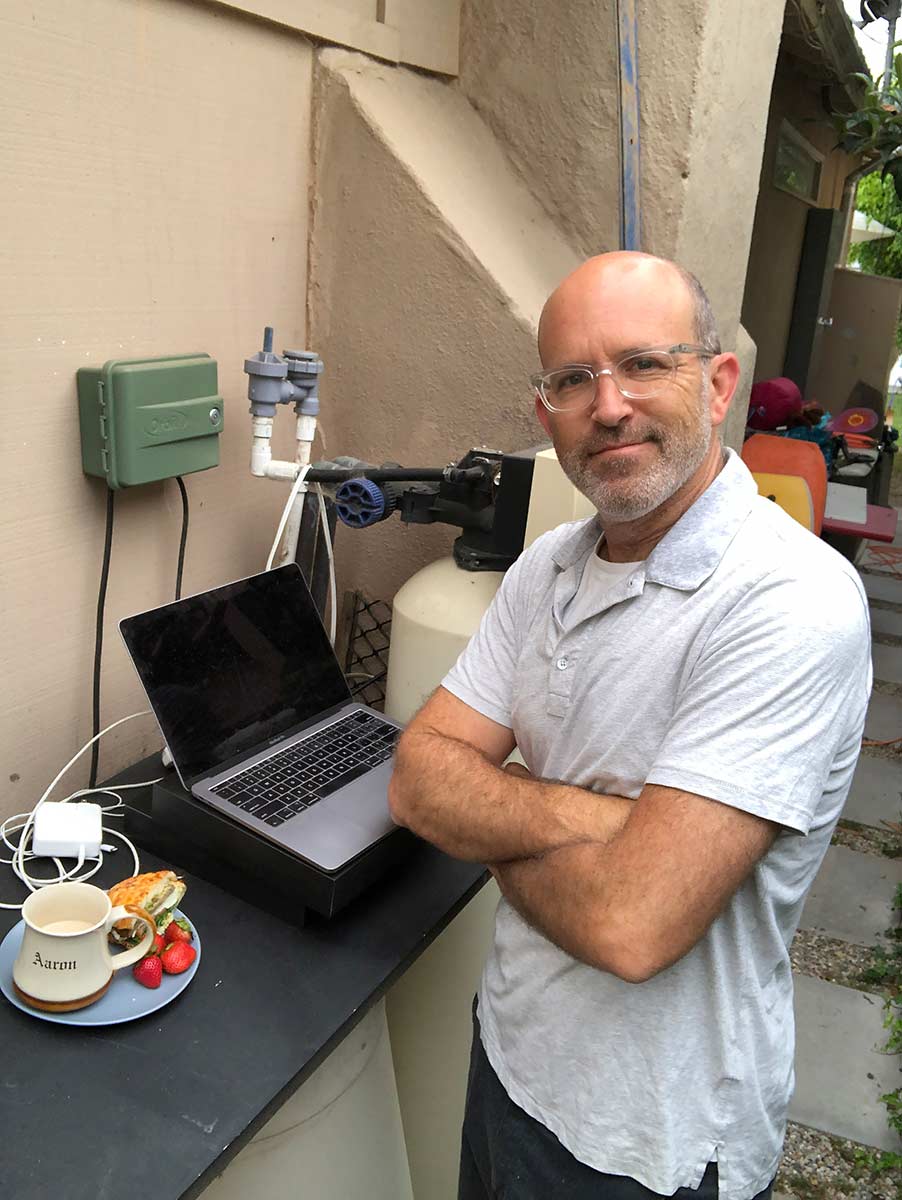 Morning, circa day 174. Location: Where wireless and cell both work and out of earshot of kids and wife all on zooms. [Beats working from my car.]
Michael Russell, Programmer Analyst
First photo: The Russell Pod
Second photo: Lulu (left) and Rascal, our best pals. Rascal (13 years old) left us to cross the Rainbow Bridge, 2/28/2021 -- much loved, RIP Rasky!
Kia Hays, Program Manager, Immersive Innovations
This year, my office space went from laptops at the kitchen table (attached, with Fuji disapproving of the set up) to a very professional-feeling work corner (attached). And thank goodness for those extra monitors, because the collections group transitioned to remote interviews and multiple screens made life much easier! What else made life easier? One cat transitioned to three, and the two foster fail kittens quickly took after their older sister and terrorized the computer cables (attached, Marsala being bad). And the constant pet parades with fellow staff members on zoom (attached, Anne, Svetlana, Dawna sharing their pups while I tried really hard to get Fuji to cooperate). I got married two weeks before we started working remote, and let me tell you spending 24/7 with one person (and just that one person) means it's true love! Looking back on this year, there's not much light. It was tough for all of us. But the fact that I can say one of the few bright spots I had was work is incredible. We rallied as a team to find safe and respectful ways to continue to collect interviews from survivors quite literally around the world. Those moments of humanity are what kept me going.
Manuk Avedikyan, Program Officer, Armenian Genocide Collection
This was a long and complex year but for the sake of lightheartedness, I'd like to share a photo I took of me underneath my new work desk. I believe this photo was among the top selections for best earthquake drill photos during our all-staff meeting. I've spent most of my hours sitting above my favorite carpet passed down to me by my grandmother and as the art print expresses, we've all been somewhat desperate and domesticated during these times of Covid.
Anita Pace, Managing Director of Technology
Jeffrey Langham, Webmaster
This has been a year of gratitude mixed with sadness and hope. Making lemonade out of a lemon year working from home was not as difficult as I thought it would be, especially with Yukon Cornelius supervising. "Vacation" usually meant travelling to cities but that was out, so we turned our sights to hitting the national parks. I managed to visit SIX of them this summer! Since I love to cook, I was happy to return to making home-cooked meals. Of course, the challenge was preparing things that didn't add to my spare tire. Though I miss seeing my colleagues and friends (and Zoom is a poor replacement), I am grateful that this past year has allowed me the opportunity to spend every day with my soon-to-be 18 year old furball, Max, otherwise known as Sir Snoresalot. I am a very lucky man.
Rachael Cerrotti, Storyteller in Residence
After nearly a year of isolating on my own, in December I finally got myself a companion and coworker with my pandemic puppy. Her name is Shiva and she has been hard at work helping me and Stephen create the Institute's new podcast The Memory Generation. I sincerely cannot imagine what my life would have been during this past year without having USCSF staff as colleagues and collaborators. Zoom meetings have been my social time and the testimonies have kept my perspective in check. In spite of all the horror that has been this year, I am feeling so very grateful for all of you and the work we do.
Edith Umugiraneza, Indexer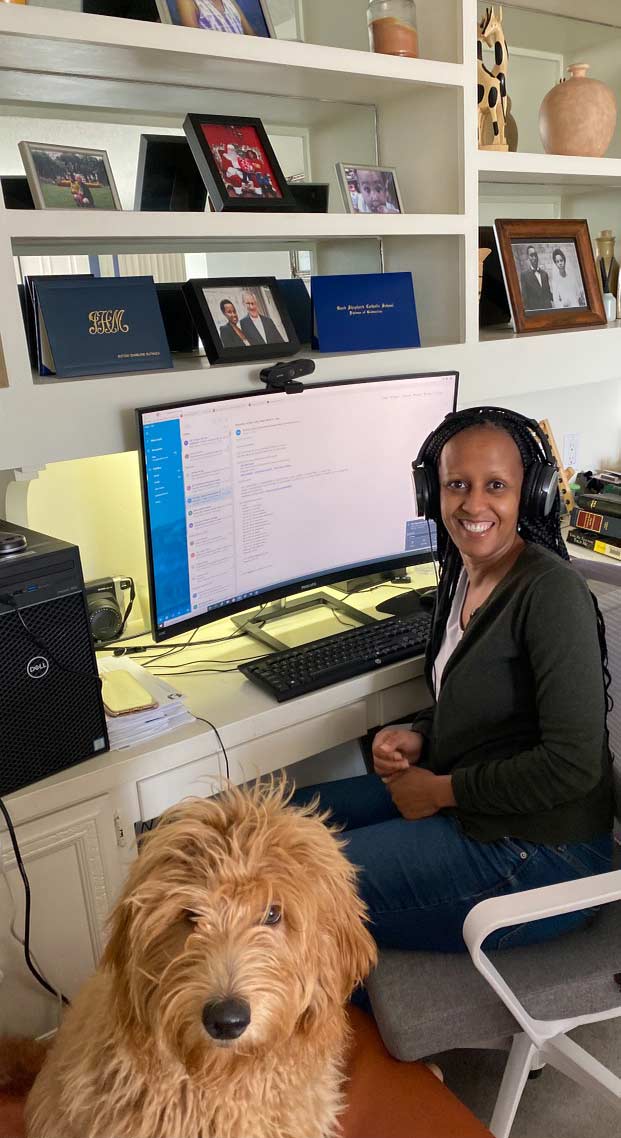 The first days of working from home were very challenging for me. My challenges included not having enough space and a quiet space for everyone. Having a new puppy was also very distracting. I learned how to manage my time and find what works best for my family and me, and make sure that my work is done on time. I deeply miss my colleagues, I miss campus, I miss waking up in the morning, getting ready and going to work. I can't wait for COVID to be over.
Francesca Innocenti, Operations Liaison
Dogs & Cats, 24/7; One kid trapped at home, the other too far away; Subtitles; Baking bread; Monotony; Clothes lines; Gardening; Zoom fatigue; Stencils; Schedules and calendars; Nose swabs; Sewing masks; Visiting family - empty planes, empty streets; Quarantine; Election; Vaccines; Finally believing that the end is in sight.
Alex Paiva, Programmer Analyst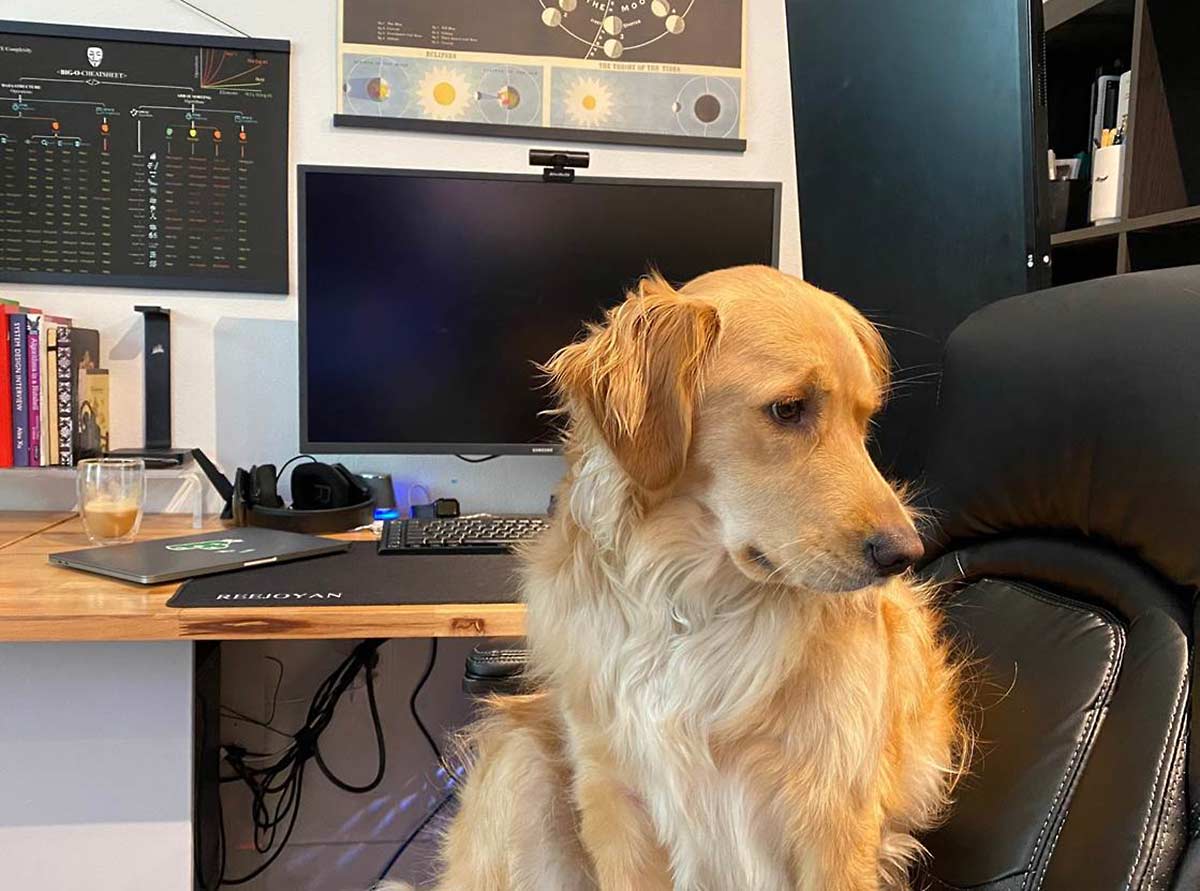 Philip Wood, External Communications Supervisor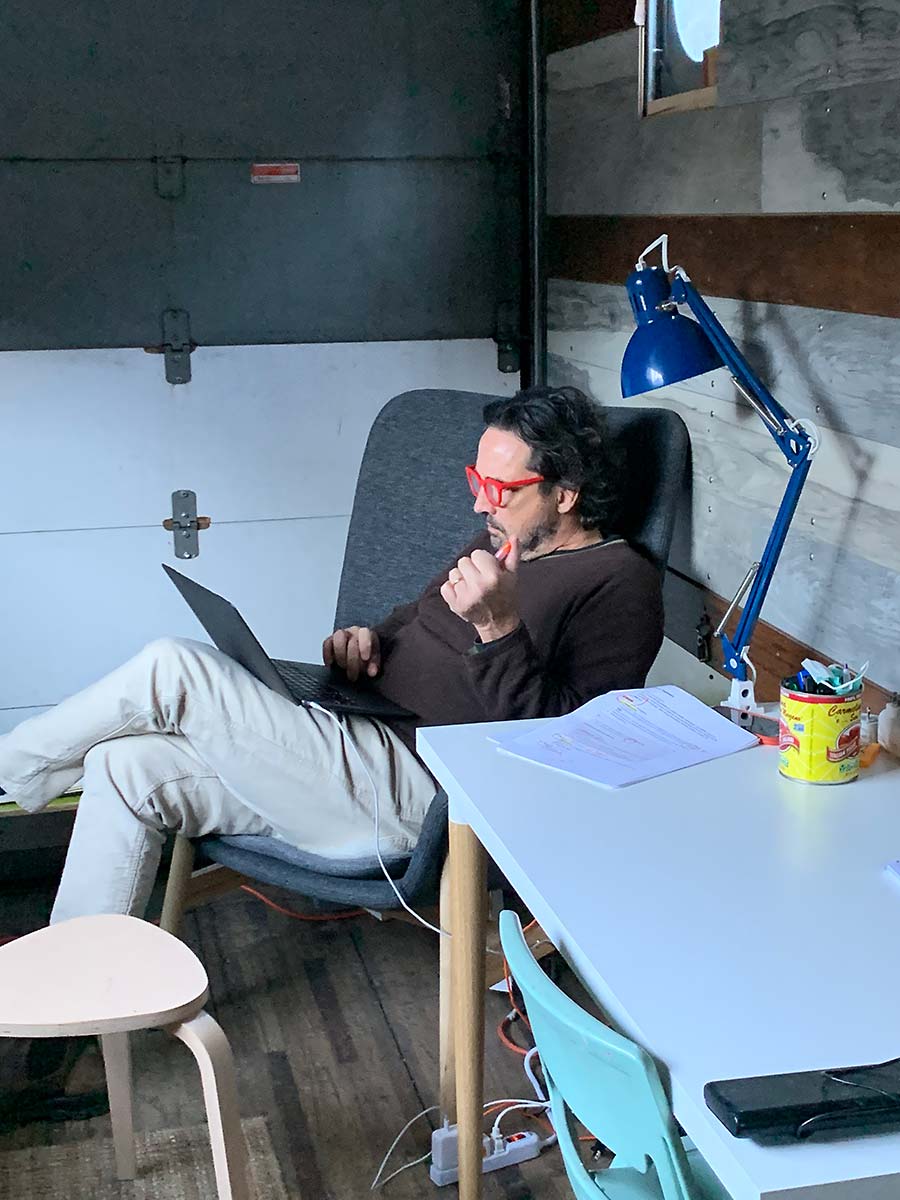 Here I am in my plush corner office. It's in the back of a dilapidated truck lent to me by a crazy artist friend in Colorado. He was wise enough to not give me the keys, so my place of work has been fixed and stationary—no doubt a good thing in these strange Covid times. It's been strange getting to know my new colleagues by way of static Zoom headshots, but what a lovely bunch you are! Thanks for the solidarity and support, the humor and good grace. Look forward to meeting in person some time!
Kori Street, Senior Director of Programs and Operations
New hobbies, new perspectives, and new opportunities, but always a gin martini.  As the saying goes, "When nothing is sure, everything is possible."
The Education Team
A few pics from the education team featuring us working at home and some programs we've worked on over the year — our first student facing webinars for our Mindful Explorations (SEL focused lessons), program tracking, WPL JI summer and fall programs, content for our "100 Days to Inspire Respect and Hope" initiative.
So much happening.
I saw this quote somewhere – "I forget, am I working from home or living at work?"
Stephen Smith, Executive Director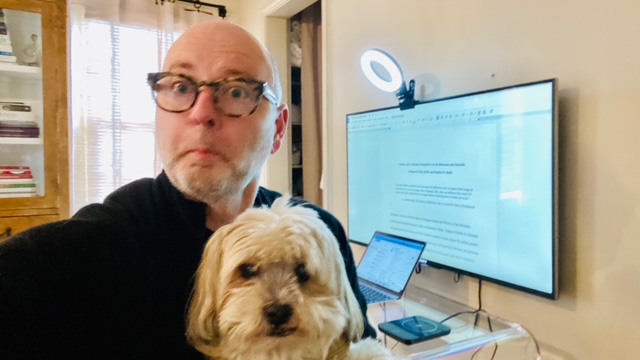 Cotto has attended approximately 750 zoom calls since being adopted in June and is now applying to be Colleen's assistant.
Amy Carnes, Program Manager, Development and Protocol
I call this photo "Hot Desk."