Thursday, March 29, 2018 - 11:30am
Wallis Annenberg Hall, Forum
3630 Watt Way
Los Angeles
, CA
90089
United States
A public lecture by Christopher R. Browning (University of North Carolina at Chapel Hill)
2017-2018 Sara and Asa Shapiro Scholar in Residence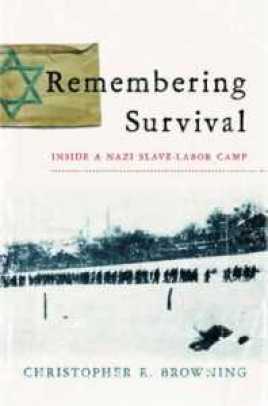 In this lecture, Professor Browning will discuss his research into the Starachowice factory slave labor camps in Poland using survivor testimonies from the USC Shoah Foundation Visual History Archive. Professor Browning will explore the survival strategies that Jewish prisoners used to survive their ordeal, examine the role of such slave camps in the Nazi economy, and investigate how post-war survivor testimonies can help document otherwise forgotten history. This research culminated in the publication of his latest book, Remembering Survival: Inside a Nazi Slave Labor Camp (2010), which won the Yad Vashem Book Prize in 2012 as well as the National Jewish Book Award in 2011. 
Born in Italy and educated at Oberlin College and the University of Wisconsin-Madison, Christopher R. Browning is the Frank Porter Graham Professor Emeritus of History at the University of North Carolina at Chapel Hill. His research concerns the decision-making and policy-making behind the Nazi Final Solution, analyzed in his books The Final Solution and the German Foreign Office (1978), Fateful Months: Essays on the Emergence of the Final Solution (1985), Ordinary Men: Reserve Police Battalion 101 and the Final Solution in Poland (1992), The Path to Genocide: Essays on Launching the Final Solution (1992) and The Origins of the Final Solution: The Evolution of Nazi Jewish Policy, September 1939–March 1942 (2004). Professor Browning has also written about the behavior and motives of middle and lower-echelon personnel in its implementation in Nazi Policy, Jewish Workers, German Killers (2000). He helped edit and contextualize the personal letters compiled in Everyday Lasts a Year: A Jewish Family's Correspondence from Poland (2007), and investigated how to reconcile the differing "collected memories" of perpetrators and survivors in Collected Memories: Holocaust History and Postwar Testimony (2003). His most recent publication, Remembering Survival: Inside a Nazi Slave Labor Camp (2010), utilizes survivor testimony to analyze Jewish resistance and survival strategies during the Holocaust and won the 2011 Yad Vashem International Book Prize for Holocaust Research.
Christopher Browning's Lecture on the Use of Testimony in Genocide Research
Language: English
Christopher Browning, the 2018 Sara and Asa Shapiro Scholar in Residence at USC Shoah Foundation's Center for Advanced Genocide Research, talks about the changing attitudes about witness testimony and how the process of gathering it has changed since the end of World War II.
To read more about Christopher R. Browning, click here.
To read more about the Sara and Asa Shapiro Scholar in Residence fellowship, click here.