Board Member Mickey Shapiro Endows Academic Research Fellowship
Tue, 12/22/2015 - 5:00pm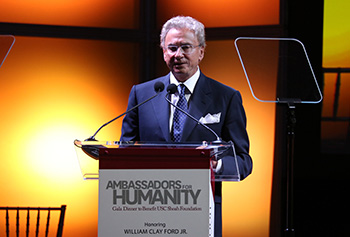 Longtime USC Shoah Foundation board member Mickey Shapiro has given a gift to fund an endowed research fellowship program at the Institute's Center for Advanced Genocide Research in honor of his parents, Sara and Asa Shapiro, who both survived the Holocaust.
Intended to inspire prominent scholars, the Sara and Asa Shapiro Annual Holocaust Testimony Scholar and Lecture Fund will enable one senior scholar to spend up to one month in residence at USC Shoah Foundation's Center for Advanced Genocide Research.  This prestigious fellowship is only available through an invitation by staff at the Center, in consultation with its Faculty Advisory Council.
The fellowship, which replaces the USC Shoah Foundation Yom Hashoah Scholar in Residency, offers fellows the opportunity to use the Holocaust and genocide resources at USC, including the USC Shoah Foundation's Visual History Archive, which contains more than 53,000 testimonies of witnesses and survivors of the Holocaust, including the testimony of Sara Shapiro.
The Archive also includes testimonies from the Armenian Genocide, the Rwandan Tutsi Genocide and the Nanjing Massacre. Testimonies from survivors of the Cambodian and Guatemalan genocides will be integrated in 2016.
Selected fellows will also have access to private papers of Jewish emigrants from the Third Reich at the Special Collections of USC Doheny Memorial Library, and the Holocaust and Genocide Studies Collection at the USC Doheny Library.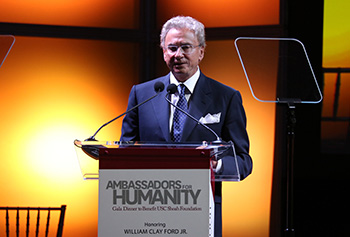 As part of the fellowship, the scholar will give a public lecture at USC on their research.
Center Director Wolf Gruner said the endowment gift provides crucial and perpetual support for the new Center.
"This generous gift will allow us to deepen the work we do to advance the field of genocide studies by bringing the most prominent and innovative senior scholars to the Center," Gruner said. "Using the vast resources available to us at USC, each future Sara and Asa Shapiro fellow will provide us with a new perspective that enriches our research on genocide and its resistance."
Past Yom Hashoah Scholar recipients include prominent Jewish studies scholar Yehuda Bauer, and Wendy Lower, whose acclaimed book "Hitler's Furies" broke new ground in the understanding of how women contributed to the evils of the Nazi regime.
In acknowledging the importance of the endowment, USC Shoah Foundation Executive Director Stephen D. Smith said, "Mickey Shapiro has been a tireless supporter of our mission. In addition to this latest gift, he also finds time to serve on USC Shoah Foundation's executive committee and is a member of our newly formed committee to combat anti-Semitism."
The Center for Advanced Genocide Research is uniquely positioned at USC, the only world-renowned private research institution with substantial original material from the Holocaust and other genocides.
Building on the academic work the Institute has accomplished since joining USC, the Center researches how and why instances of mass violence occur, and examines how to break the cycle that leads to them.