"Teaching about the Holocaust" United States Holocaust Memorial Museum's Forum on Holocaust Education comes to the USC Shoah Foundation
Mon, 03/04/2013 - 1:04pm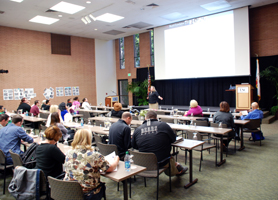 The United States Holocaust Memorial Museum (USHMM), in cooperation with USC Shoah Foundation – The Institute for Visual History and Education, hosted the 12th Southern California Teacher Forum on Holocaust Education, "Teaching about the Holocaust," at the University of Southern California.  Approximately 90 educators from the greater Los Angeles area attended the three-day program.
The forum, which took place from February 28 – March 2 explored the content, methodologies, and rationales for teaching the history of the Holocaust; increased teachers' knowledge of the Holocaust; and examined contemporary issues associated with this history.  In addition to the Institute and USHMM, participating organizations included the the Anti-Defamation League, Facing History and Ourselves, the Los Angeles Museum of the Holocaust, and the Simon Wiesenthal Center's Museum of Tolerance.
On Friday, March 1, the Institute's Director of Programs, Dr. Kori Street, presented a session titled "Teaching with Testimony" and introduced participants to IWitness, the Institute's new educational website.  Following the presentation, the teachers split into groups for a facilitated, hands-on session in USC computer labs, where they had the opportunity to explore IWitness and its student activities.
Peter Feigl, a survivor of the Holocaust and educator whose testimony is preserved in the Institute's Visual History Archive, brought the forum to a close by sharing his own remarkable story. Feigl's testimony is at the heart of a classroom lesson titled "One Man, Two Voices." Designed for 8-12 grade education, the lesson is available on the Institute's website.
The United States Holocaust Memorial Museum and the Institute have a longstanding partnership. In 2007, the Museum gained access to the Institute's Visual History Archive, which created an opportunity for visitors from around the world to learn from survivors and eyewitnesses of the Holocaust.
Like this article? Get our e-newsletter.
Be the first to learn about new articles and personal stories like the one you've just read.