Holocaust Survivor Testimonies Guide IWalks Through Czech Republic
Fri, 04/04/2014 - 4:37pm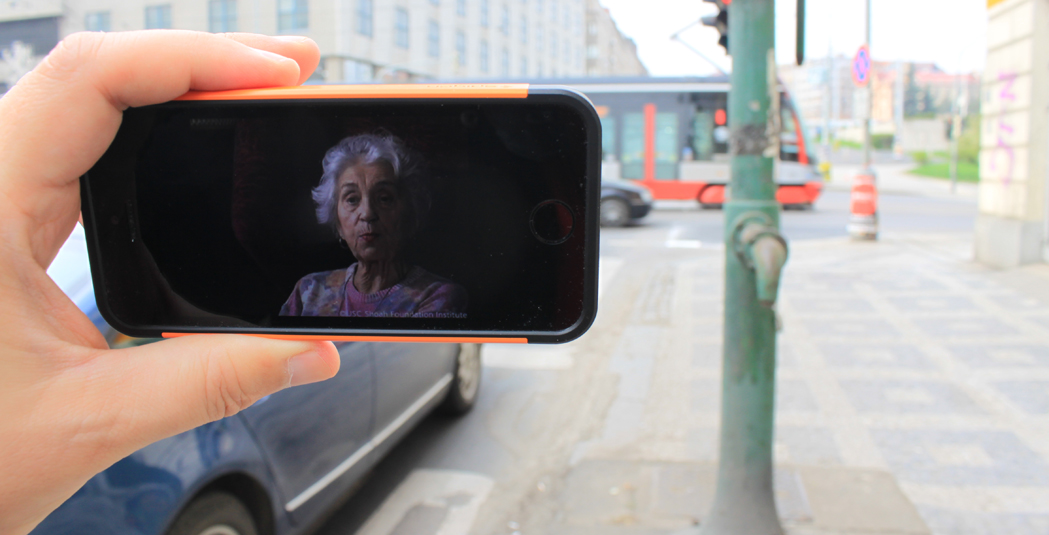 The footsteps of Holocaust survivors will come to life in IWalks, USC Shoah Foundation's new interactive testimony experience in Czech Republic now available on the USC Shoah Foundation website.
IWalk is an interactive educational program that connects concrete physical locations with memories of historical events that took place on these locations in several European countries. Holocaust survivor and witness testimonies from USC Shoah Foundation's Visual History Archive are combined with other primary sources during visits to authentic locations to provide the often missing spatial, social and regional contexts as well as the personal aspect of historical events. The designed onsite educational activities support the development of personal connection of students and members of the public to the past – enabling an impact of their actions in the present and the future.
"Way too often we tend to regard the events of the Holocaust as horrors that happened far away, both in time and in geography. IWalks could help educators with correcting the first error: in Europe, chances are that unknown yet important sites of Holocaust history are just around a corner or two," said Martin Smok, USC Shoah Foundation's senior international training consultant based in Czech Republic. "Once that realization is made, we could use witness testimony to bridge the time gap: the mechanisms of hatred at play during World War II are the same ones we can still observe today." 

USC Shoah Foundation first launched IWalks in Budapest in 2012 in cooperation with the Zachor Foundation, a local NGO. The program includes peer-to-peer guided walks led by volunteers through the Jewish quarter of Pest – what used to be the Budapest ghetto area – and along the killing sites by the Danube.

A new self-guided IWalk has been launched in Czech Republic in cooperation with OpenEye. The IWalk is dedicated to the places connected with the deportations of Prague residents who were labeled as Jews by then-valid racist laws: Radiotrh – the Exhibition Grounds that served as a collection camp for Jews to be transported to the Terezin ghetto – and Veletržní street, where transports were marched to the Bubny train station.
Three film segments, which can be downloaded from the USC Shoah Foundation website to a computer, iPad or mobile phone, contain clips of testimony from the Visual History Archive in which survivors discuss their experiences at these very locations. All the survivors were transported to Terezin from Radiotrh and many were later deported to concentration camps including Auschwitz-Birkenau and Dachau.
More IWalks in Czech Republic are planned for 2014 in Královské Vinohrady, Mladá Boleslav and Brno.
Similar projects focusing on providing VHA testimony connected to often little-known regional sites of memory are also being prepared in other countries in cooperation with local NGOs and partner organizations such as the Museum of History of Polish Jews in Poland.
Like this article? Get our e-newsletter.
Be the first to learn about new articles and personal stories like the one you've just read.