USC President C. L. Max Nikias Announces Center for Advanced Genocide Research with USC Shoah Foundation Founder Steven Spielberg
Fri, 04/25/2014 - 1:00pm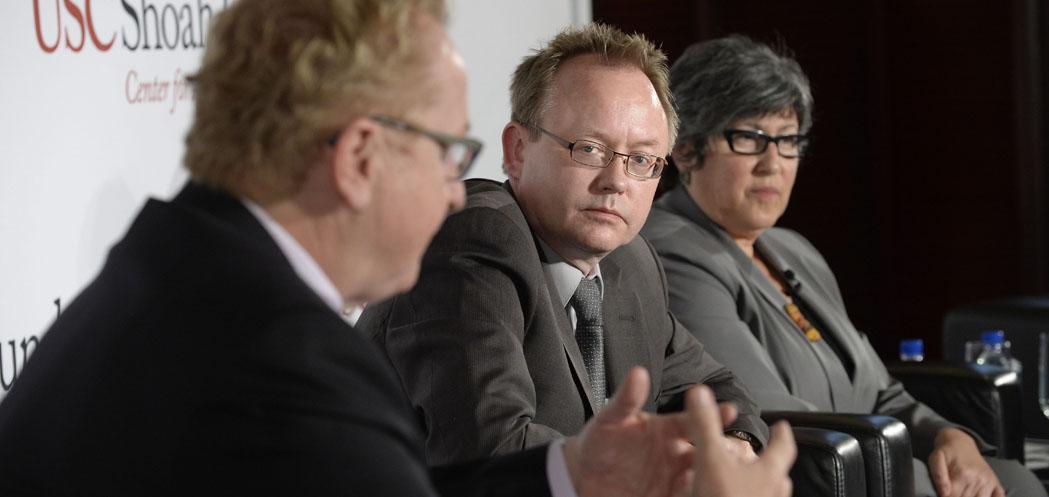 Seeking to build on USC Shoah Foundation's 20 years of success in gathering testimonies of Holocaust and genocide survivors, the University of Southern California has established the Center for Advanced Genocide Research to study how and why such instances of mass violence occur, and how to intervene in the cycle that can lead to them.
USC President C. L. Max Nikias and USC Shoah Foundation and USC Truestee Steven Spielberg announced the new center at a campus press conference on Friday. A panel discussion followed with Dean of USC Dornsife College Steve Kay, USC Shoah Foundation Executive Director Stephen D. Smith, Wolf Gruner, Shapell-Guerin Chair in Jewish Studies and professor of history at USC who will serve as the director of the Center for Advanced Genocide Research, and Beth Meyerowitz, USC vice provost for faculty affairs.
Housed within the USC Dana and David Dornsife College of Letters, Arts and Sciences, the center will serve research and scholarship unit of the USC Shoah Foundation, building off the substantial academic work the Institute has accomplished since joining USC in 2006. It will also integrate the Resisting the Path to Genocide research cluster that has been part of the successful interdisciplinary Dornsife 2020 initiative for the past four years, and has opened new avenues of research on mass violence.
 "This new center will identify and study the early origins of genocide," Nikias said. "It will look at the patchwork of patterns that lead to violence on a mass scale and it will help us understand not only how genocide begins but how we may bring it to an end."
Spielberg credited Nikias for providing the Shoah Foundation a place to "put down roots" and advance the study of genocide.
"We've made tremendous progress in the 20 years we've been in existence, but every single year it seems our work has hardly even begun," Spielberg said. "There is such tremendous potential for the groundbreaking research led by Stephen Smith and Wolf Gruner. The world now has a beacon of hope in breaking the cycle that leads to mass violence."
The center aligns with the university's strategic vision of creating scholarship with consequences by bringing together experts from different fields to tackle grand challenges facing the world today.
Gruner stressed that the new center will allow researchers and scholars from different disciplines all over the world to collaborate and come together at a single institution to study genocide in ways that would not otherwise be possible.
Meyerowitz described watching her own students be transformed by testimony in the Visual History Archive as they each find profound ways to study genocide through the survivors' stories. Because no one person could ever watch all 52,000 testimonies, it is vital to convene scholars who can work together to study the collective experiences of genocide survivors, she said.
"Each one of those testimonies represents true expertise – an expertise that should be understood by the academic world we live in," Meyerowitz said. "If we don't have some way of approaching this from a big data, humanities, social sciences and sciences research perspective, we're not allowing those 52,000 people to speak to us with their unique expertise that cannot be duplicated by any other medium."
The Center for Advanced Genocide Research will distinguish itself by focusing on interdisciplinary study organized around three themes to advance the analysis of genocide and systematic mass violence on an international scale.
Resistance to Genocide and Mass Violence will focus on acts of resistance and elements of defiance that slow down or stop genocidal processes.
Violence, Emotion and Behavioral Change will study the nature of genocide and mass violence and how they impact emotional, social, psychological, historical and physical behavior.
Digital Genocide Studies examines how big data and large datasets, including the 52,000 testimonies in the USC Shoah Foundation's Visual History Archive, can be used to find patterns in the field of mass violence and its resistance.
"By combining ongoing research with the vast amounts of information already collected by the USC Shoah Foundation, I believe we will be able to decode the conditions that can lead to genocide," Kay said. "And by funneling what we learn through our Digital Humanities Program, we will be able to teach tomorrow's leaders new ways of stemming the tide of violence and intolerance."
The Center will uniquely position USC as being the only world-renowned private research institution with substantial original material from the Holocaust and other genocides.
The USC Shoah Foundation's Visual History Archive contains nearly 52,000 testimonies with survivors and witnesses of the Holocaust and other genocides, including the Rwandan Tutsi Genocide and the Nanjing Massacre. Testimonies from survivors of the Armenian and Cambodian genocides will be integrated in 2015.
The Special collections of USC Doheny Library houses private papers of German and Austrian emigrants who fled the Nazis, among them the famous German-Jewish writer Lion Feuchtwanger.
The Holocaust and Genocide Studies collection at the USC Doheny Library contains more than 1,000 original Nazi books and pamphlets, Jewish publications, as well as microfilms with original documents such as Nazi newspapers. This collection also contains books on almost every facet of the Holocaust and on various genocides, with a total collection of relevant works reaching 12,000 volumes.
"We need to better understand the causes and consequences of violent and genocidal societies," USC Shoah Foundation Executive Director Stephen D. Smith said. "By building on the robust genocide research opportunities already in place at USC, we will be in a position to have a real impact in the field."
"With its fellowship program, future conferences and chairs, the new research center will create an intellectual hub for international and interdisciplinary scholarship on the topic of Holocaust and genocide studies," Gruner said. "Los Angeles is home to the largest survivor communities of several genocides – including the Cambodian and Armenian genocides. They will act as a constant reminder of the importance of our task."
Like this article? Get our e-newsletter.
Be the first to learn about new articles and personal stories like the one you've just read.