In Memory of Erna Viterbi
Wed, 02/18/2015 - 12:00am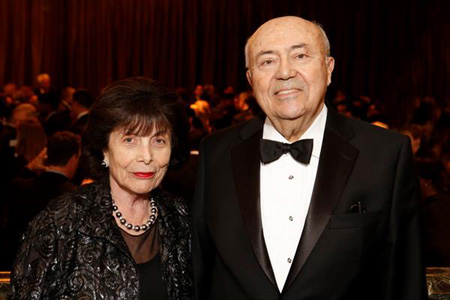 USC Shoah Foundation is saddened to learn of the passing of Erna Viterbi, philanthropist and longtime supporter of USC Shoah Foundation.
Erna Finci Viterbi, a descendant of Sephardic Jews, was born in Sarajevo but fled Yugoslavia with her family during World War II. They were deported to the Parma region of Italy and interned in the village Gramignazzo di Sissa, but were saved from deportation to the extermination camps by the townspeople. Erna and her family were able to escape to Switzerland for the rest of the war. In 1950, they moved to California.
Erna married Andrew Viterbi, a communications theory and electrical engineering scholar, in 1958, and they had three children. Dr. Viterbi helped invent several key components of modern digital communications technology and cofounded the tech companies Linkabit and Qualcomm. Together, the Viterbis have devoted much of their lives to philanthropy, supporting many causes including education, the arts, Jewish organizations, technology and science research. They named the USC Andrew and Erna Viterbi School of Engineering with a $52 million gift in 2004.
Erna served on USC Shoah Foundation's Board of Councilors. In 2014, the Viterbis gave $5 million to USC Shoah Foundation to endow the Andrew J. and Erna Finci Viterbi Executive Director Chair at USC Shoah Foundation. USC Shoah Foundation Executive Director Stephen D. Smith will be installed as the inaugural holder of the chair at a ceremony at USC on March 23.
He said her warmth and spirit, wisdom, and extraordinary vision would continue to influence his work as the holder of the Executive Director Chair.
"Erna gave selflessly to support Jewish life, culture, and human values, and she and Andrew have been bedrock supporters of USC Shoah Foundation and across the University," Smith said. "Erna's leadership on our board of councilors and so many initiatives leaves an indelible mark on me, on our Institute, and on the larger world."
In lieu of flowers, Erna's family has asked that donations be made to USC Shoah Foundation to support the Erna Viterbi Memorial Education Fund.
Like this article? Get our e-newsletter.
Be the first to learn about new articles and personal stories like the one you've just read.