First Armenian Interviews Go Live in Visual History Archive, As Delegation Attends Armenian Genocide Commemoration
Fri, 04/24/2015 - 5:00pm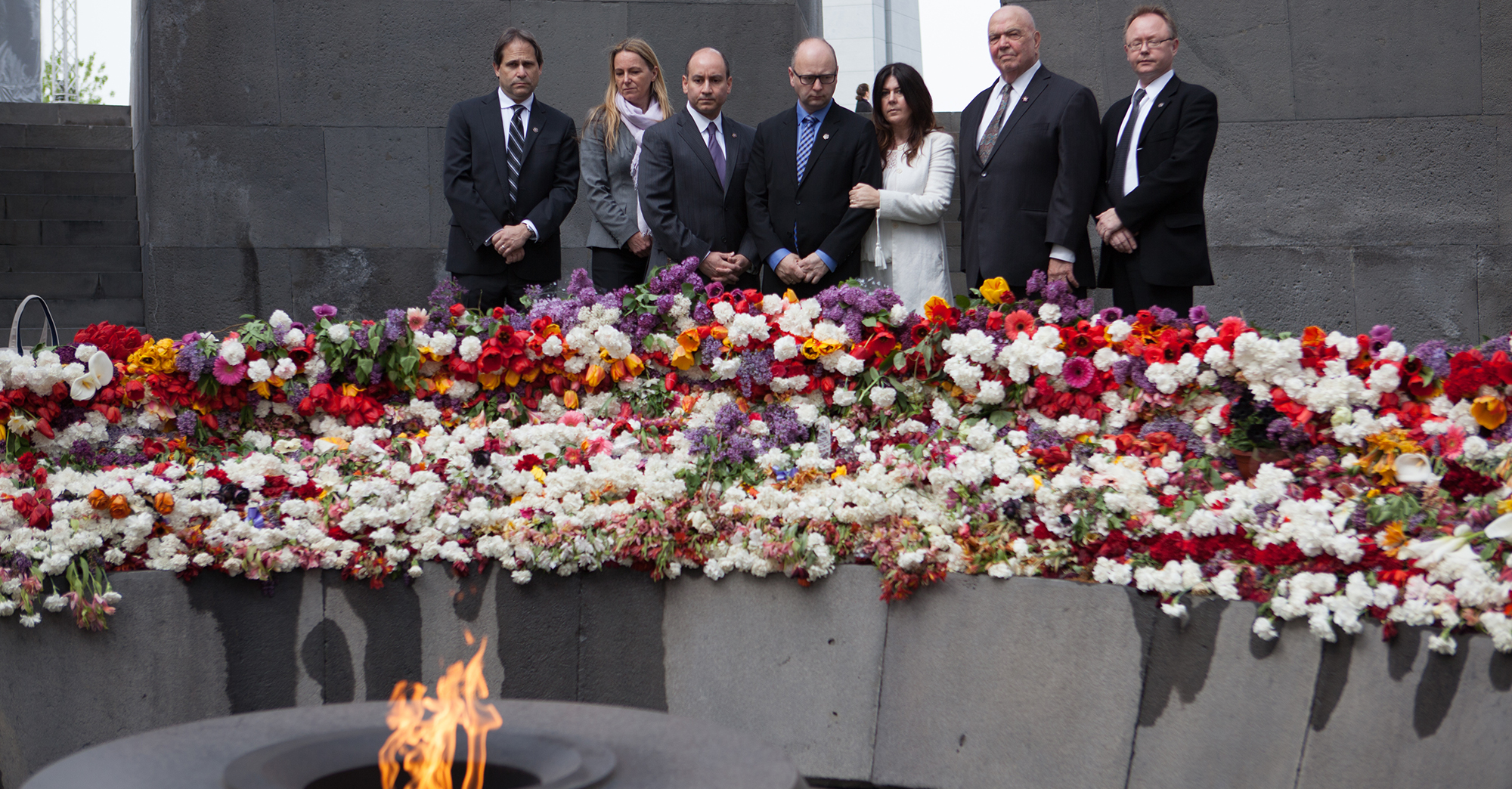 As the world commemorates the 100th anniversary of the Armenian Genocide today, the stories of 60 survivors and witnesses have been given new life. Starting today, the first interviews of USC Shoah Foundation's Armenian Genocide Collection are available to view anywhere in the world, in the Visual History Archive and Visual History Archive Online.
USC Shoah Foundation has indexed and integrated the first 60 interviews of its Armenian Genocide collection, which were recorded by late documentary filmmaker J. Michael Hagopian. These interviews are in English and Armenian with English subtitles, and include the grandson of Ambassador Henry Morgenthau and photographer Armin Wegner in addition to survivors. Each interview is about 10 to 25 minutes long.
Twelve interviews will also be added to IWitness, and a new IWitness Information Quest activity about the Armenian Genocide will be published in May.
The interviews were recorded on 16mm film between 1968 and 2005. The survivors and witnesses who make up this rare collection – all now deceased – were interviewed in 10 different languages and were between the ages of eight and 29 during the genocide. The nearly 400 interviews represent the largest archive of filmed Armenian Genocide interviews in the world, and add immeasurable content and context for research and learning in the Visual History Archive.
The Armenian Film Foundation (of which Hagopian was a founder and which had preserved his interviews all those years) transferred the interviews from 16mm film to preservation-quality digital files (motion JPEG 2000) in 2013. The files were then delivered to USC Shoah Foundation, which created broadcast-quality and Internet-quality versions of each interview. USC Shoah Foundation staff Hrag Yedalian, Crispin Brooks and Professor Richard Hovannisian are indexing and subtitling the collection.
On Tuesday, April 21, USC Shoah Foundation Executive Director Stephen Smith presented a hard drive inside a film can to Hayk Demoyan, director of the Armenian Genocide Museum & Institute (AGMI). The can belonged to Hagopian and the hard drive contained the 60 interviews, which will be kept at AGMI until the museum can be made a full access site of the Visual History Archive.
Smith and the rest of the USC Shoah Foundation delegation attended the official commemoration in Yerevan today. The event featured speeches by world leaders and musical performances, and a steady stream of visitors placed flowers at the Armenian Genocide Memorial.
Like this article? Get our e-newsletter.
Be the first to learn about new articles and personal stories like the one you've just read.