USC Shoah Foundation Commemorates Yom HaShoah Around the World
Wed, 05/04/2016 - 5:00pm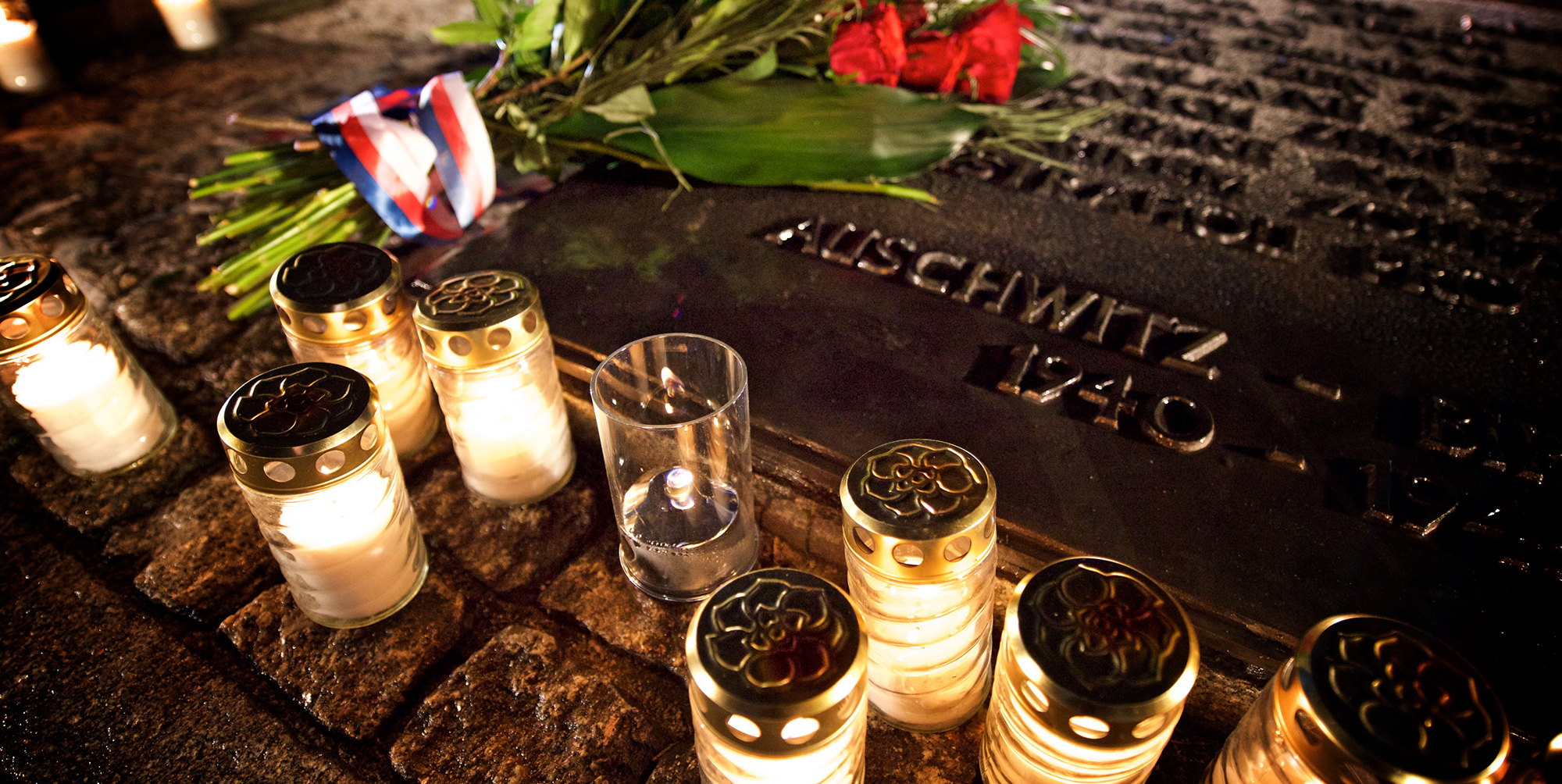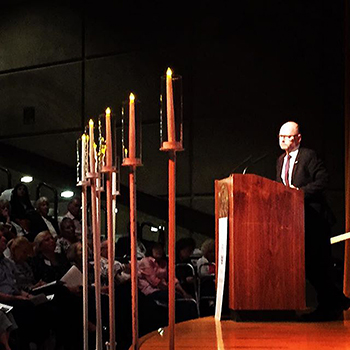 Stephen Smith speaks at Jewish Federation of the Desert's Yom HaShoah ceremony.
Across the United States and in Europe, USC Shoah Foundation is helping to commemorate Yom HaShoah, Holocaust Remembrance Day, on May 4 and 5.
Executive Director Stephen Smith spoke at the Jewish Federation of the Desert's Yom HaShoah observance on Sunday, May 1, in Rancho Mirage, Calif. He told the story of survivor Pinchas Gutter and shared Pinchas's conflict with memory. Struggling to survive the Holocaust, Pinchas wanted to forget his sister who was killed – but 50 years later, he tried desperately to reawaken his memories of her.
Palm Beach Synagogue in Florida will commemorate Yom HaShoah May 4 with a screening of Auschwitz, the short documentary that premiered at the 70th anniversary of the liberation of Auschwitz on January 27, 2015. The film was directed by USC Shoah Foundation founding director James Moll and produced by Steven Spielberg. The film is also an official selection of the Tribeca Film Festival. At the screening, USC Shoah Foundation Executive Director of Development Frieda Kahn will speak briefly about the Institute.
Finally, on May 5 in Prague, USC Shoah Foundation International Training Consultant Martin Smok will lead 150 students and their teachers from the Lauder Schools of Prague on IWalks through the city. Divided into eight groups, the students will embark on the Vinohrady district IWalk and an in-development Hagibor district IWalk, and then come together at the end for discussion and reflection.
IWalk is an interactive educational program that connects concrete physical locations with memories of Holocaust-related events that took place on these locations in several European cities. People walking through the tours use tablet computers to watch clips of Holocaust survivors and witnesses telling personal stories about how the locations factored into their experiences. The clips are drawn from their testimonies in USC Shoah Foundation's Visual History Archive.
USC Shoah Foundation has published three IWalks in Brno and Prague, Czech Republic, and has piloted IWalks in Budapest and other cities throughout Hungary.
Like this article? Get our e-newsletter.
Be the first to learn about new articles and personal stories like the one you've just read.